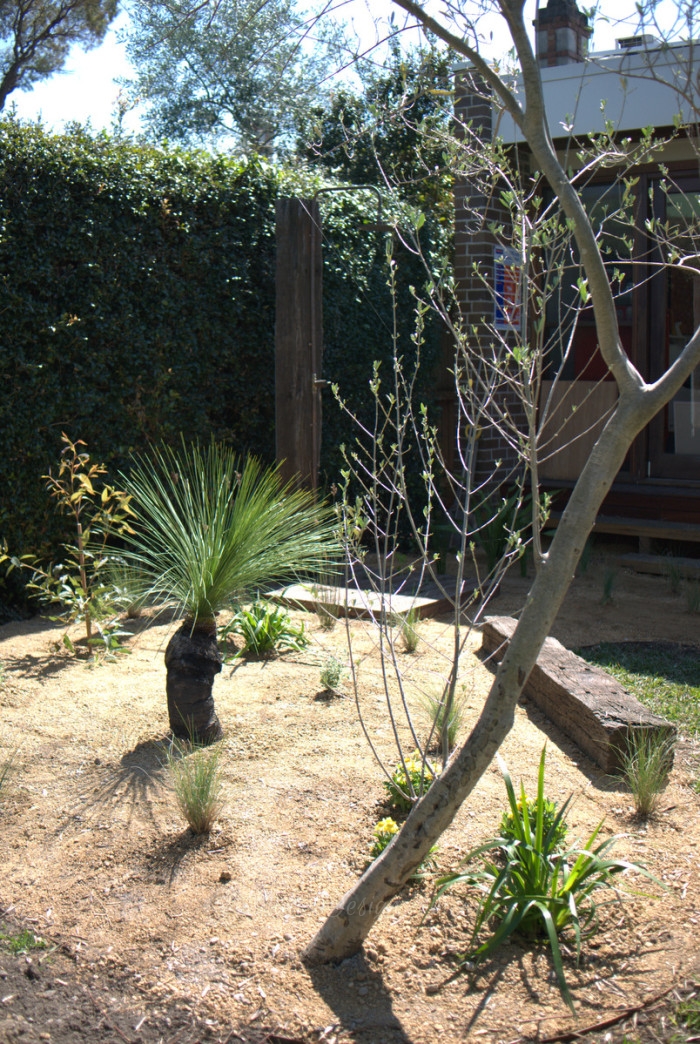 Portfolio: Marrickville Sketch Design
This is a garden that I have been visiting for a couple of years now, each time I spend an hour or two doing some sketches for the owners to move to the next 'stage'. It is a wonderful garden spilling over with healthy plants, edibles mixed in with exotics and natives all thriving and co-existing happily together, that's at the front. In the rear they recently put in a raised salt water swimming pool, along with a large new deck, this new addition made the rest of the garden feel somewhat un-loved and a little forgotten.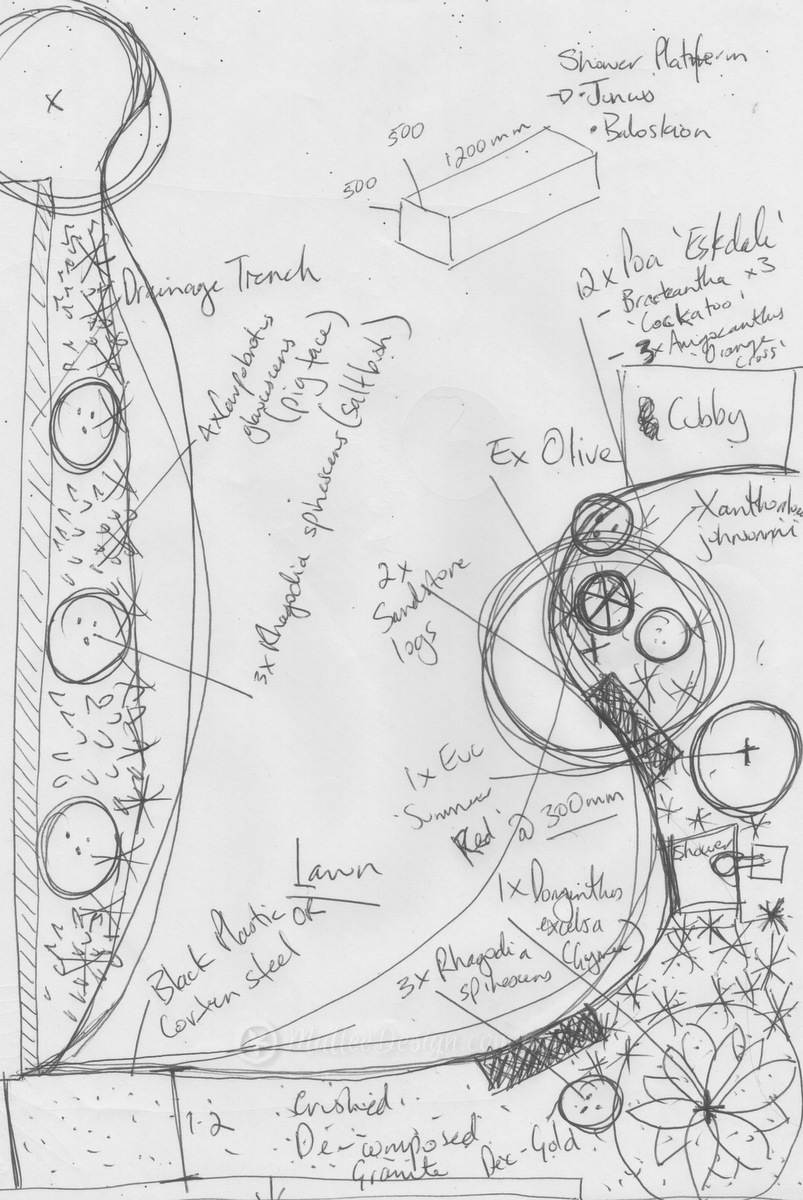 Hence my latest visit, the sketch above is what I came up with. Sometimes sketch design is all you need! I love being able to communicate quickly and simply, by putting ideas on paper that the client can easily immediatly perceive. The idea here was to incorporate another surface to transition between the deck and the lawn whilst also including a new garden bed around an outdoor shower area. Basically to tie everything together.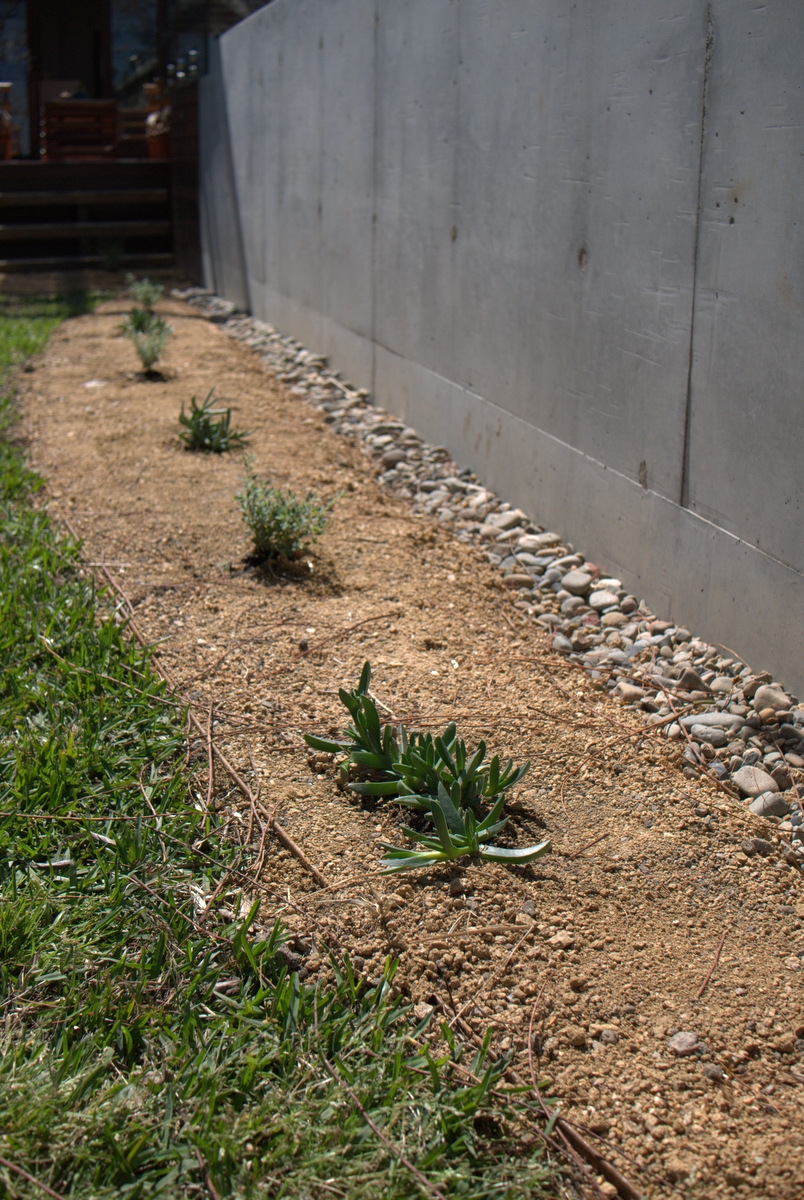 The lawn growing right up to the swimming pool and the deck stairs wasn't working, it was impossible to mow so close and the grass was growing under the stairs. The garden bed at the base of the salt water swimming pool has been planted out with the salt water splash in mind, using salt tolerant natives like Carpobrotus 'Pink Passion and 'White Hot' and Rhagodia spinescens.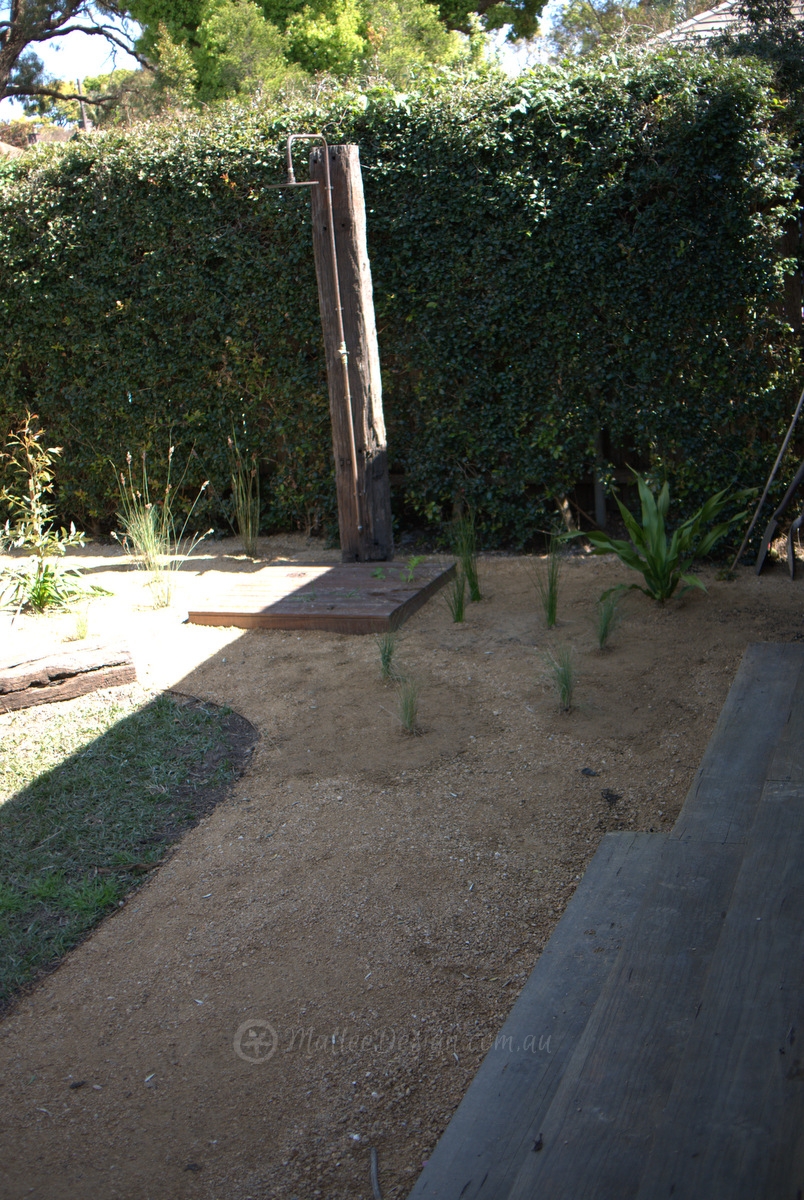 The shower platform has been planted out with Meeboldina scariosa 'Velvet Rush' and Ficinia nodosa to absorb the shower run off. In the image above you can see the crushed decomposed granite doubling as a garden bed and a hard surface to walk on.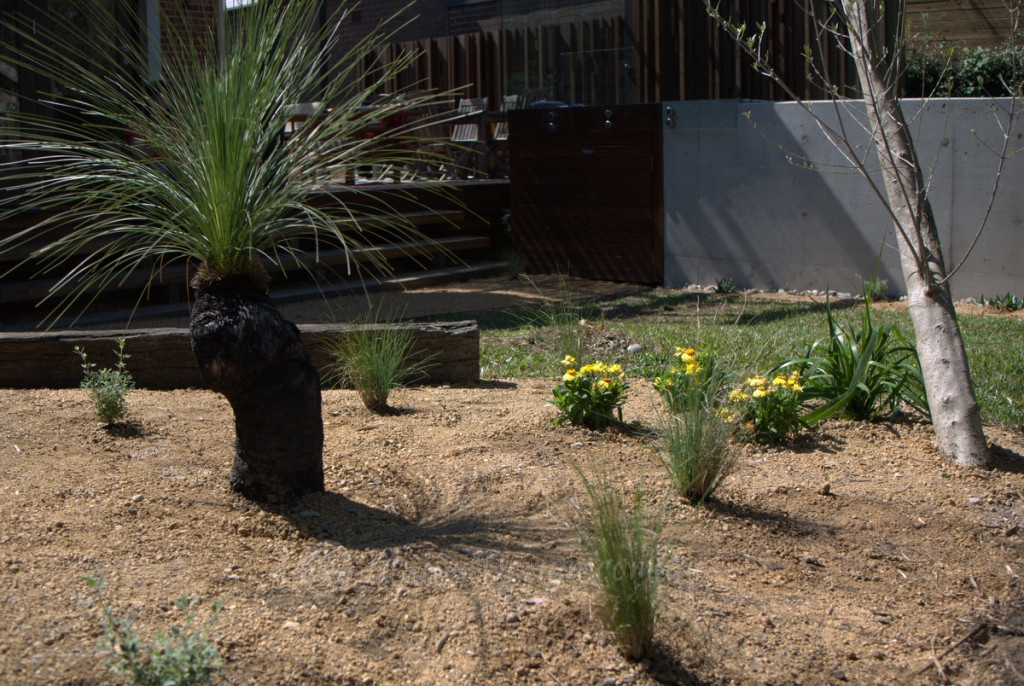 The plants used in the main garden bed were selected for their hardiness and foliage contrast and also for their 'natralistic' feel. Next weekend the clients will be installing their fire pit on the gravel and pitching their tent for a spot of backyard camping 😉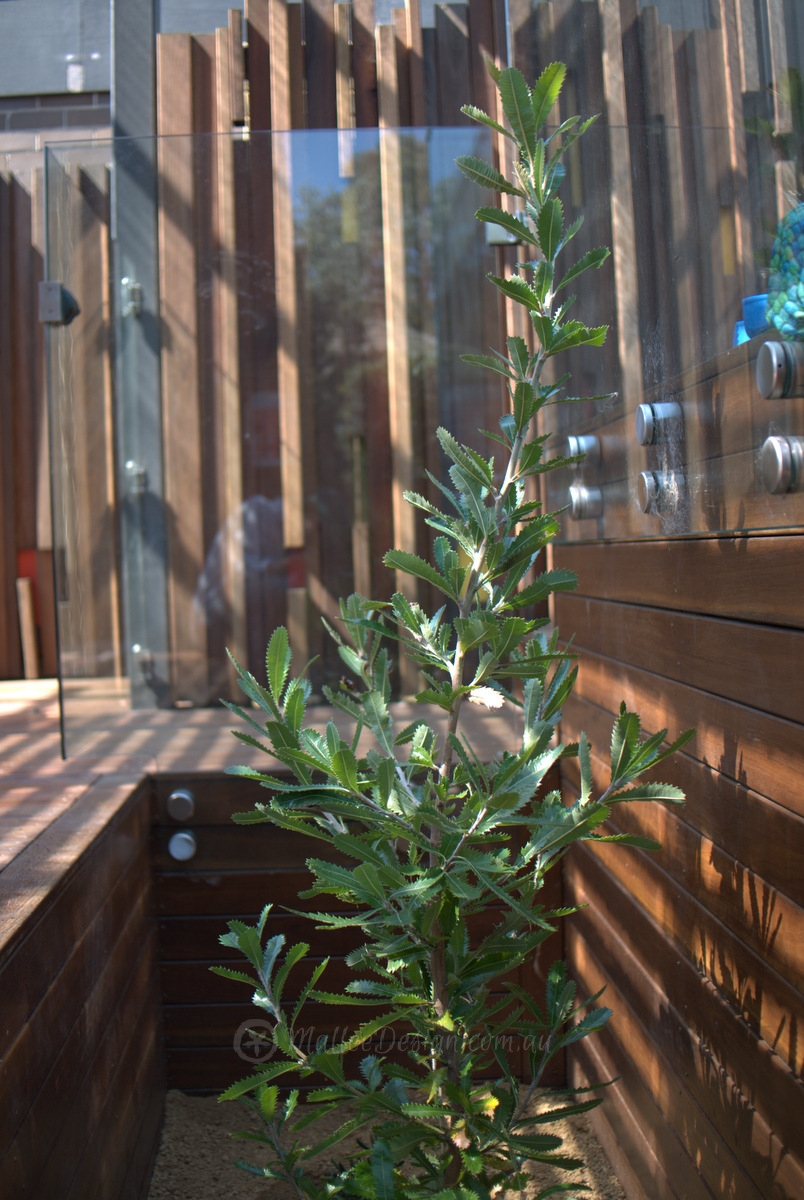 A large Banksia serrata has been planted between the deck and the pool, this will act as a transition screen between the two areas but will also add a bit of a bush feel to the urban outdoor area. We can't wait to see the" big bad banksia men" appear on this feature tree.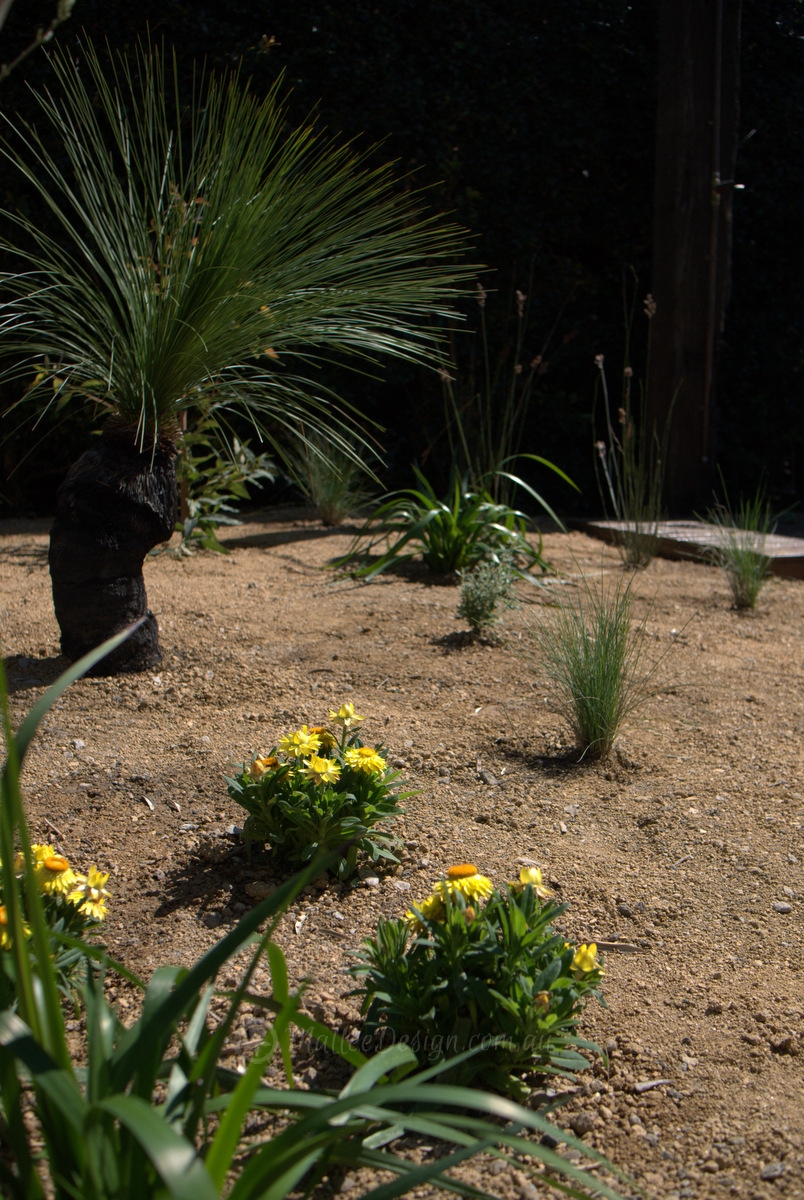 However, the Grass Tree is the obvious 'feature' in the new garden bed, it is a showy specimen with a bend in the trunk which is shown off by the contrasting light coloured gravel. You can also see the feathery brown seed heads of the Meedboldina scarisa 'Velvet Rush' in the background. Building this garden with the client was so enjoyable and smooth, it was kept simple and the outcome has made the owners very happy, and me too, its wonderful to see people getting joy from their new gardens.