We are expanding and restructuring Mallee Design! MalleeDesign.com.au will continue to focus on providing resources for native plant gardeners and designers, and Kath is now operating her Landscape Design practice under Mallee Design's sister business Kath Gadd Landscape Design.
Head over and check out: https://kathgaddlandscapedesign.com.au/
My name is Kath Gadd, I am a qualified Horticulturalist and Landscape Designer and I specialise exclusively in creating modern native gardens using Australian plants.  I have been working in the garden design industry since 2004.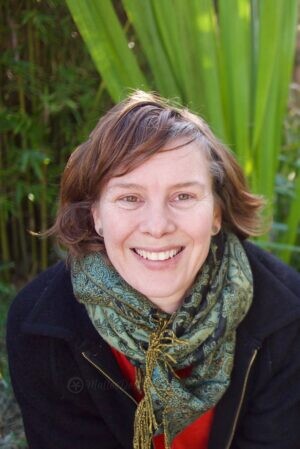 I have a strong environmentally sustainable belief system which drives my design philosophy. This comes largely from my up-bringing in Tasmania, where my childhood consisted of plenty of bushwalking, gardening and environmental conservation campaigning.
My main area of horticultural expertise comes from an extended working knowledge of Australian native plants, and I am passionate about promoting their use in the Landscape Design industry by writing articles and publishing photos for magazines, journals and books.
I have a special interest in creating habitat gardens for native wildlife, bush foods and  the local indigenous plant species of the Illawarra.
I hold a Diploma of Landscape Design, a Certificate III in Horticulture,  Certificate II in Conservation and Land Management and have working experience in bush regeneration and knowledge of the indigenous plants of the Illawarra. I am also a qualified Permaculture Designer which is where my formal plant education began.
I'm inspired by Australian Native Plants and the bush and am driven to green our urban environment. I am currently self employed and divide my time between Landscape Design and helping run Birdbaths.malleedesign.com.au.
Recently I spent 2 years working part time as a Horticulturalist and Landscape Designer for Talyor Brammer Landscape Architects from 2018 to 2020. Prior to that I was a Landscape Designer and Horticulturalist, for 10 years at the Sydney Wildflower Nursery in Heathcote.
Australian Native Gardens have come a long way since being in vogue in the 1970's, the number of species and cultivars available now is  far superior; there is no better time to plant a native garden. Our climate is becoming less and less predictable and that makes it difficult for our gardens and us! By research and careful planning you can create a native garden that can withstand much of our harsh climate.
I have created this website to help promote the use of Australian native plants in garden design, not just for my garden designs but hopefully to inspire anyone out there who is interested in learning more about native plants and to give them a try.
It is created as a resource that I myself use when designing gardens but also as a space to open up discussion. Join me in this ongoing exploration of this amazing country's natural environment. Browse around, and feel free to comment as you wish.
Useful links for more information about gardening with Australian native plants:
http://blog.growingillawarranatives.org/– A wonderful website put together by passionate and dedicated volunteers all about our native Illawarra Flora
http://asgap.org.au – Australian Native Plant Society
http://www.austplants-nsw.org.au – Australian Plant Society NSW
http://www.gardeningwithangus.com.au – Gardening with Angus
http://www.australiannativeplants.net.au – Australian Native Plants Directory
http://www.grevilleapark.org – Illawarra Grevillea Park in Bulli, well worth a visit!
 https://www.australianoutdoorliving.com.au/australian-native-plants/ – New Australian Native Plant Resource
These are some of the Blogs I follow and find inspiring and informative:
http://australianmodernistlandscapes.wordpress.com – Fantastic modernist Architecture blog with a touch of native plant Design
http://ourgreengenes.wordpress.com – Food for thought
http://theplanthunter.com.au – Life with Plants