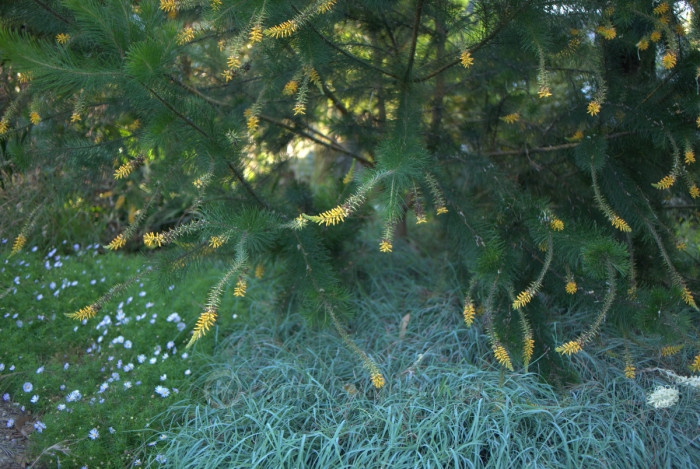 This is my friend Keith's native front garden in Bulli, I have wanted to take photos of this garden for a long time and on a recent visit finally remembered my camera. Phew! I had to snap quickly as the sun was setting and the mozzies were out.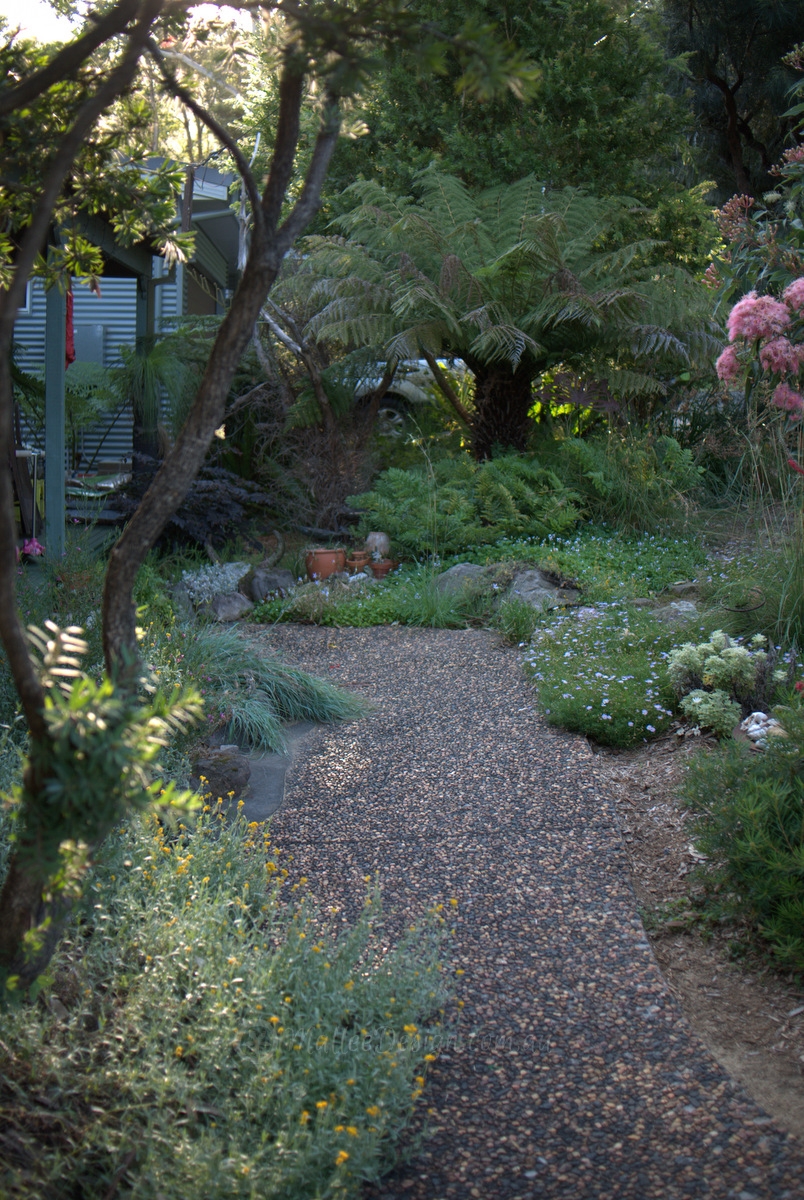 The garden is located on the escarpment so gets limited sun in Winter when it goes behind the mountain at around 11am, therefore most of these plants are growing in part shade for much of the year.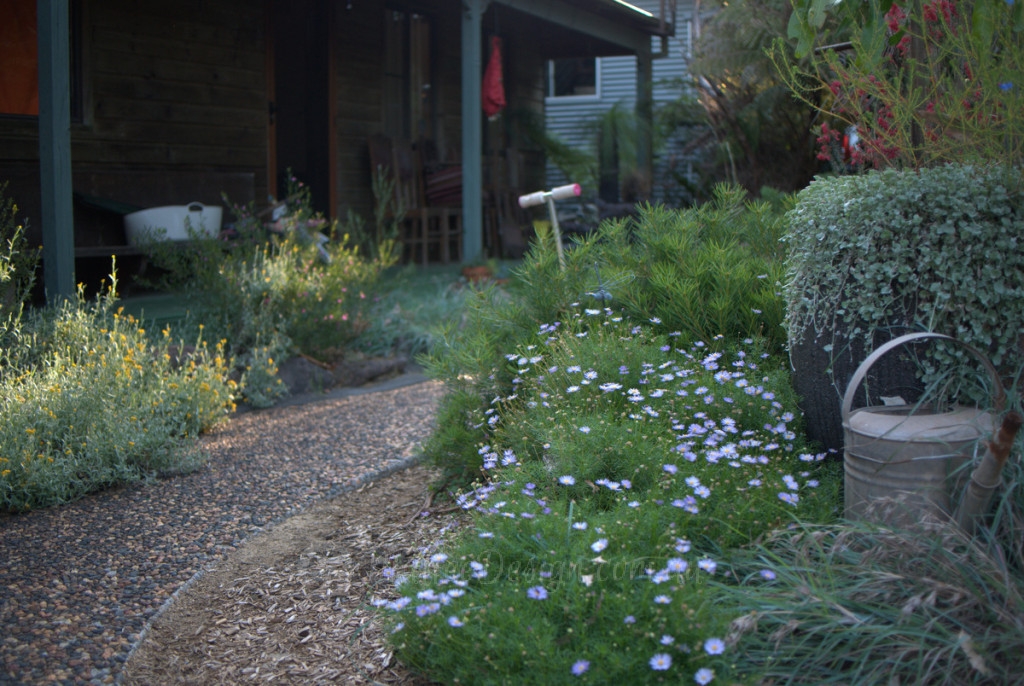 I would probably describe this garden as a modern native cottage garden. There is a beautiful steel and sandstone scultpure in prize psotion in the centre and also a large pot full of Dichondra 'Silver Falls' (not native), these personalise the garden and give it a strong individual feel.  In the image above you can see Brachyscome multifida edging the pathway on the right and Chrysocephalum apiculatum on the left, both flower for much of the year giving year round colour.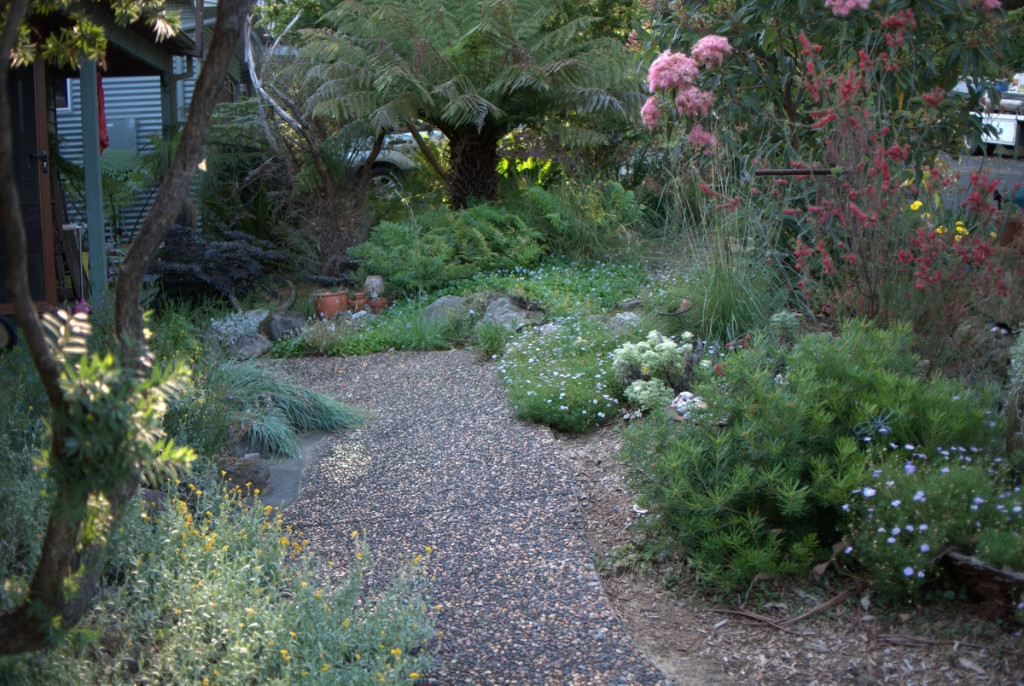 The low daisy border planting is continued around to the front door with Actinotus helianthi and Scaveola species. A garafted Eucalyptus 'Summer Beauty' is coming to the end of its flowering on the right. There is so much colour in this garden but it works because it is also balanced out with texture.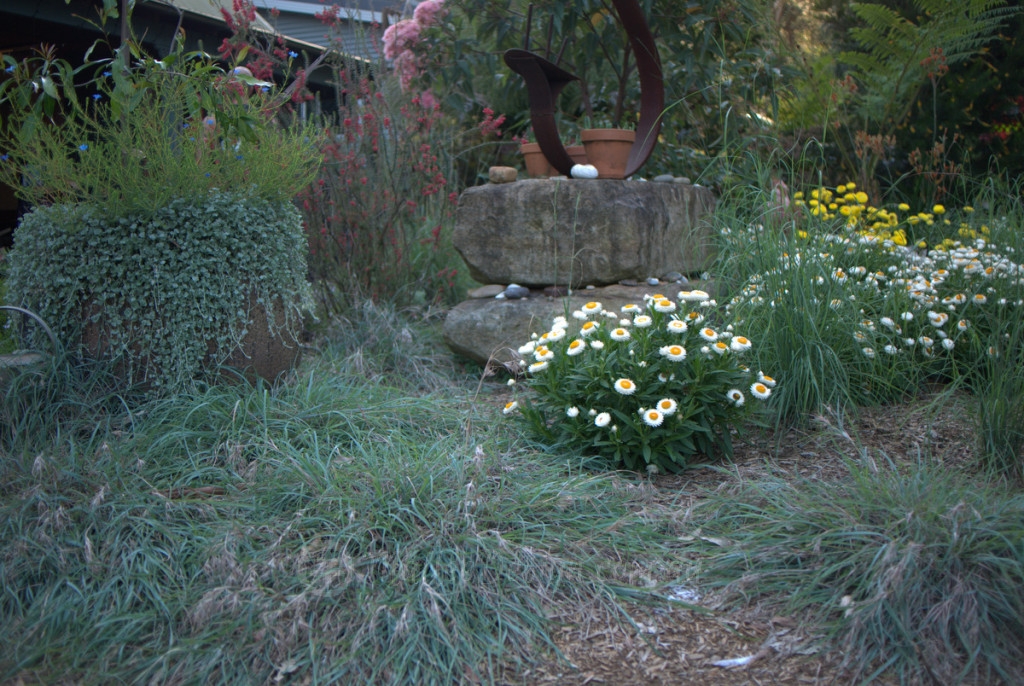 There are several areas dedicated to Themeda 'Mingo' (one of my favourites too), which looks great with the paper daisies and growing in amongst other groundcovers. Another of the central feature plants is the Epacris impressa, which can be seen in the centre of the photo above, it has a strong upright habit and showy bright red flowers.
There are plenty of collections in the front garden besdies the sculpture and large pot, there are clusters of shells and stones rescued treasures from bush walks and tip trips, that's one of the things that makes this garden really special, it speaks about its owners.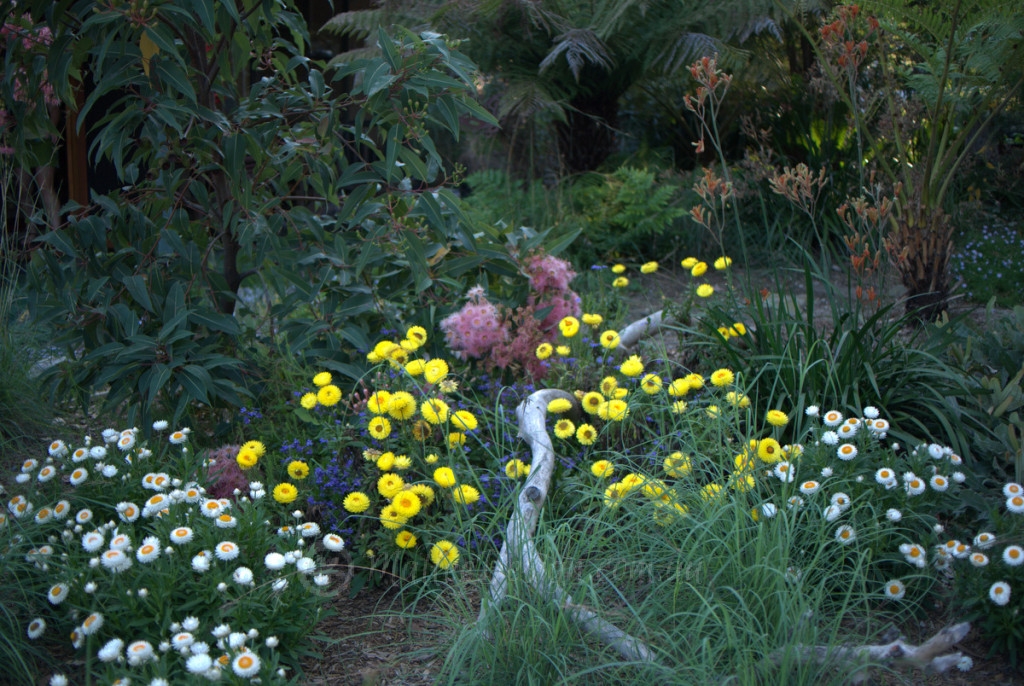 It is a collecters garden as well as being a happy and interesting space. By far probably my favouriote plant in the garden is the Persoonia pinifolia, planted in a shady corner underneath a grevillea 'Moonlight'.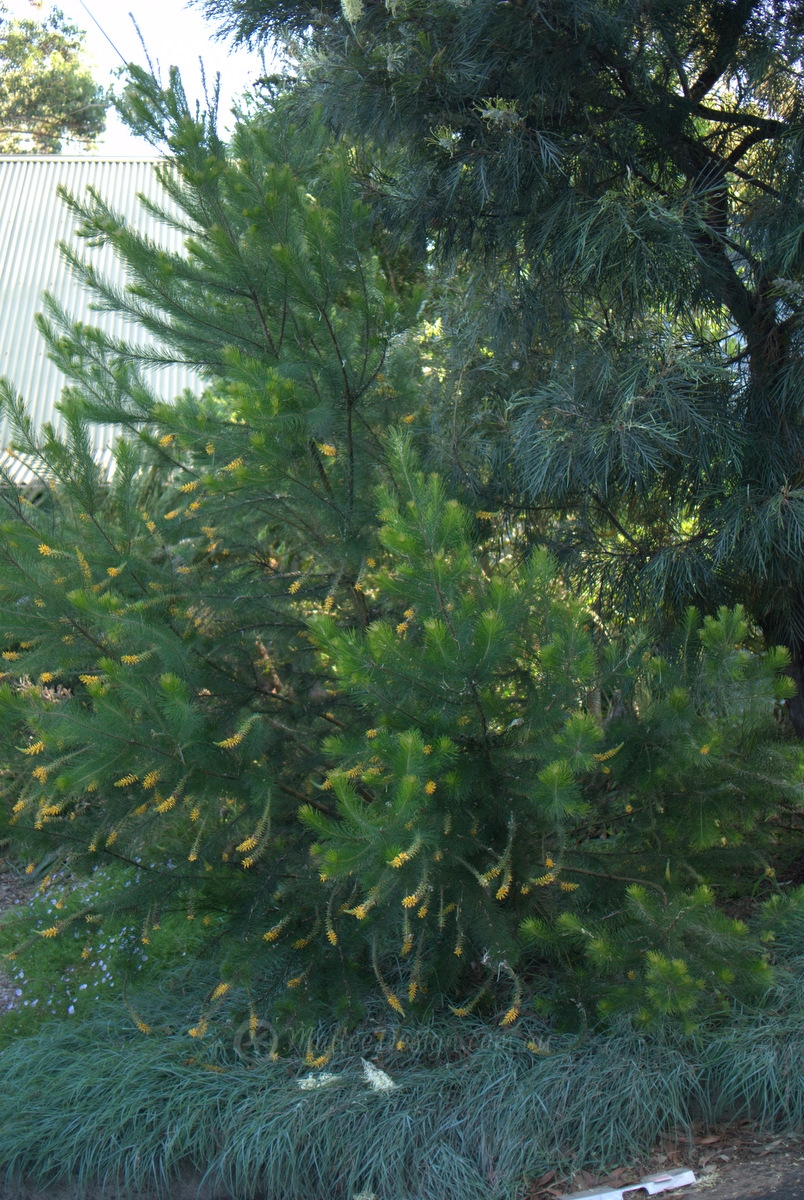 Doesn't it looking lovely with the Themeda 'Mingo' underneath?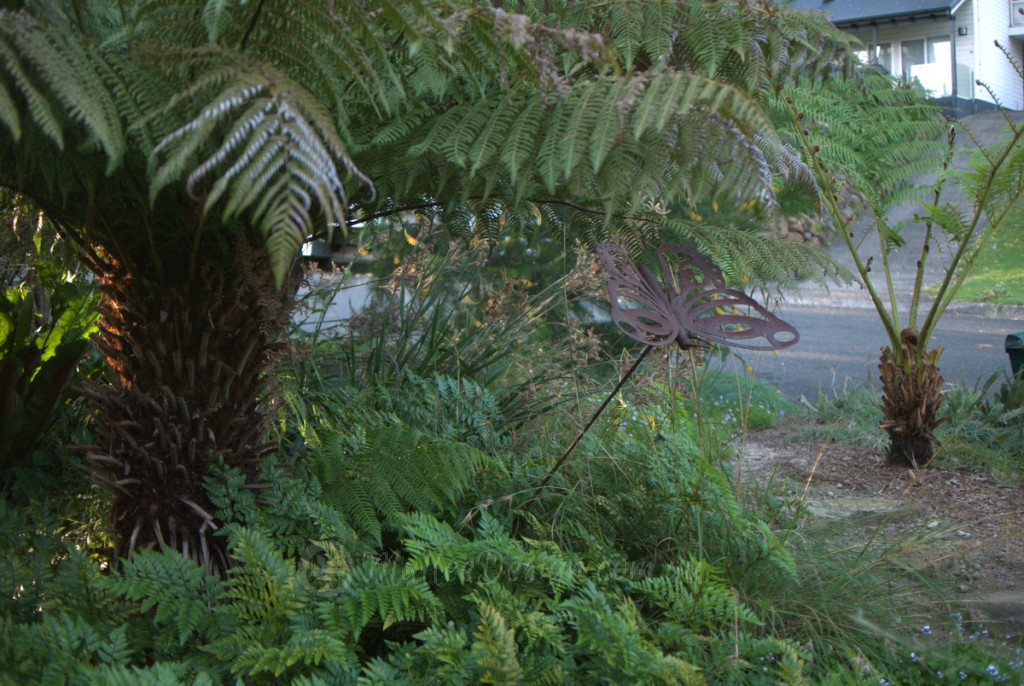 The shadiest corner of the front garden is home to many tree ferns and groundcover ferns. These create a soft peacful feel as they fill in a cool sheltered corner near the front door.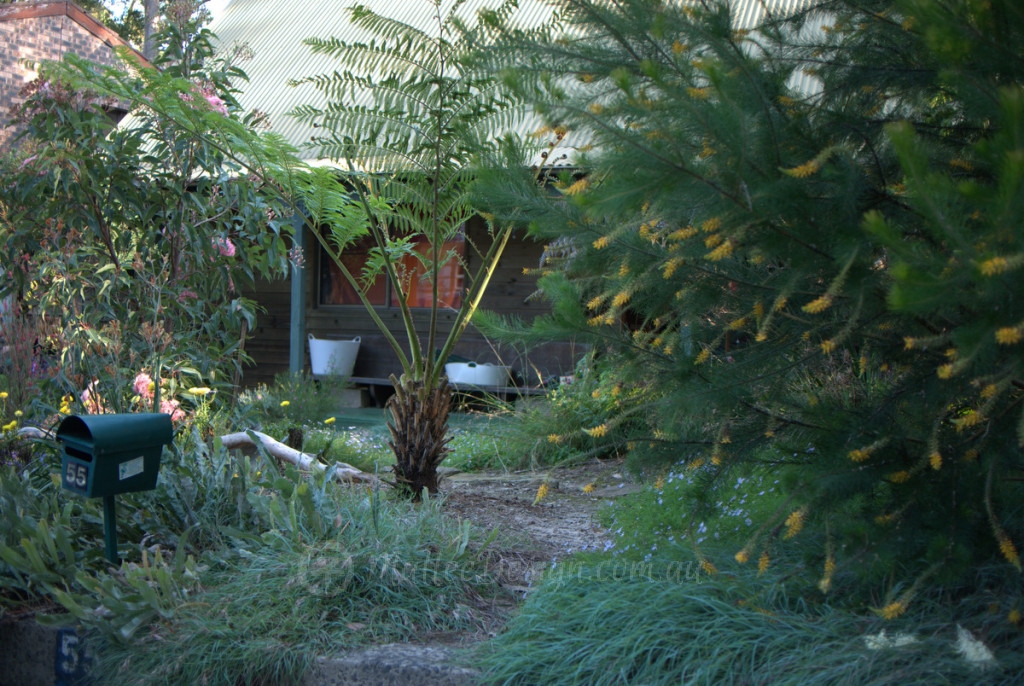 Hope you have enjoyed looking at these photos as much as I did taking them 🙂