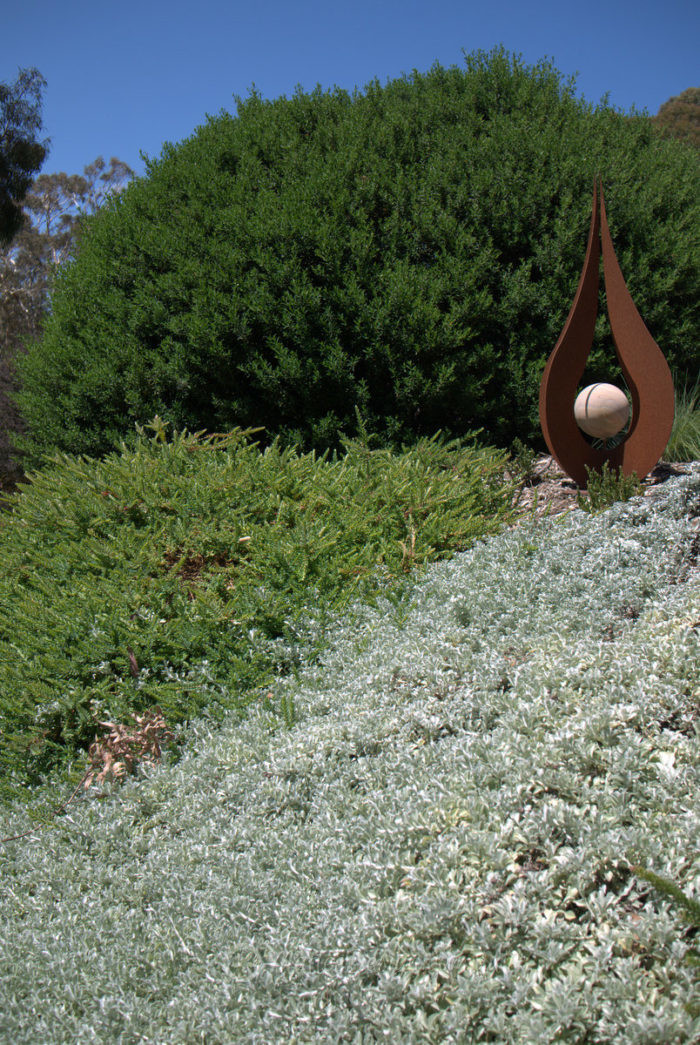 The display gardens of Austplant Nursery
I have been away in Victoria for the past few weeks, camping on Wilsons Prom and then visiting native nurseries and gardens on the Mornington Peninsula. It was a wonderful holiday that has left me with a touch of post holiday depression but plenty of photos of native plants to share with you!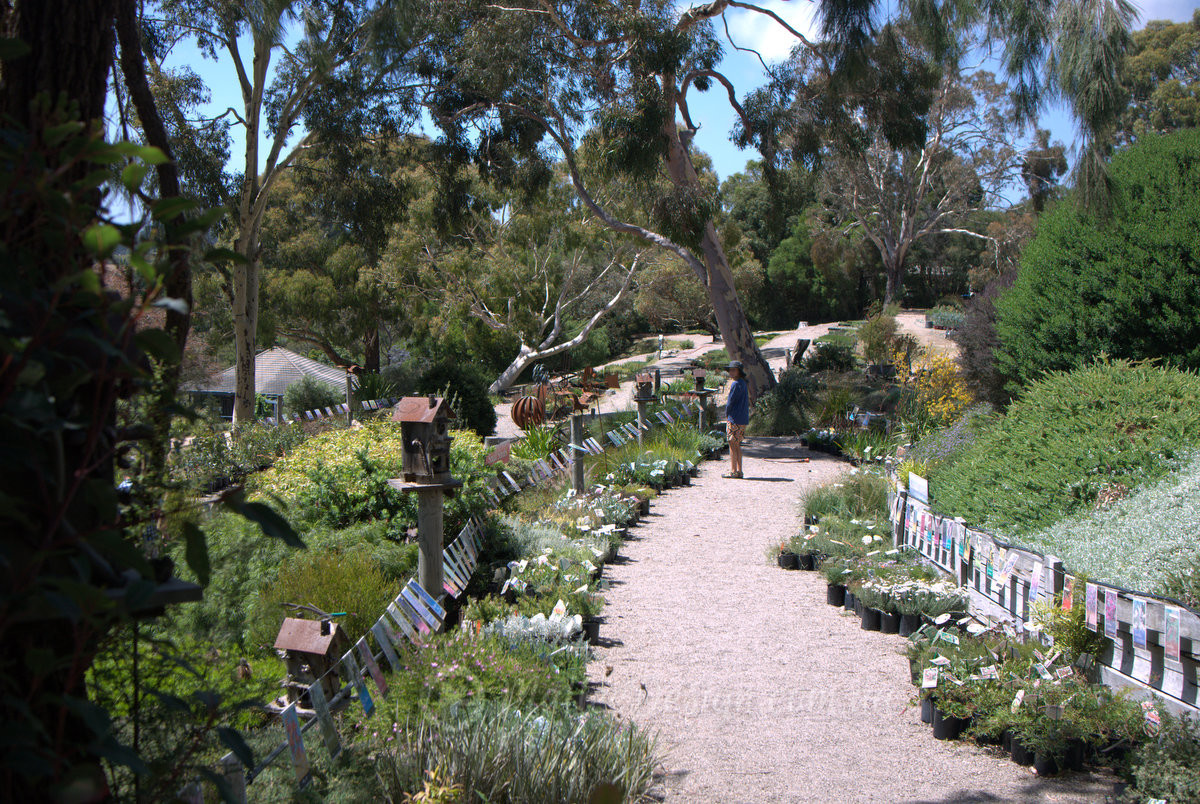 One of the nurseries I visited which I have been looking forward to for ages was Austplant Nursery located on the Mornington Peninsula at Arthurs Seat, it has been run by the same family for over 40 years. The passion is still there, you can see it in the way the display gardens are cared for and continue to be developed despite the drought and competition from the big green shed 😉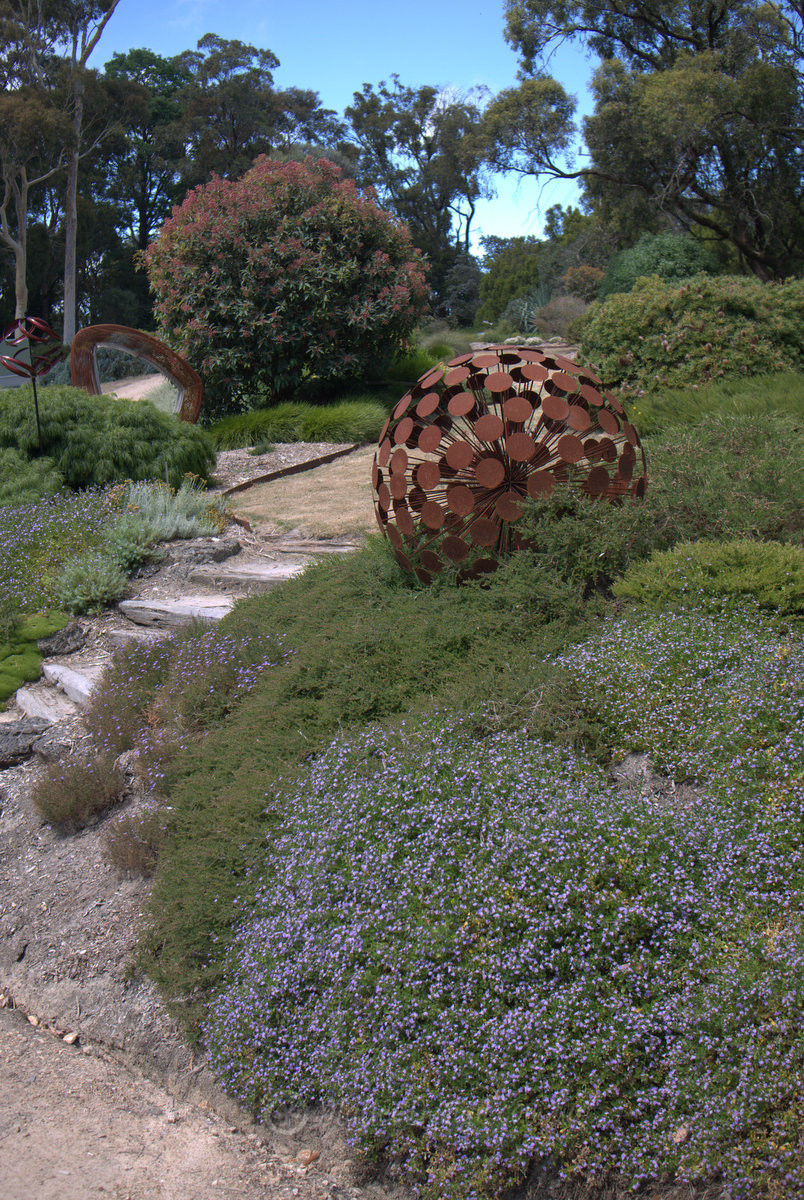 In the image above in the foreground you can see a bank of Scaevola 'Mauve Clusters', thriving despite the dry clay soil. Sculpture plays a huge part in the display gardens as do bird baths and feeders and wind chimes and other garden ornaments.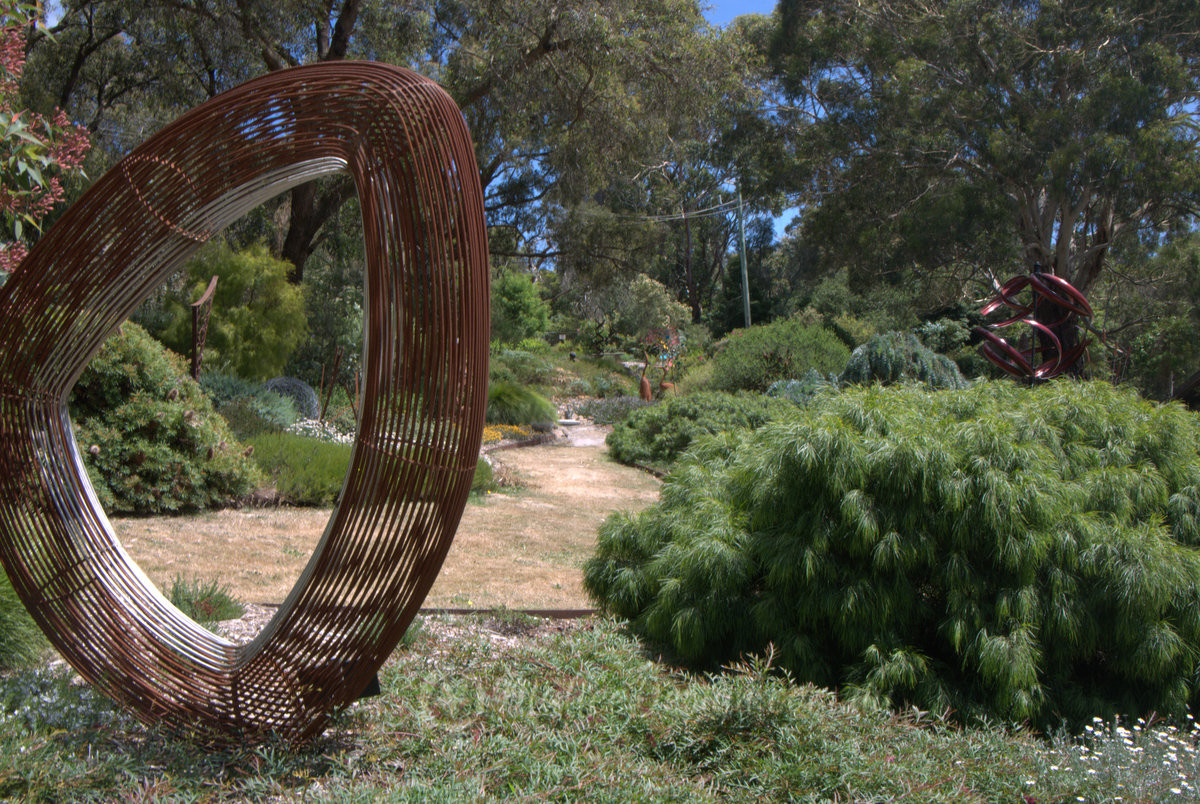 It is these extra personal touches that make the grounds feel like the garden belongs to a gardener and is not just retail driven display.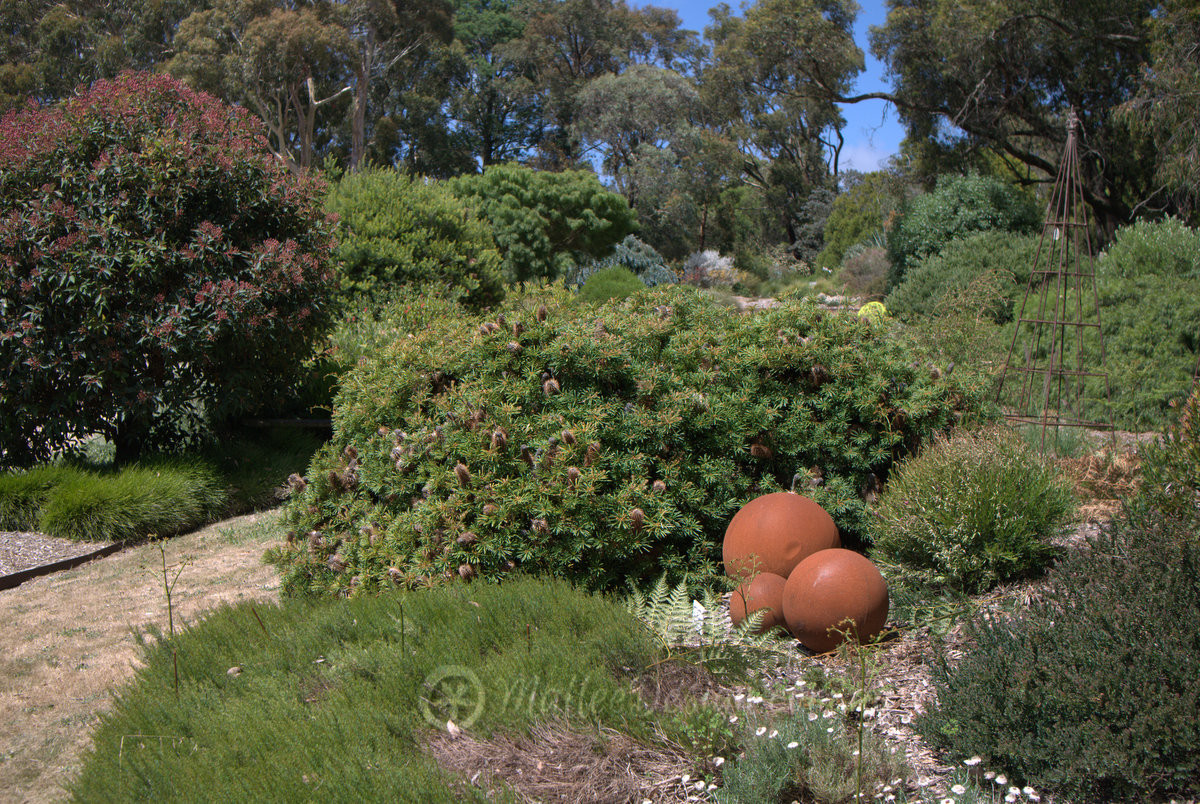 In the image above there is a great specimen of Banksia 'Stumpy Gold' with a Eucalyptus 'Dwarf Red' budding up nicely behind it on the left.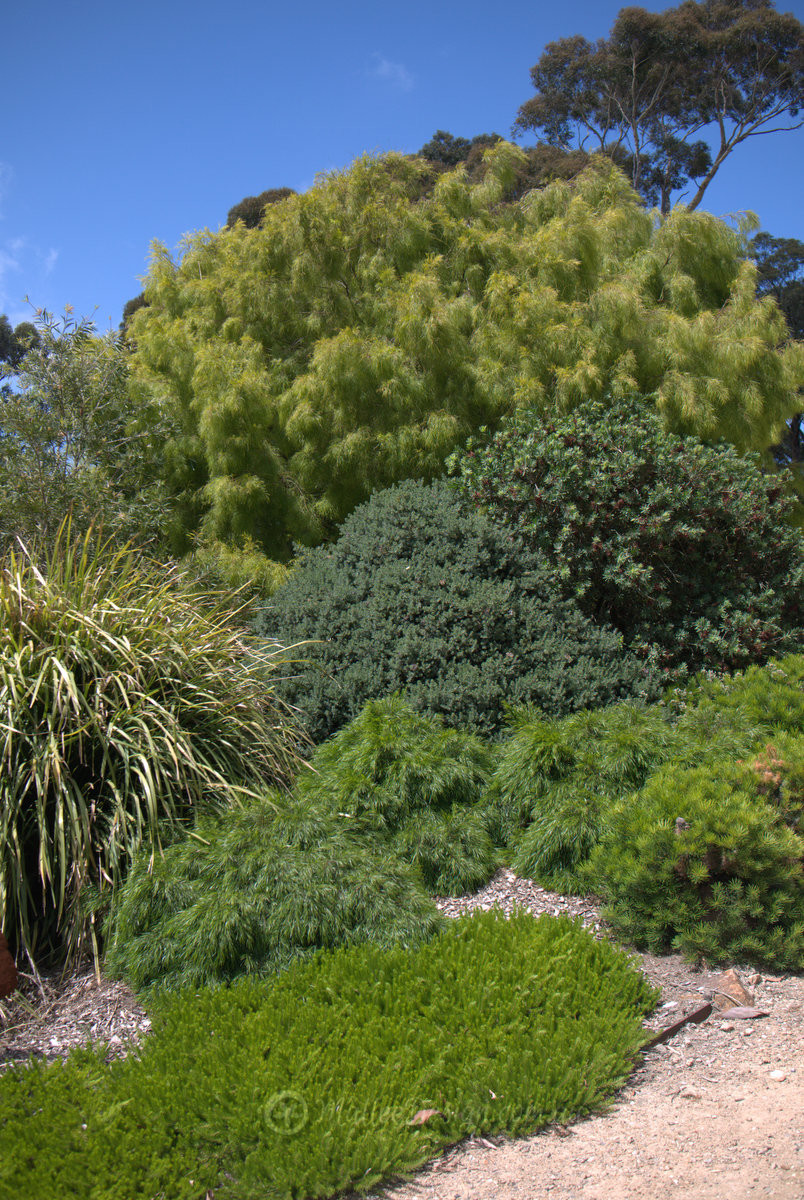 This Acacia 'Lime Magic' was visible from almost every vantage point in the garden, creating a lovely soft textured backdrop of the smaller shrubs and groundcovers.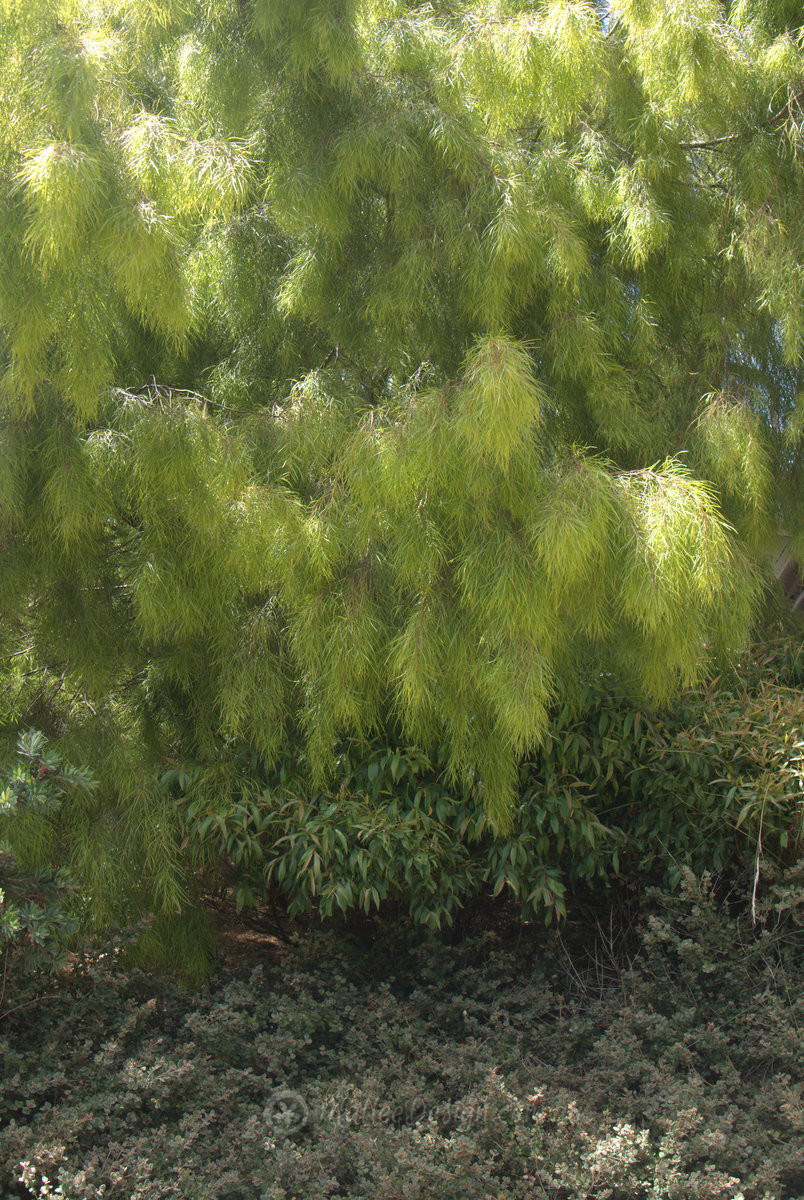 Check it out here spilling over the Agonis flexuosa nana and Correa reflexa var. nummularia, all the Acacia cognata hybrids grow so well in Victoria!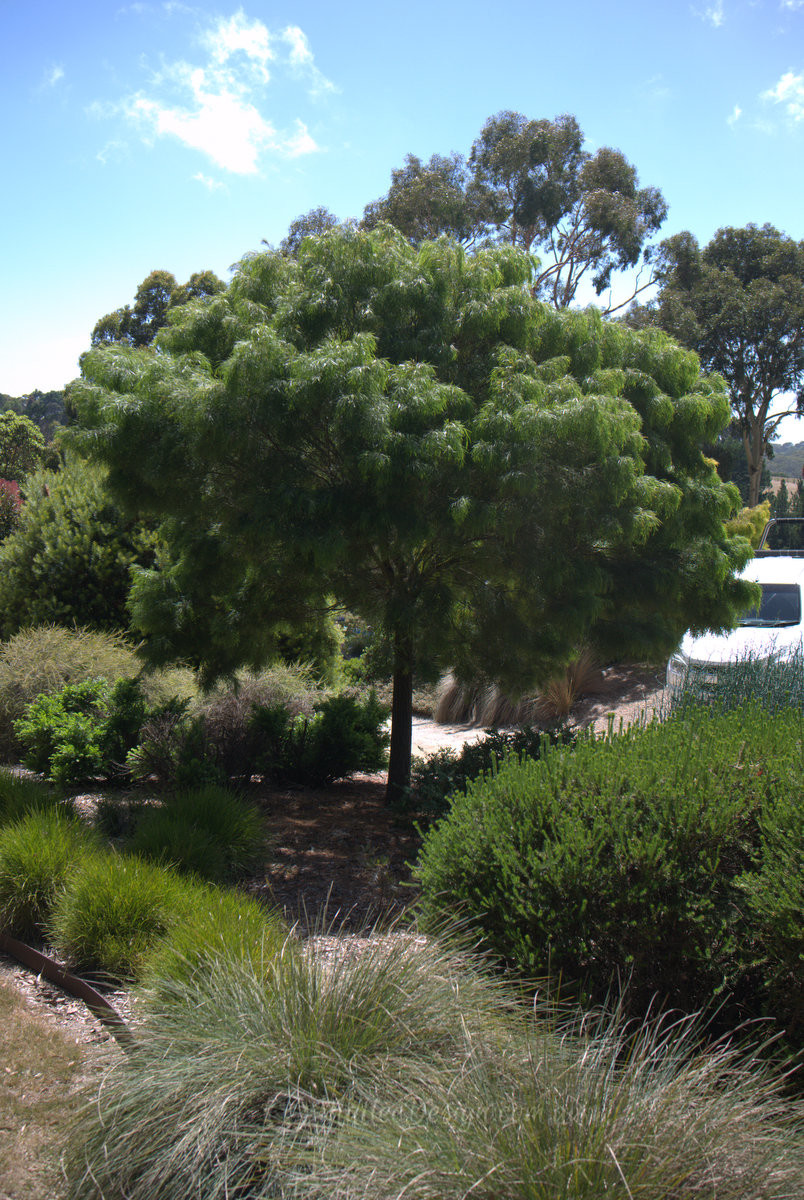 This is the biggest  and healthiest Grafted Standard Acacia 'Limelight' I have ever seen! isn't it gorgeous? you can also see it in the background in the image below.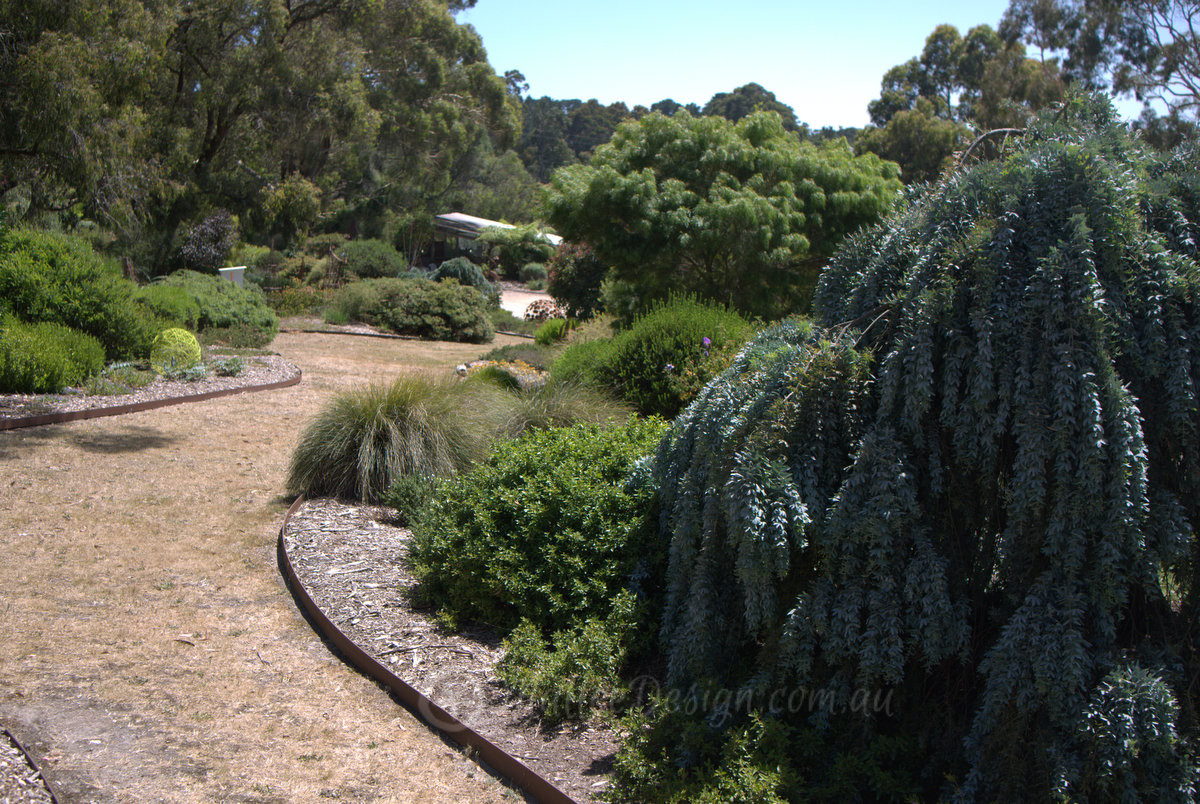 Austplant Nursery grows everything onsite and has a large range of mainly native plants, they also offer a design service and judging from the strong, bold plantings at the nursery they know what they are talking about.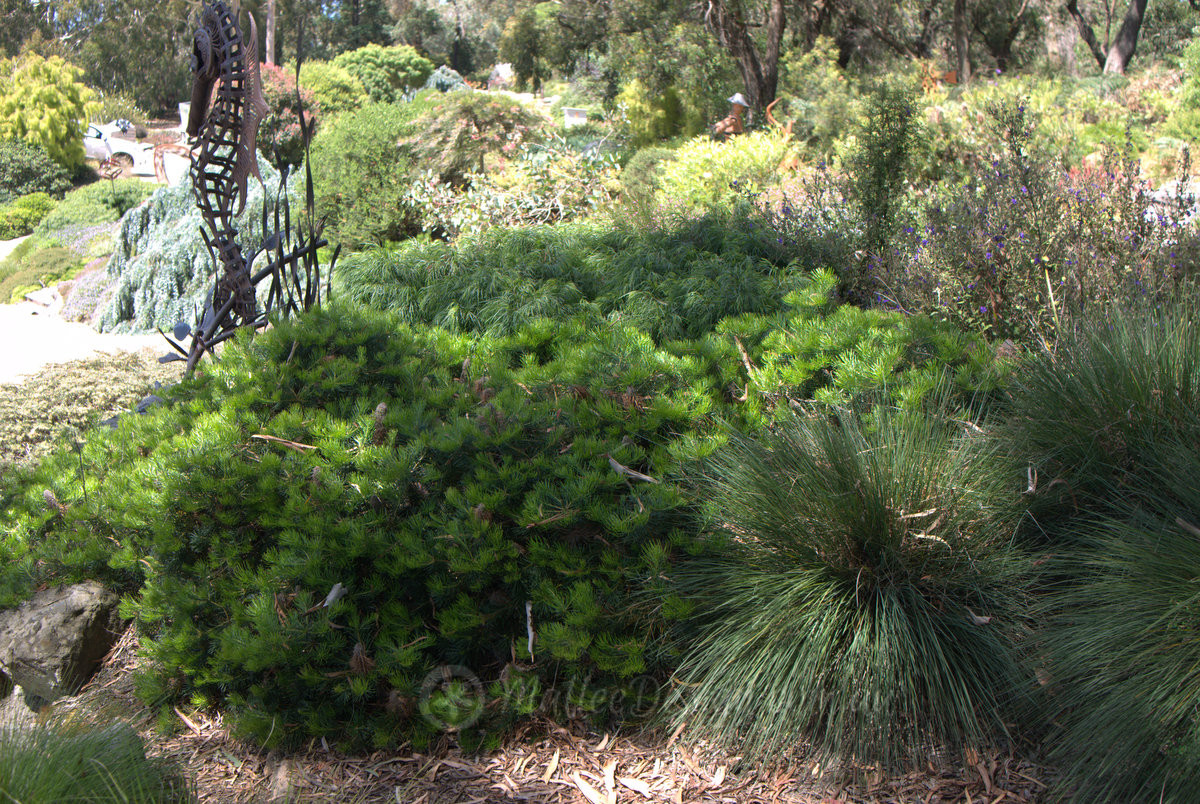 Not all of the gardens are in the full blazing sun, some sections are under the dappled shade of established Eucalypts, these Banksia 'Coastal Cushions' and Lomandra 'Silver Grace' were both thriving in the part shade.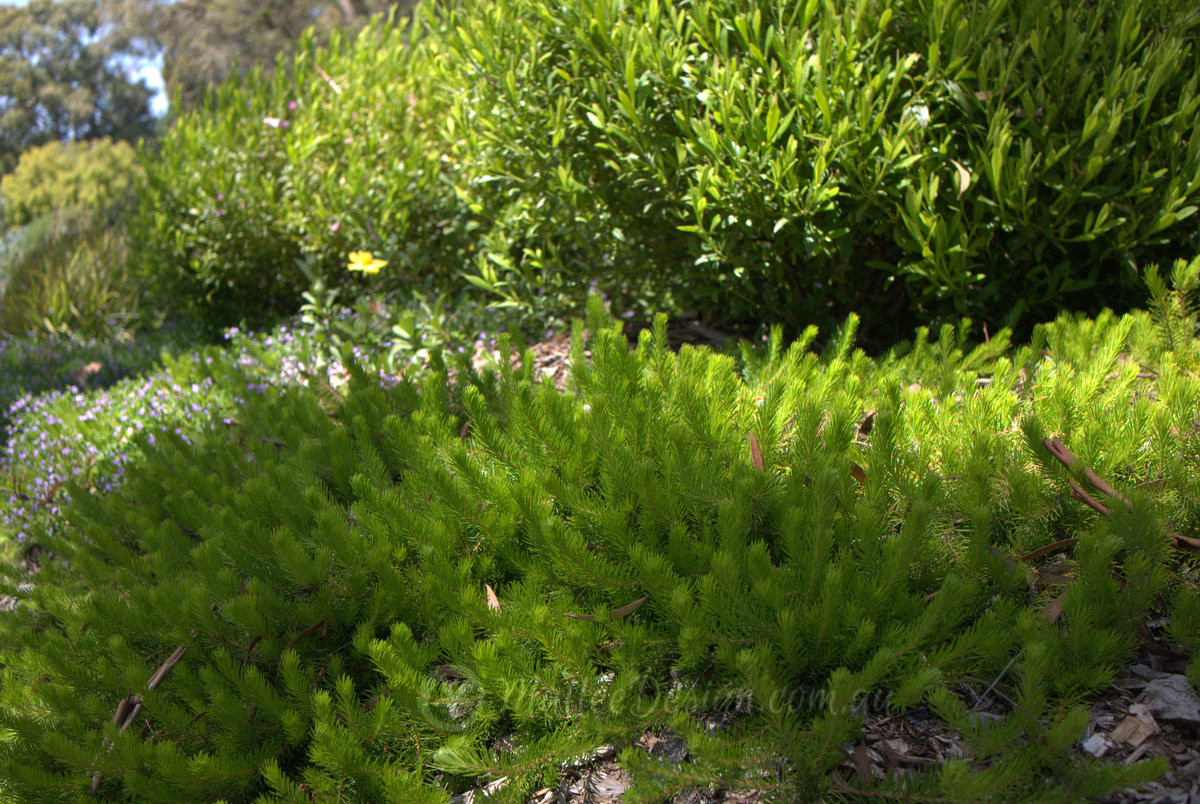 This Persoonia chamaepitys looked great cascading down a slope with a bank of Crowea saligna behind them, this plant doesn't need flowers to look good, its soft pine needle leaves make a lush lime green carpet, even in the driest spots.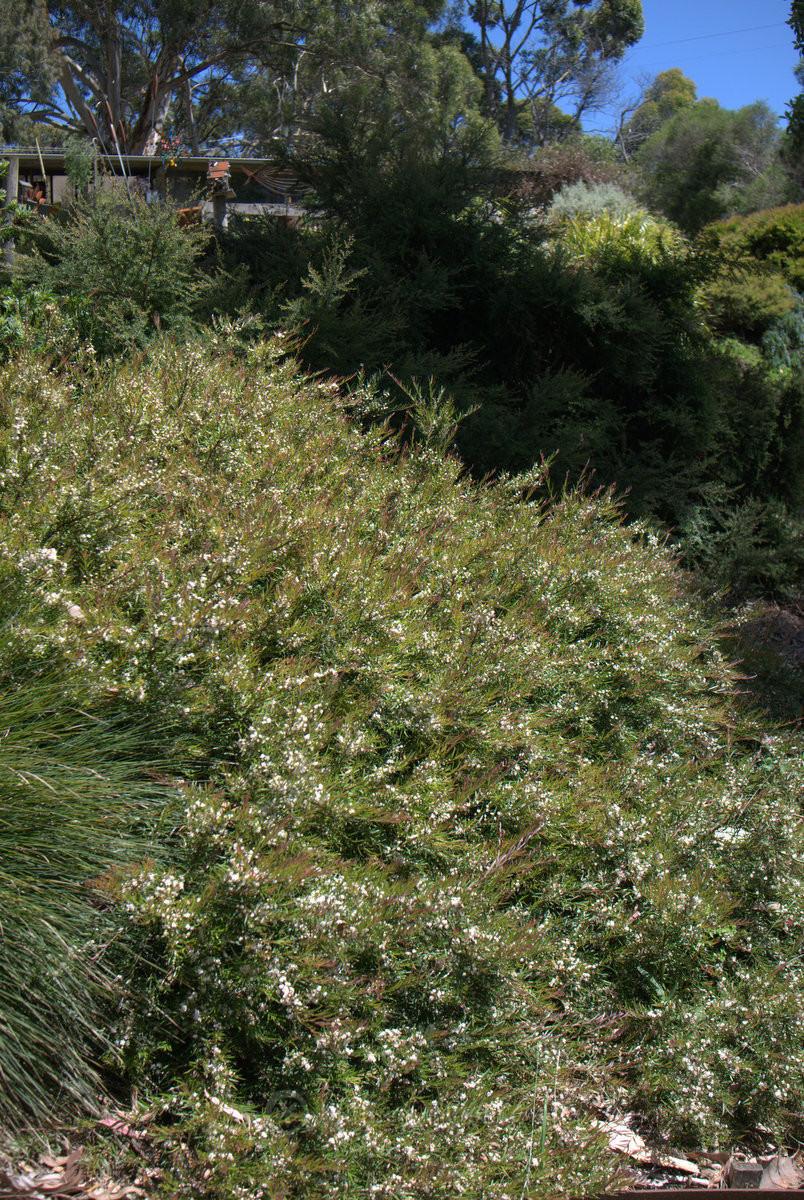 Here is Austromyrtus dulcis x tenuifolia 'Copper Tops', in full summer flower next to Kunzea ambigua prostrate in the shade behind it and in the image below.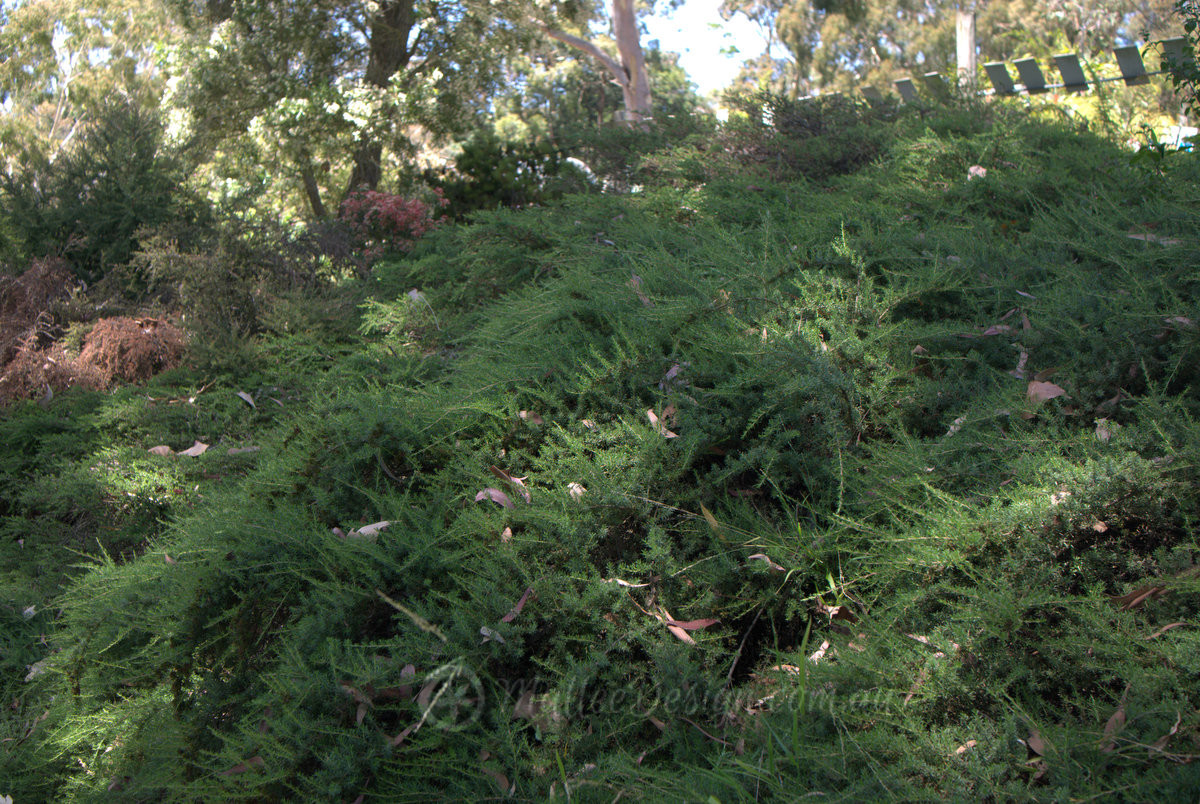 The nursery and gardens are sited on a hill which has been cleverly terraced to allow for strolling and viewing both potted natives and planted beds. There is a sizeable dam at the bottom of the little valley and the whole place feels very tranquil and sheltered.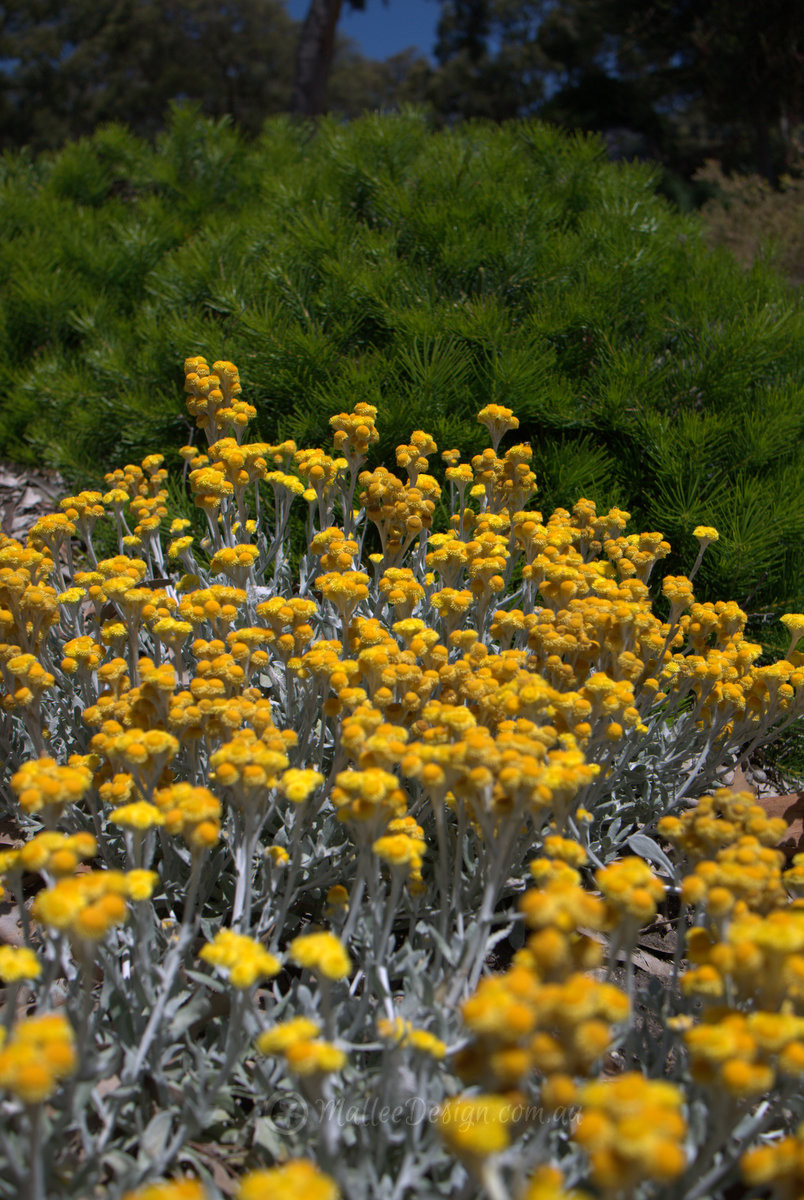 I enjoyed my very quick visi immensly and managed to walk away with only one plant but filled with inspiration and fresh ideas for plant combinations, Thankyou Austplant!