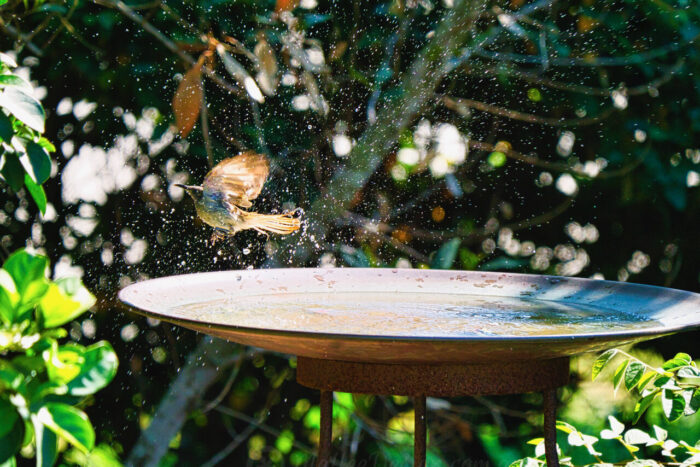 Photo Competition Entries and Winner!
Our photo competition is finished and we've been absolutely blown away by all our entries. The submissions represent so many different birds and locations across Australia that we couldn't resist putting them all in one blog post with the winner! Thank you to everyone who sent photos in to us – they have been the source of much excitement and wonder over the last month and for those who have jumped on the bird photography bandwagon Birdlife has their Australian Photography Competition opening on the 28th May, which is another great opportunity to share beautiful photos of your birds.
The winning shot *drumroll* is of this captivating honeyeater in flight by Robyn. It's a Brown Honeyeater taking off from her dish near Gympie, Queensland, with tiny droplets of water exploding around it. The sparkling lights in the garden background and wingbeat of the free flying bird really make this photo something special. We have come back to gaze at it again and again and want to say a big thank you and congratulations Robyn! The Brown Honeyeater is sometimes considered a plain and uninteresting bird, but its quiet, courageous nature shines through here.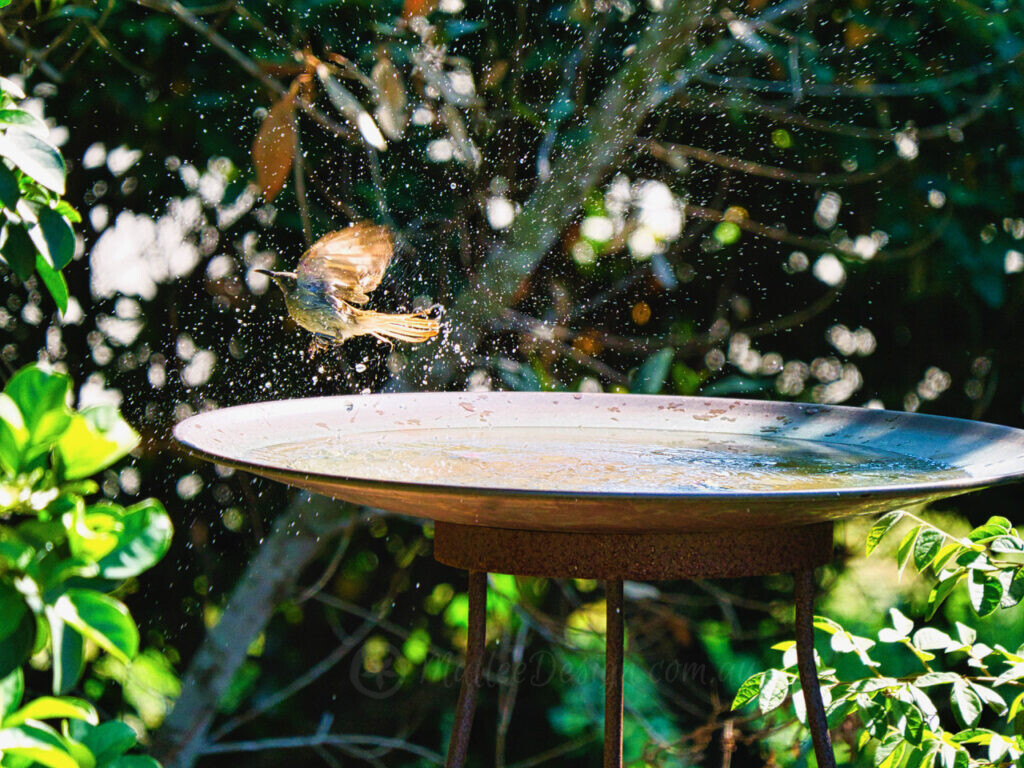 We had plenty of other striking and stunning submissions, which are presented below. The first are John shots of a White-Headed Pigeon and Striped Marsh Frog using his birdbath in Woombye, QLD. The white of the pigeon stands out like a beacon in front of the lush forest background while the Marsh frog blends almost perfectly with the copper of the dish as it perches on a piece of broken ceramic. Both are great quality images, and it was fantastic to see the range of wildlife coming to visit his dish.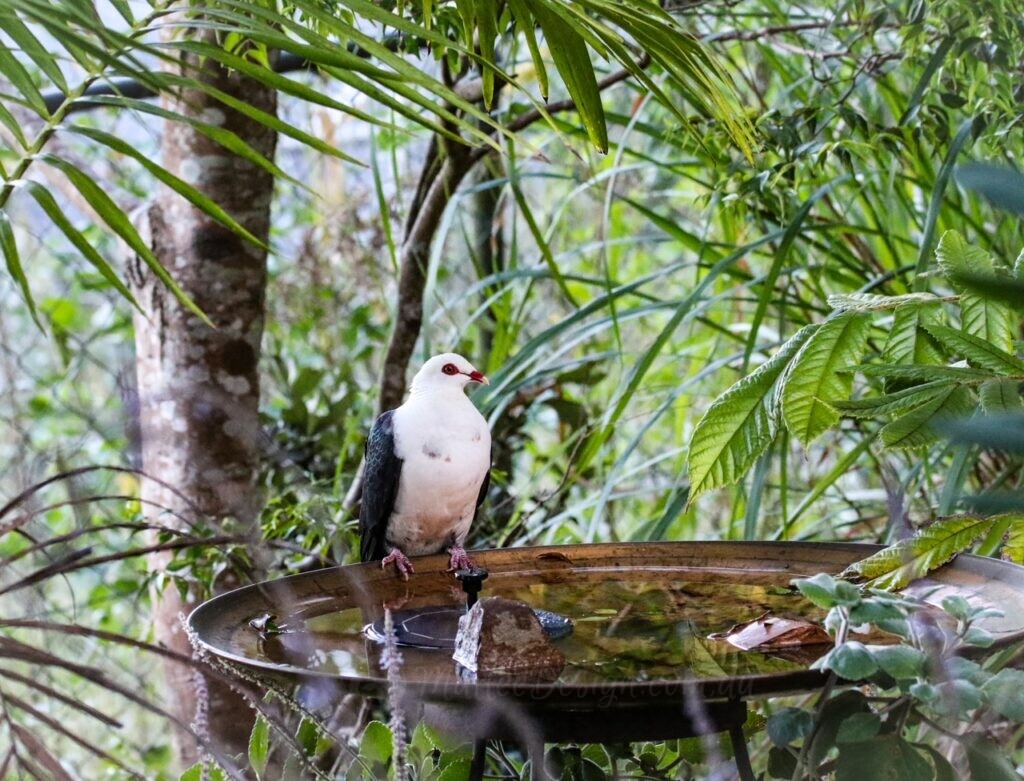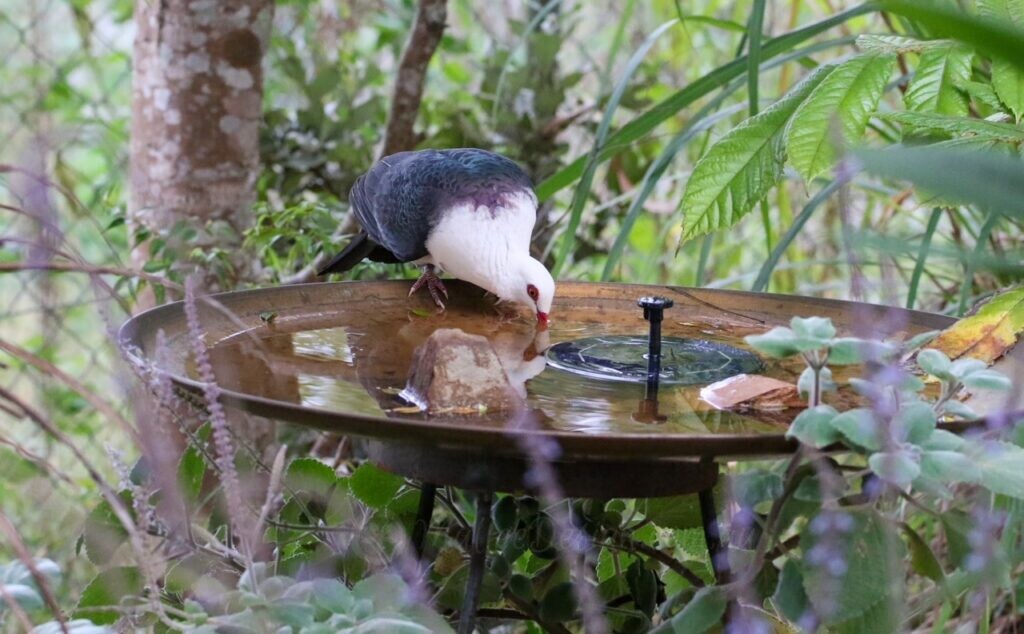 Next are Adele's female Fairy Wrens, Weebill and a Yellow-faced Honeyeater that love her ground-level dish. The Wrens in the first image seem to be enjoying a group splash, and we often see Fairy Wren females visiting birdbaths together (while the males seem to travel alone and can be very tricky to capture!). It's nice to see natives growing in her garden, which will encourage more native birds into the area too. The Correa behind the dish is good shelter for the small birds to hide in and there's a lovely thick carpet of Myoporum establishing to the left hand side.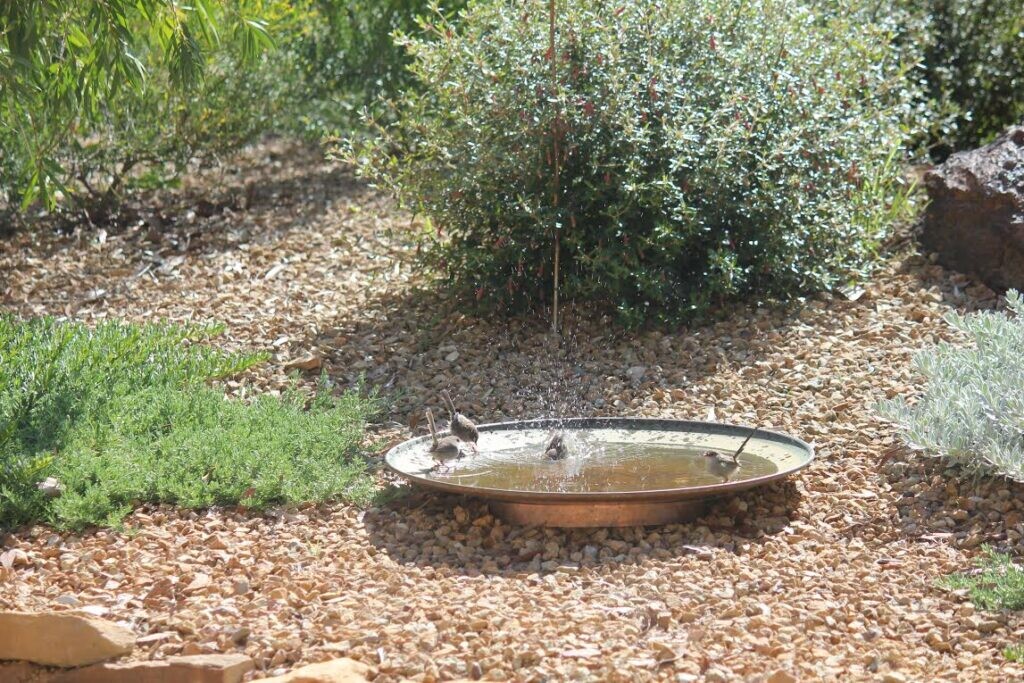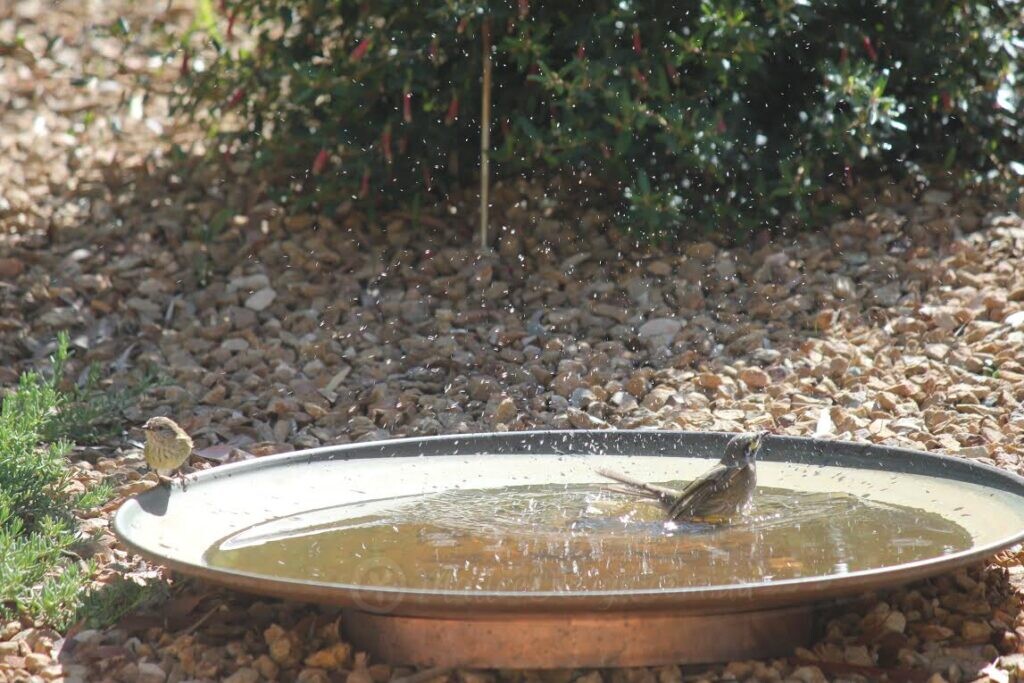 Brad sent us a photo and video (below) of a what looks like a Swamp Wallaby using a dish on his rural property, something we've suspected but never seen happen in a dish before! It's a stunner, the Wallaby looking up between sips to scan the landscape. We love to see other animals using the birdbaths and camera traps are great for capturing otherwise unseen use waterbowls.
Another photo of a Wallaby came to use from Jo-Anne in Adelaide Hills, its expression gentle and mesmerising. She also captured a confident Currawong and some Adelaide Rosellas splashing about in her dish that backs onto some beautiful bushland. The Adelaide Rosella are a race of Crimson Rosella, which has several colour variants across its range so it was exciting to see these ones that we've never encountered before.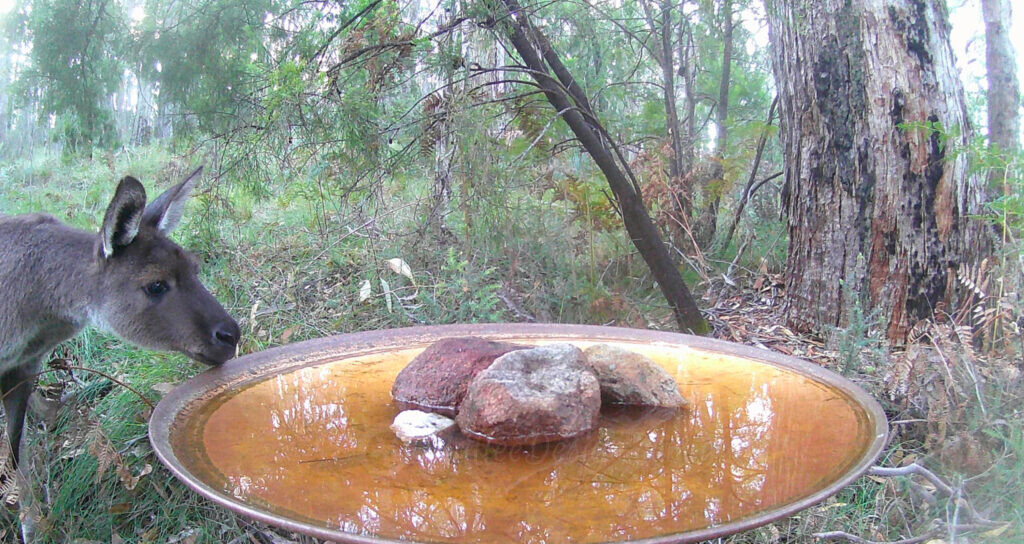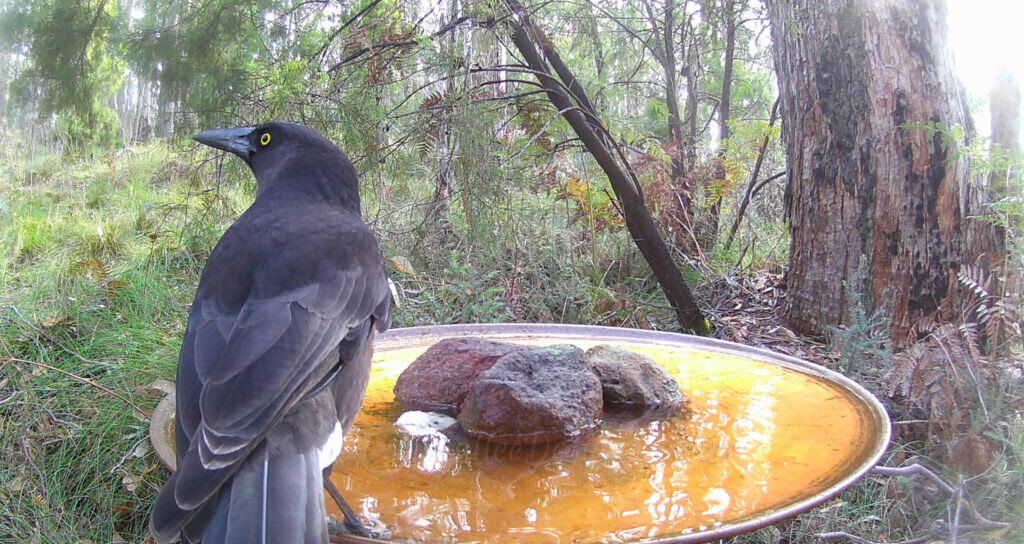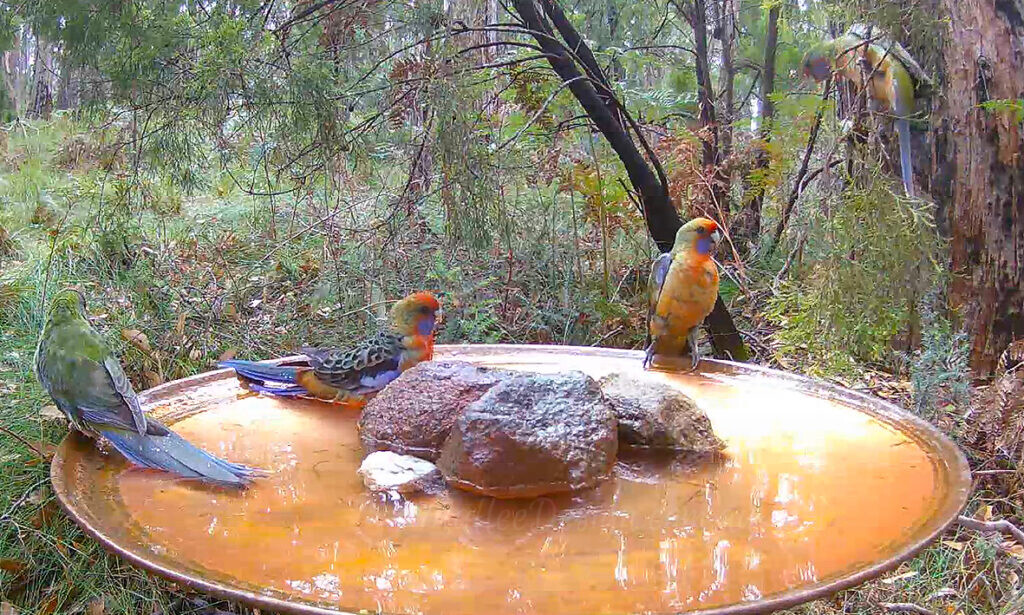 Birdbaths on balconies are often underrated so we were delighted to receive these images from Erica in Hobart. Her large birdbath, surrounded by pot plants looks lovely in the afternoon light and those Sulphur-crested Cockatoos are not afraid to land on it! Doesn't the one in flight look like batman?!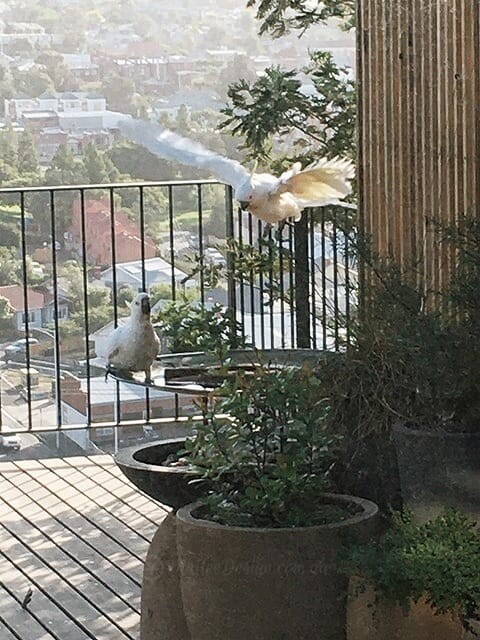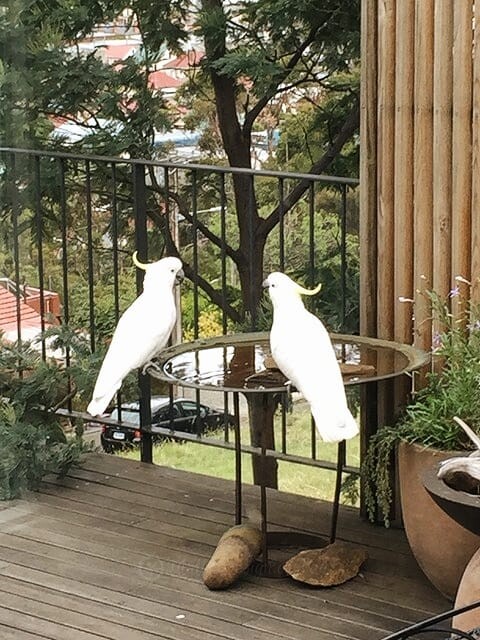 Sulphur-crested Cockies are suburban kings that occur in all Australia's major cities, Kathy on the Gold Coast, QLD, also got some lovely photos of them. She captured some Magpies too (seen below) and has a gorgeous rust-red tree stump that she's mounted her birdbath on.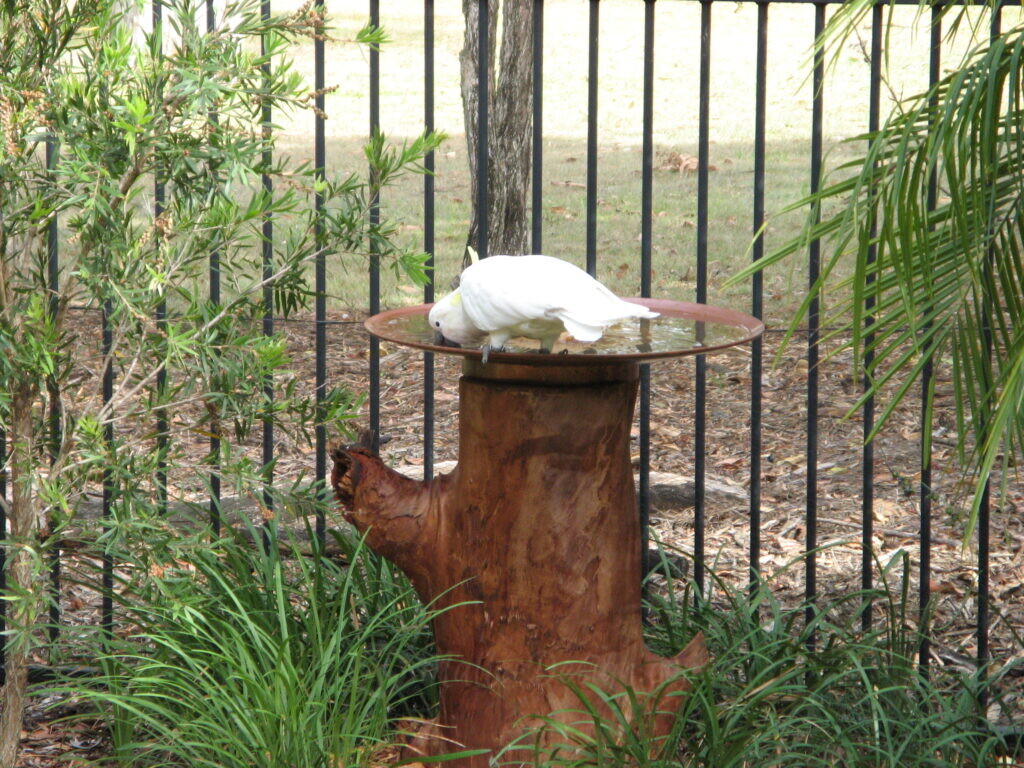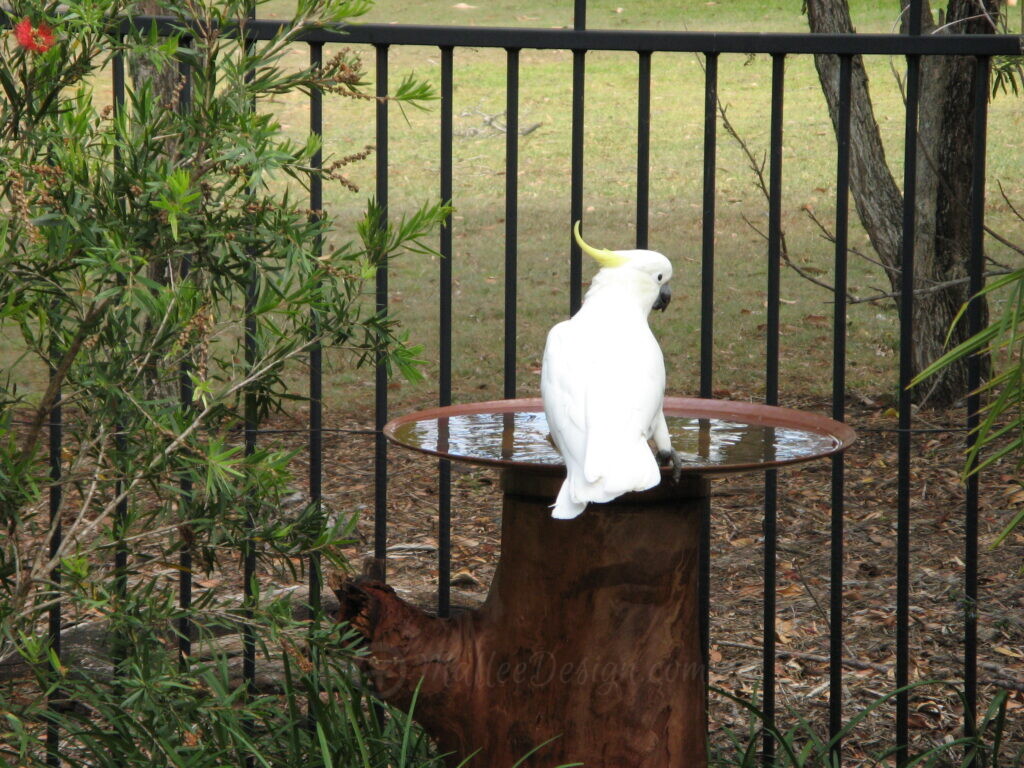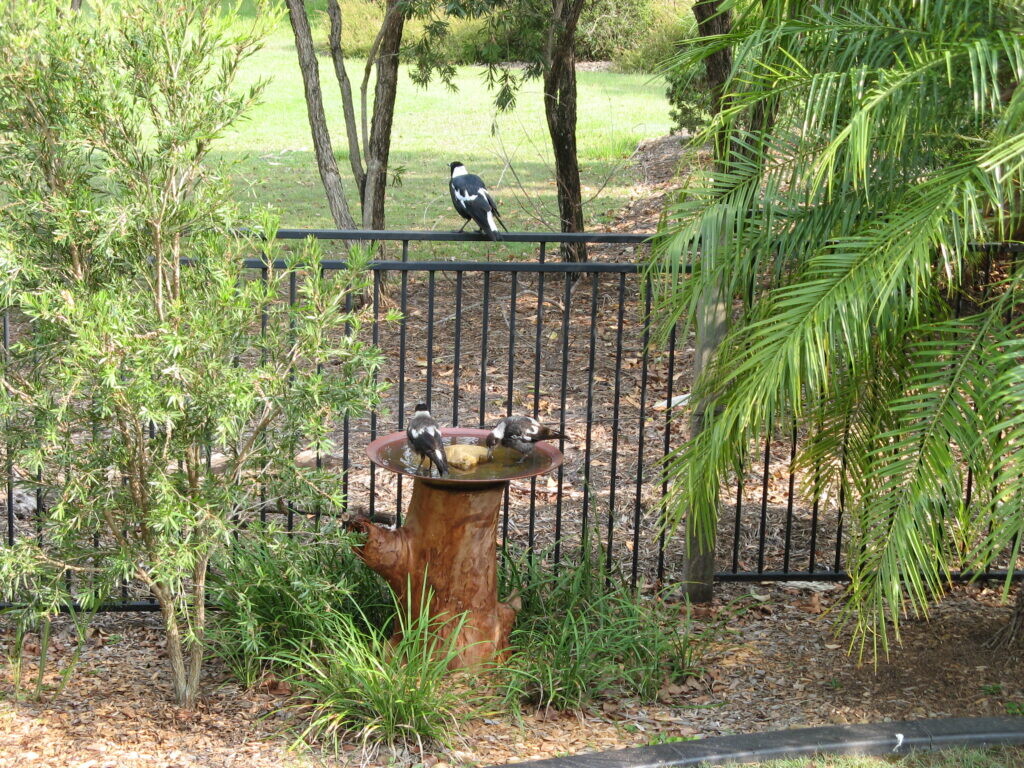 From Lesley and Paul in the lower Blue Mountains we recieved this photo of their Gerygones who visit them often. They hop to and from the Westringia behind the dish in between baths and drinks. It's another smart placement of a birdbath near the shrubbery of the garden so that birds can flit in between them.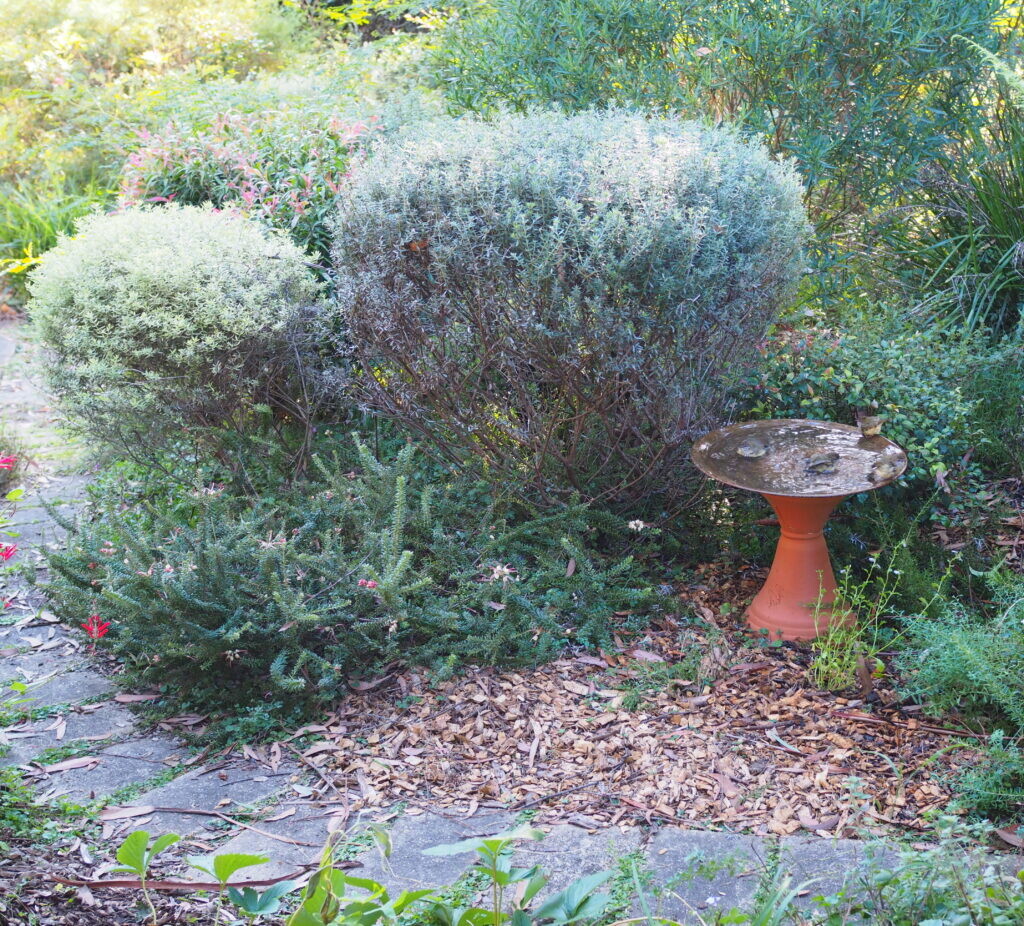 One of the photos we really love is this closeup of a Magpie Lark preening, sent in by Maree in Lake Macquarie. You can even see the fluffy white down it's pulling out from under the wing as it cleans its feathers after a bath. In her second photo the characteristically inquisitive eye of a Magpie stares up towards the camera (they can recognise different human faces), and in the final shot two wattlebirds perch on the edge of her dish surrounded by natives, the fluffy one (on the left) certainly looks like its been for a swim!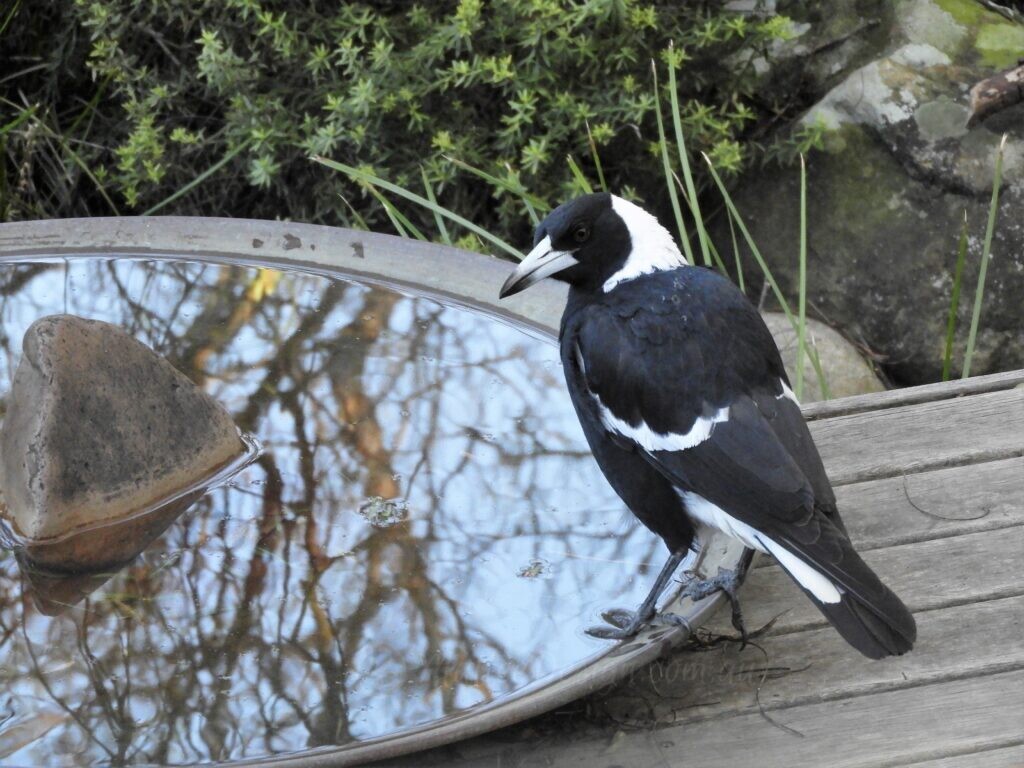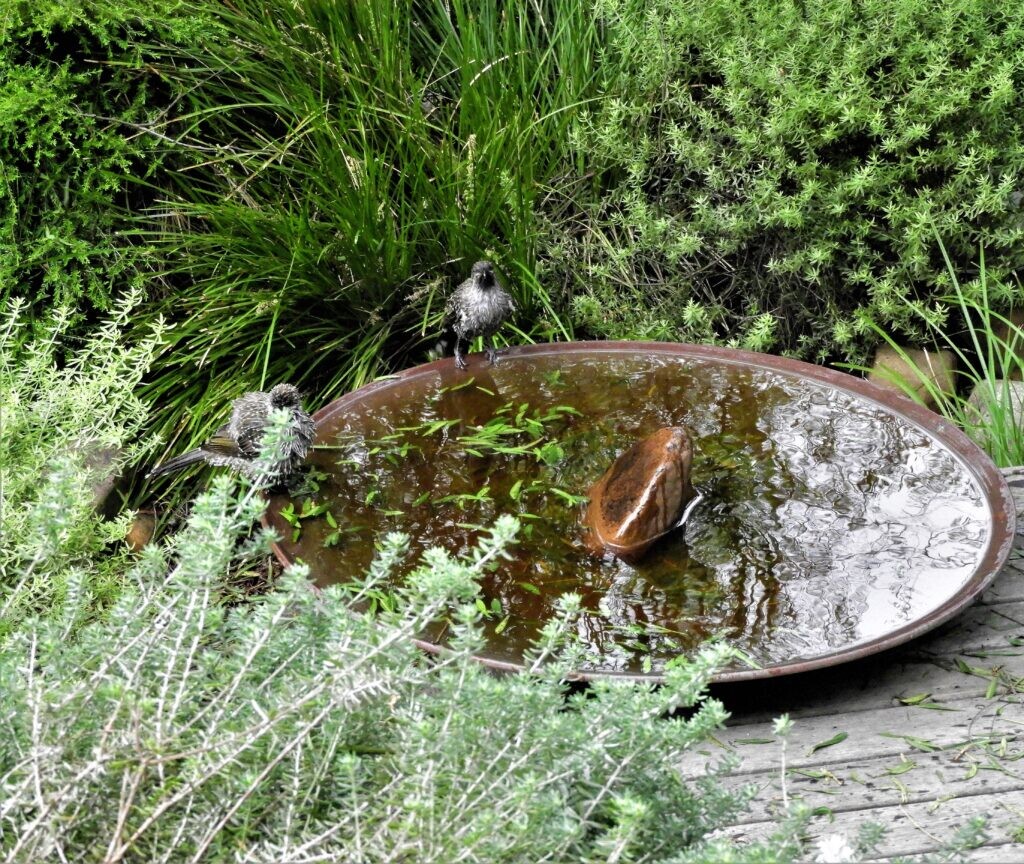 This Magpie-lark in Mark's photograph is having a paddle. Our dishes are designed so that birds can walk into them from the edge of the dish, which is exactly what his Magpie-Lark is doing.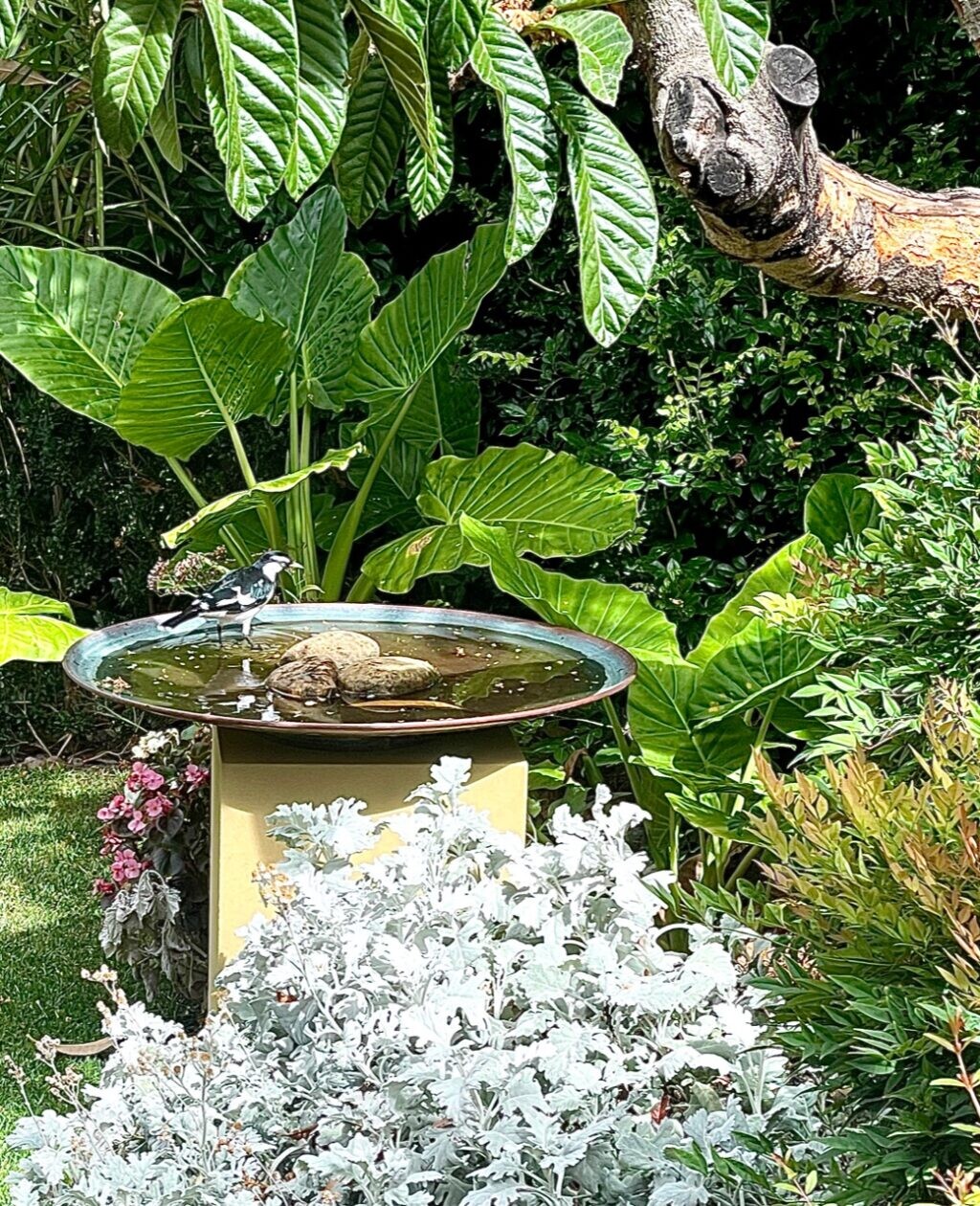 Hiding behind the spiky leaves of a Xanthorrhoea is a Kookaburra in Michelle's Bondi garden. We love how the dish emerges out of the bracken ferns planted underneath and see that she also gets Magpies and Currawongs visiting as seen in the photos below.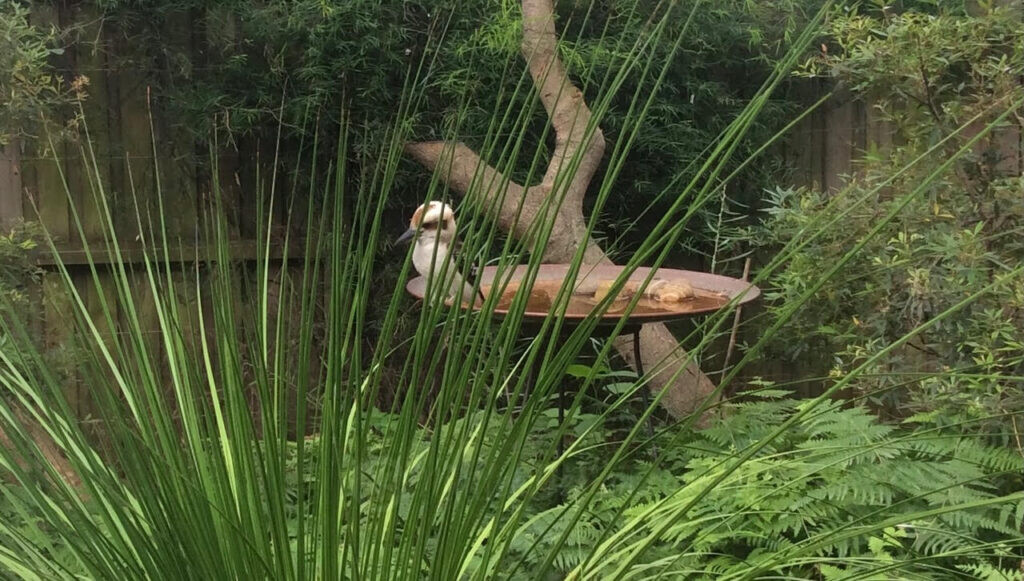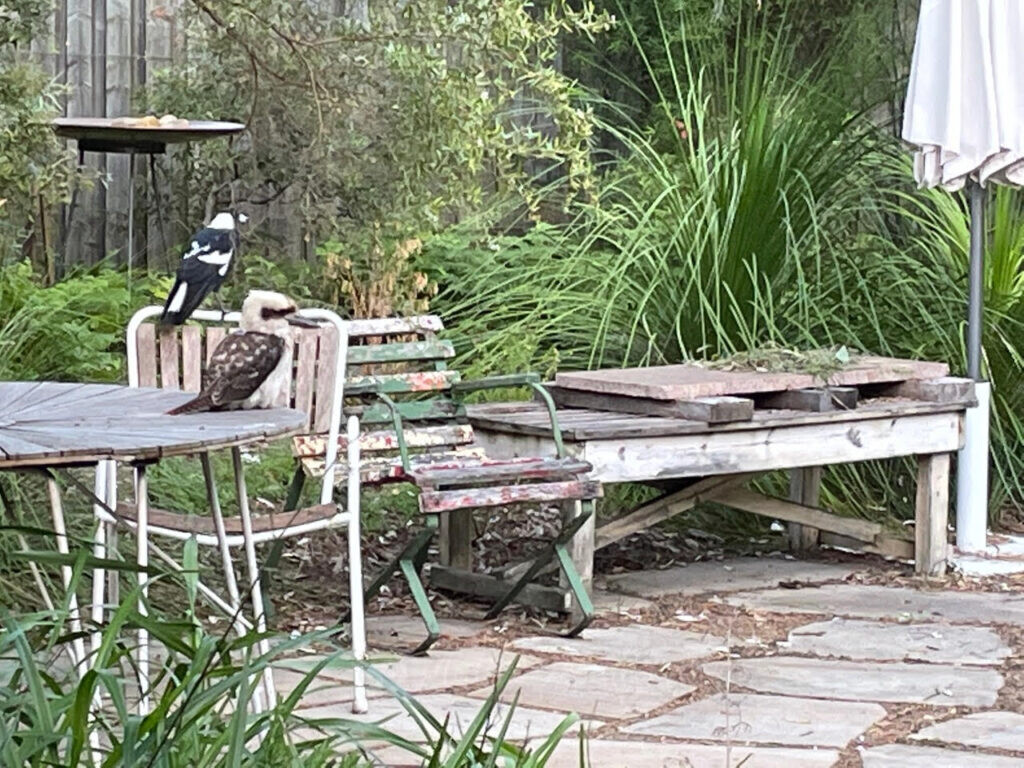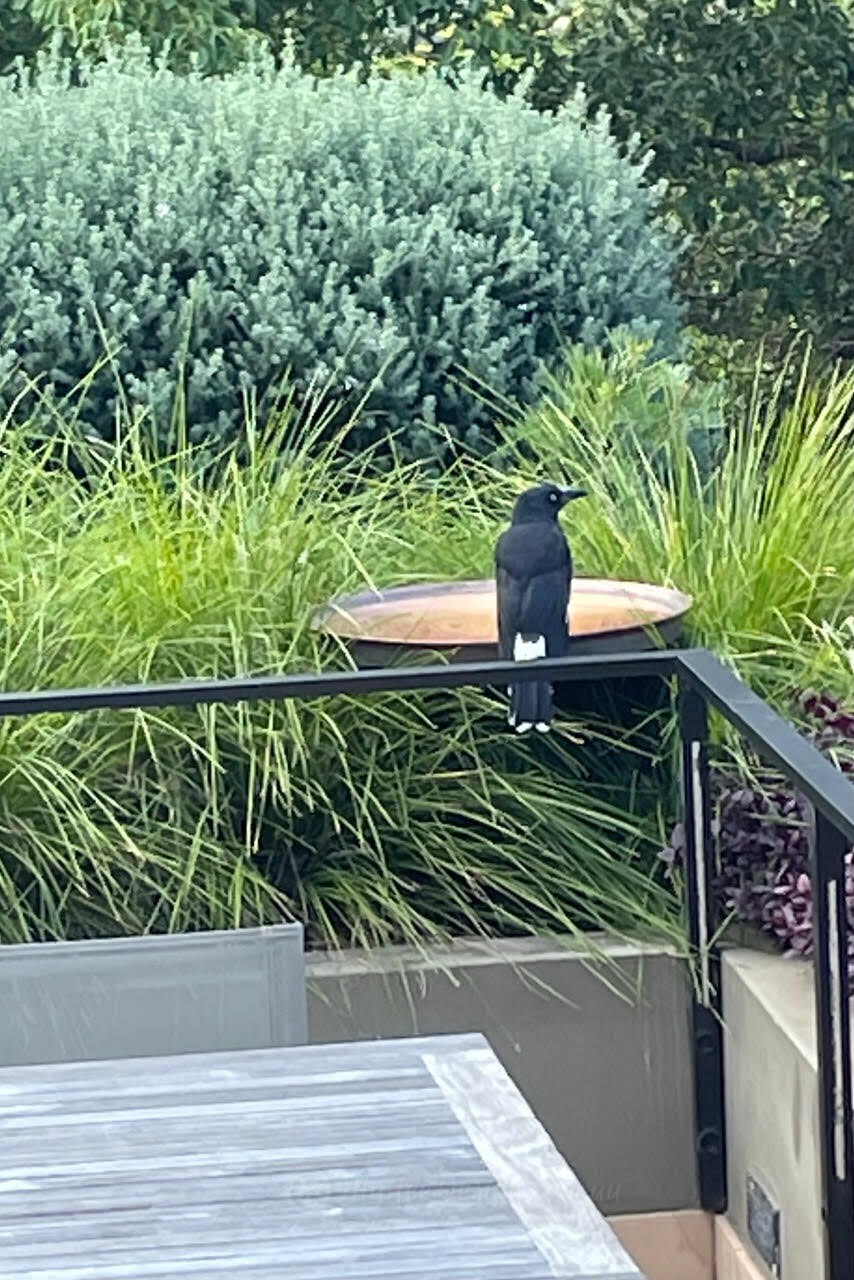 Although not a Mallee Dish, Louise sent us this photograph of one of our favourite local birds – a Yellow-tailed Black Cockatoo. Yellow-tails feed on and are often seen in Banksia trees such as the one behind Lousie's dish, so it's not surprising he/she turned up at her birdbath. Small flocks of Yellow-tails often move between flowering trees throughout the day and have beaks that can break into the hard Banksia cones.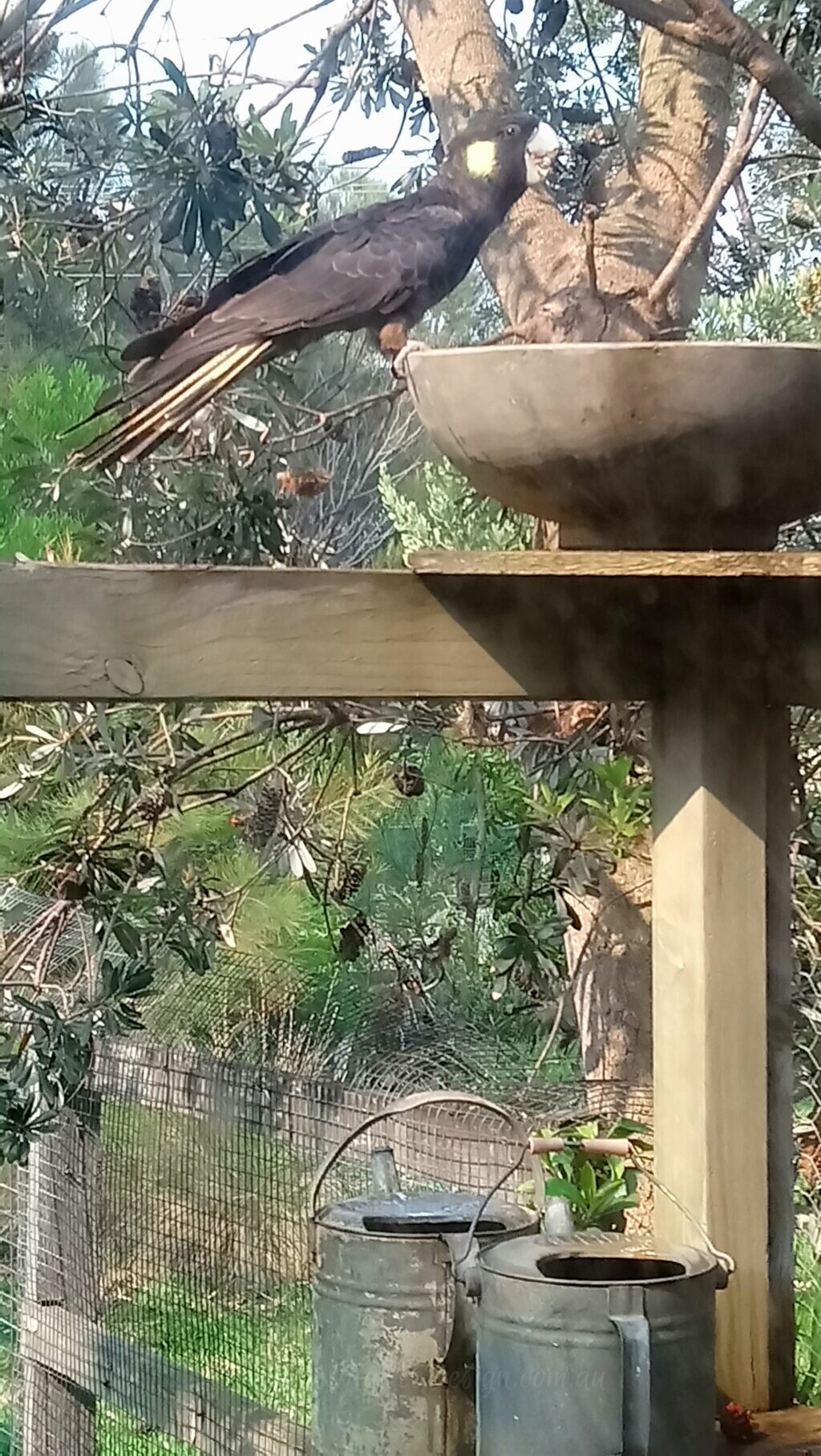 Sue in Federal, NSW, photographed a vibrant party of Rainbow Lorikeets having fun in her copper dish. Up close the little red eyes on these birds almost make them look evil! But they seem to be having a very good time bathing a splashing around. Her final photo is one of a Crested Pigeon taking a deep drink from the water and we love that you can lots of detail of the feathers in her pictures.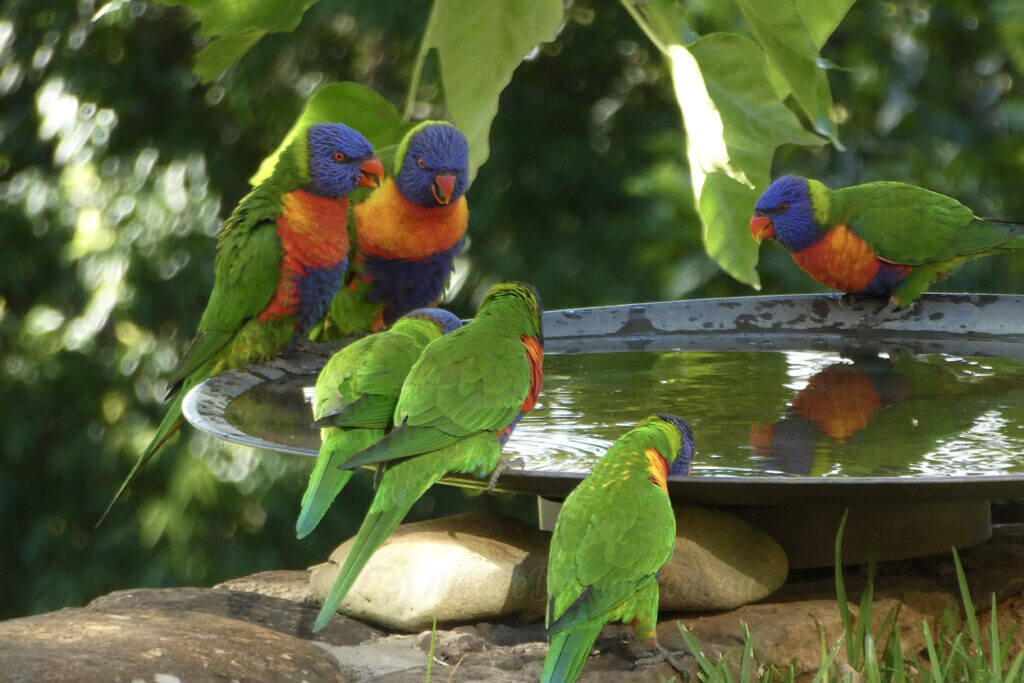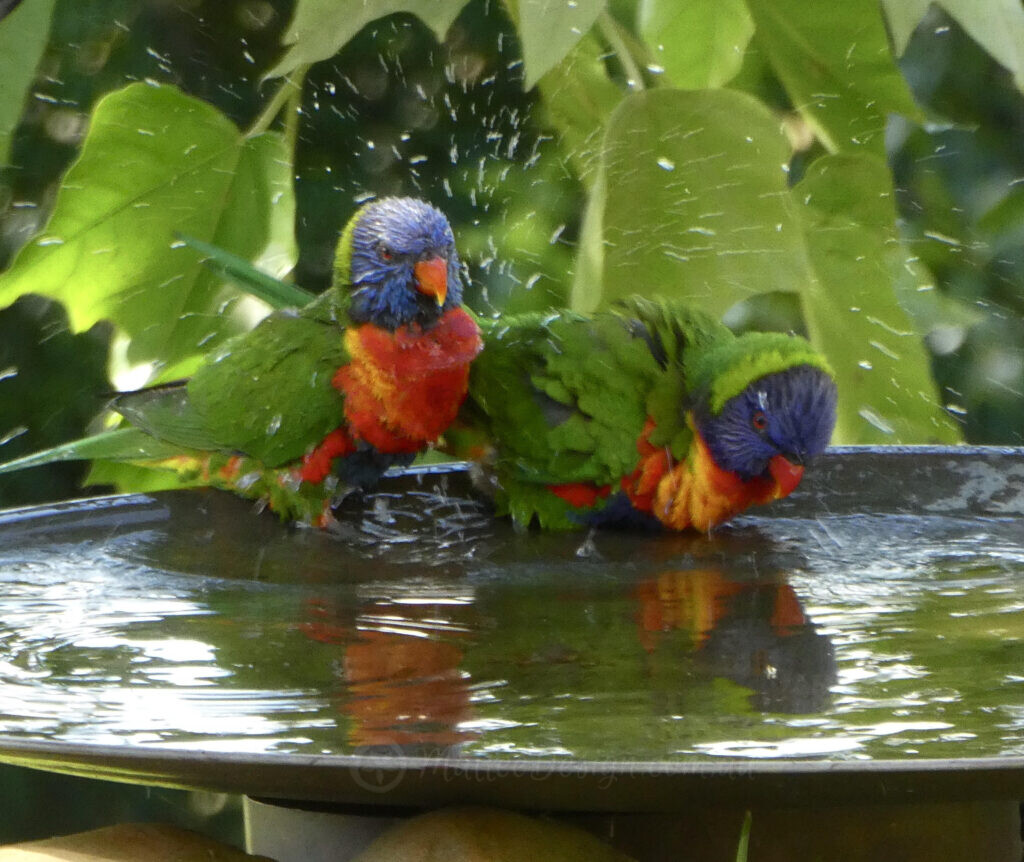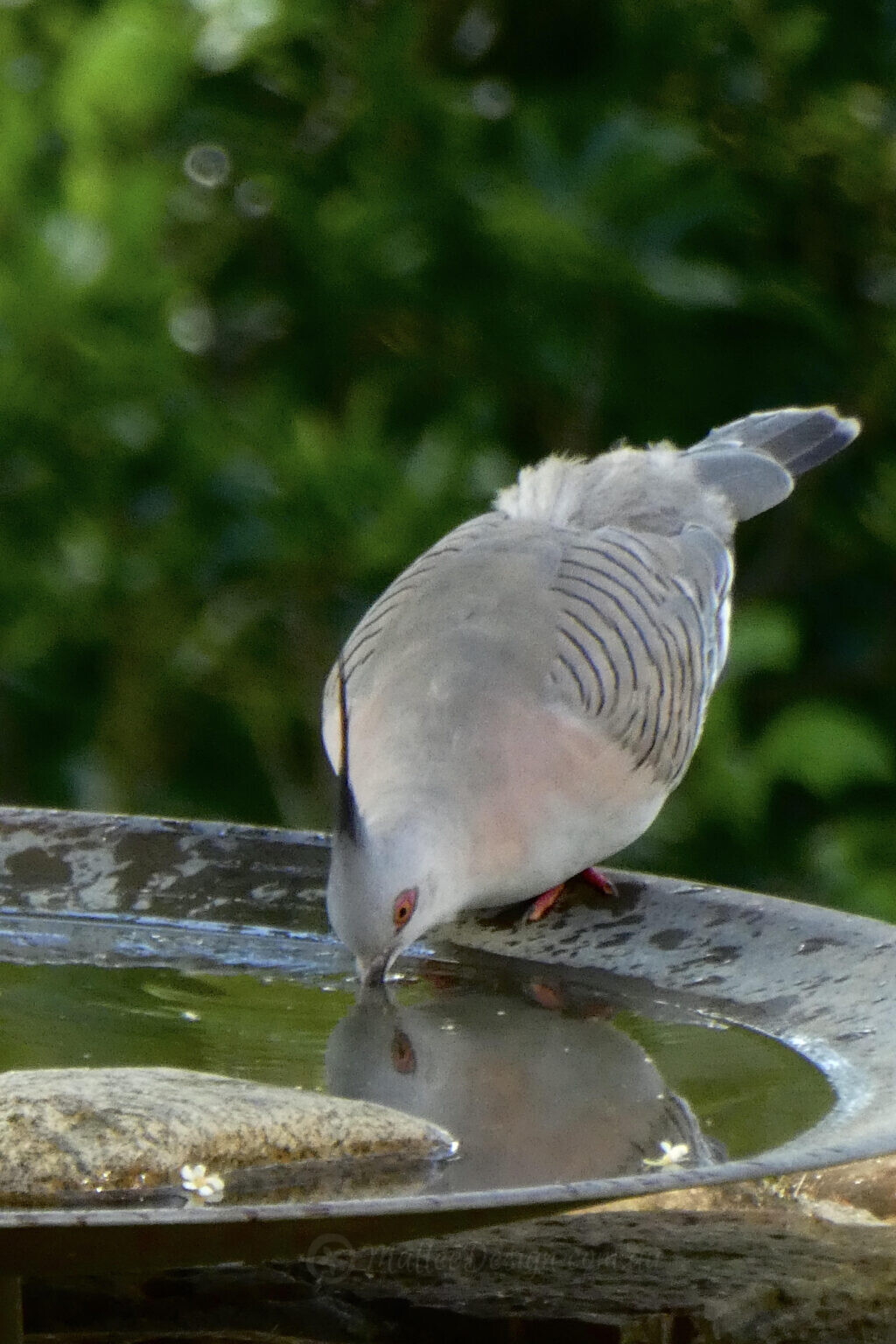 And that's it folks! We hope that you'll keep sending us photos of what's visiting your dishes and for those who don't yet have a Mallee birdbath we're planning to run another photo competition based on native gardens in the next few months where you'll have an opportunity to win a dish.
We'll keep you posted,
The Mallee team 🙂