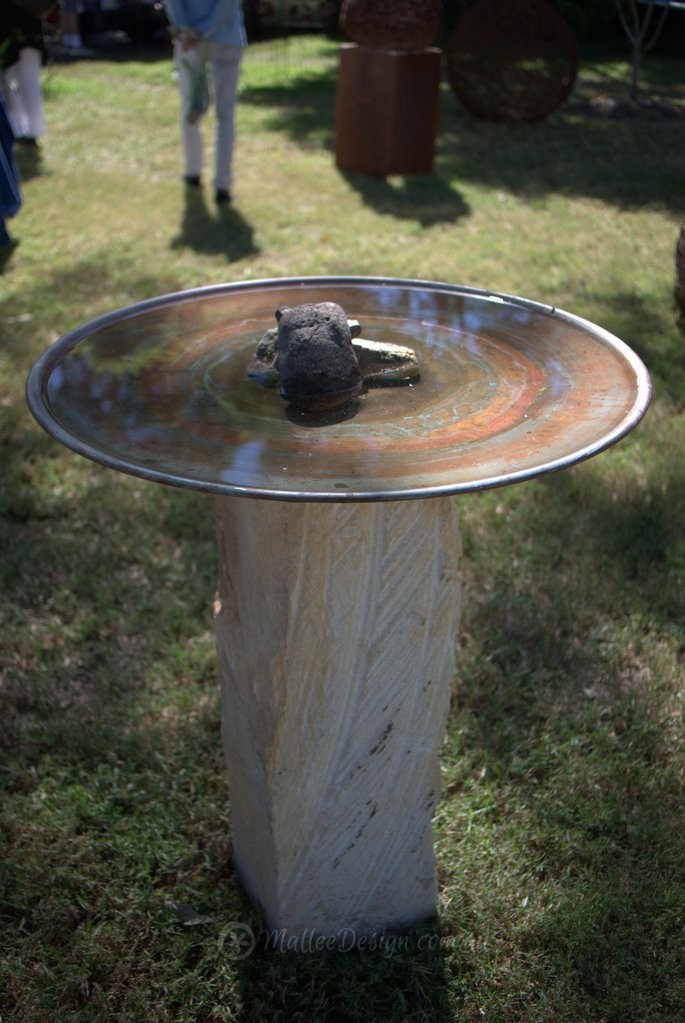 Which Birdbath should I choose?
People often ask advice on which birdbath is best for their garden and their circumstances. In this post, I outline the best way to choose the right birdbath.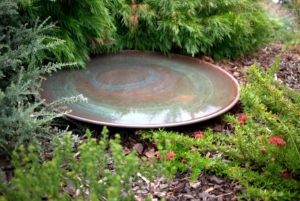 For most suburban gardens, where the gardener is interested in attracting more local birdlife, the default dish to choose is the large spun copper dish. This dish is recommended because it is wide enough to allow medium to large birds to splash around even when there is a rock added as a landing platform. The supplied mounting ring, which doesn't have to be used, allows the dish to be easily mounted on any flat surface such as levelled stumps, rocks, retaining walls etc. A great way to mount the large dish is on the edge of a raised planter bed.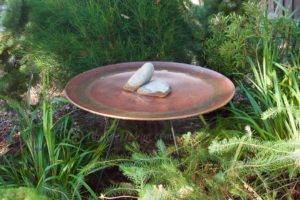 If budget allows, the most versatile of the stands offered are the three steel stands each of different height. The medium height stand (75cm) is, perhaps, the most classically proportioned, and is just high enough to allow a small shrub or grass to be planted underneath it. The low stand (51cm) allows the dish to sit amongst low planting, easily hiding the structure beneath it and giving it a floating appearance. The tall stand (1m) is designed to protect bath birdlife from pet dogs and cats. It is also sometimes used to float a dish amongst taller planting.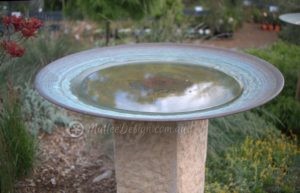 The sandstone plinth can be used two ways. Its commanding presence allows it to make a statement as a garden feature centred in an open courtyard or gardening space. That said, it can also be used to great effect positioned within a planted garden bed, rising out of the ground with great confidence. Of course, sandstone is a fantastic complimentary material to native Australian plants.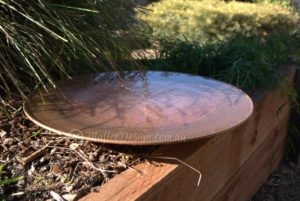 The medium dish is designed for those who have a smaller garden or wish to spend a little less. The medium dish can accomodate the bathing needs of medium sized birds. The small and medium height steel stands can be used to support it, but the tall steel stand is perhaps too tall to offer pleasant proportions with the medium dish. A copper mounting ring is also provided with this dish.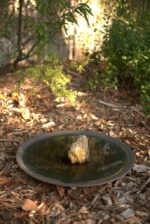 The mini dish is designed specifically to serve small birds. Because of its reduced size (and hence strength) the mini dish is very effective tossed under small bushes where the smaller birds like to hide from predators. Of course, if you have stray cats visiting your garden, consider elevating it a foot or two. Again, a stump or perhaps an improvised mount made from branches may function well to hold the dish off the ground.
The extra large dish is a different beast. It is designed largely for dramatic effect. Carefully positioned in a garden it will serve as a reflection pool, allowing the eye to catch glimpses of trees silhouetted against the blue sky. With a mild breeze, the water in the extra large dish will ripple gently providing movement and interest for the garden wanderer. Of course, the extra large will also serve the needs of birds particularly if landing platforms are provided within it.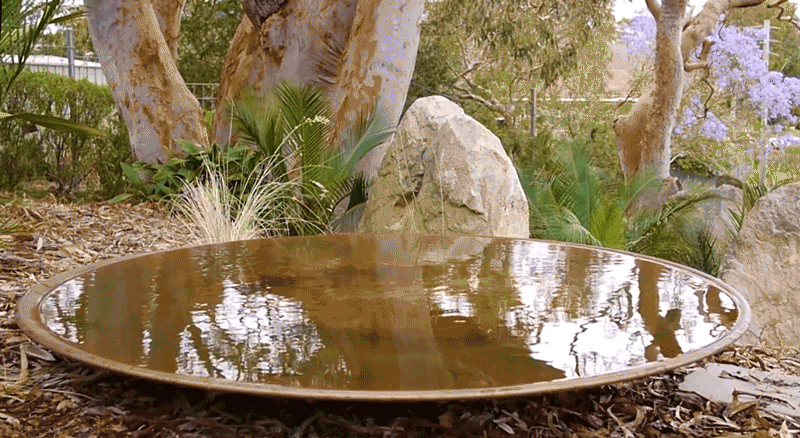 .