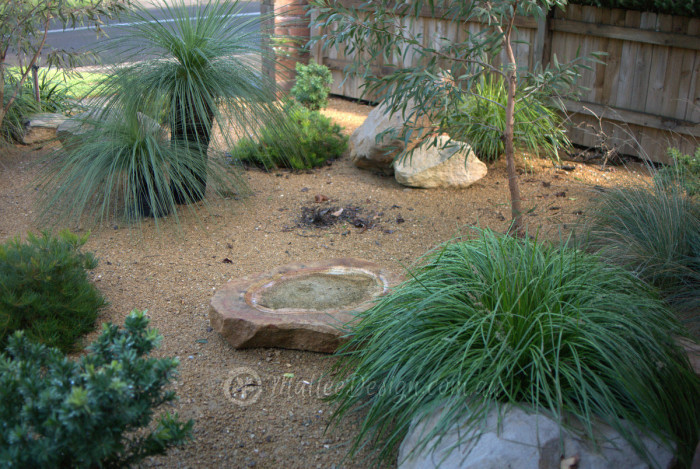 Portfolio: Garden Design Ashfield
Dear Kath, the garden is beautiful and makes me very happy
These are the words that I love to hear and is how this client describes her garden, and I can't ask for anything more from a garden. This garden was built in December 2015 please see this link for details and this is my first visit to see how it has settled in.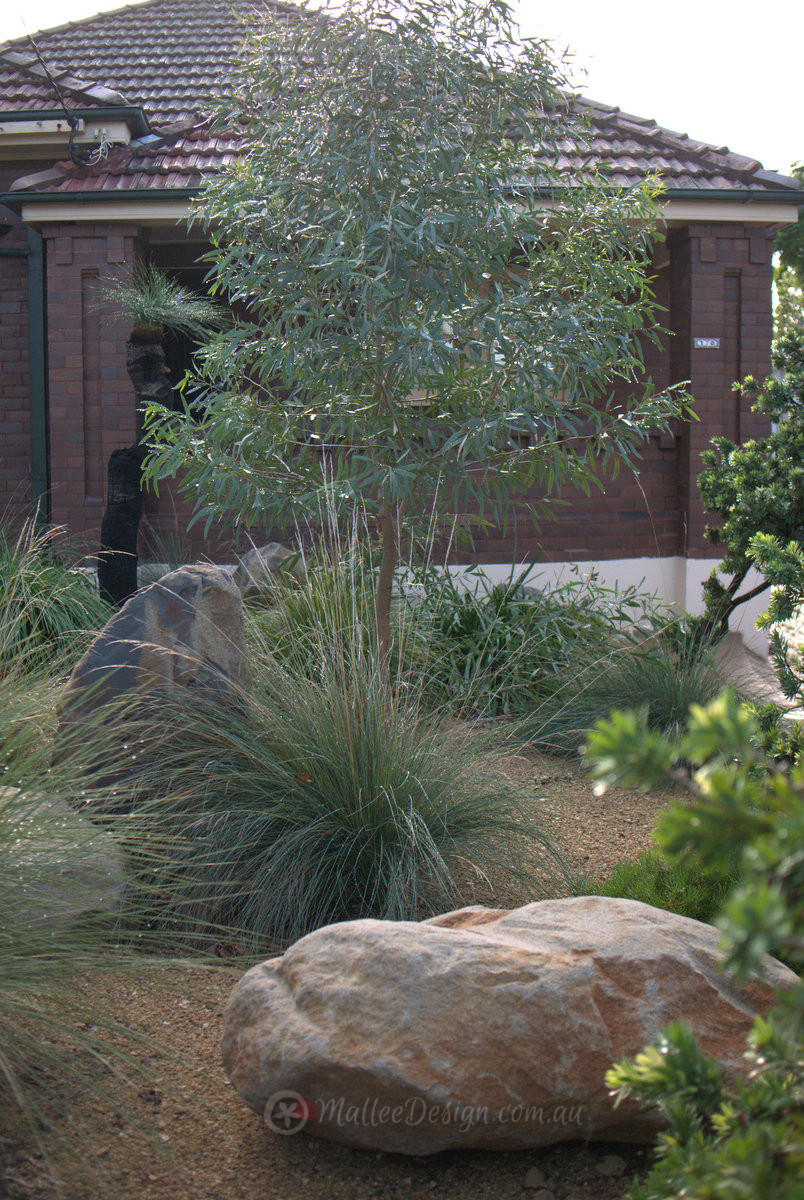 The client knew exactly what she wanted and is relishing watching it unfold before her eyes right in front of her house.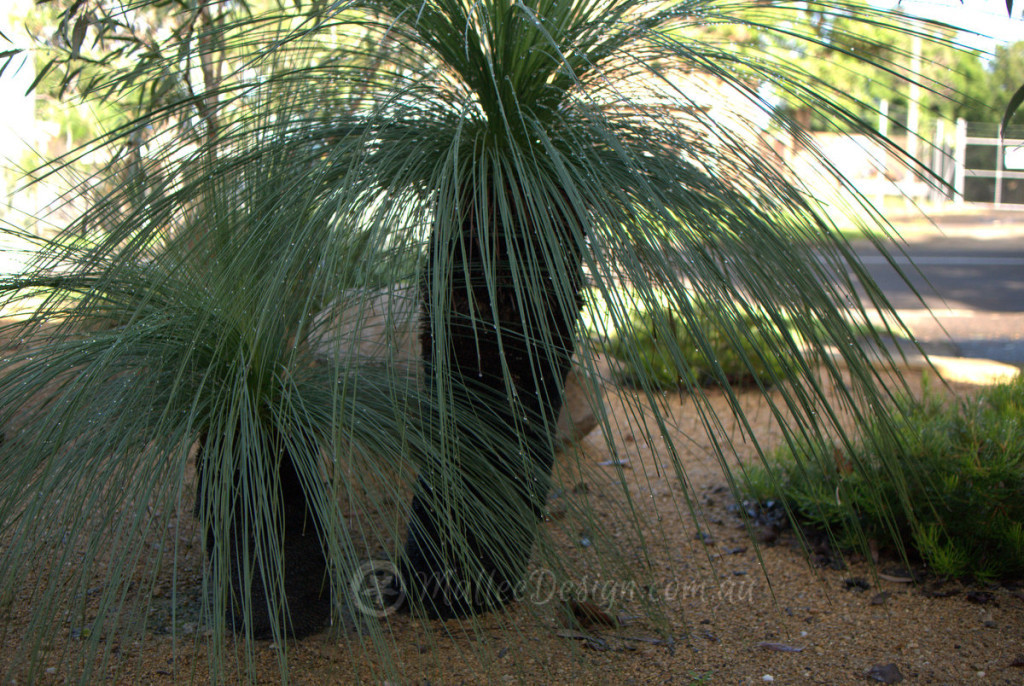 The grass trees have flourished in this full sun position, and seem to have grown a great deal for such a notoriously slow plant. The  Banksia 'Coastal Cushions' which can also be a slow grower are beginning to form their intended green mounds.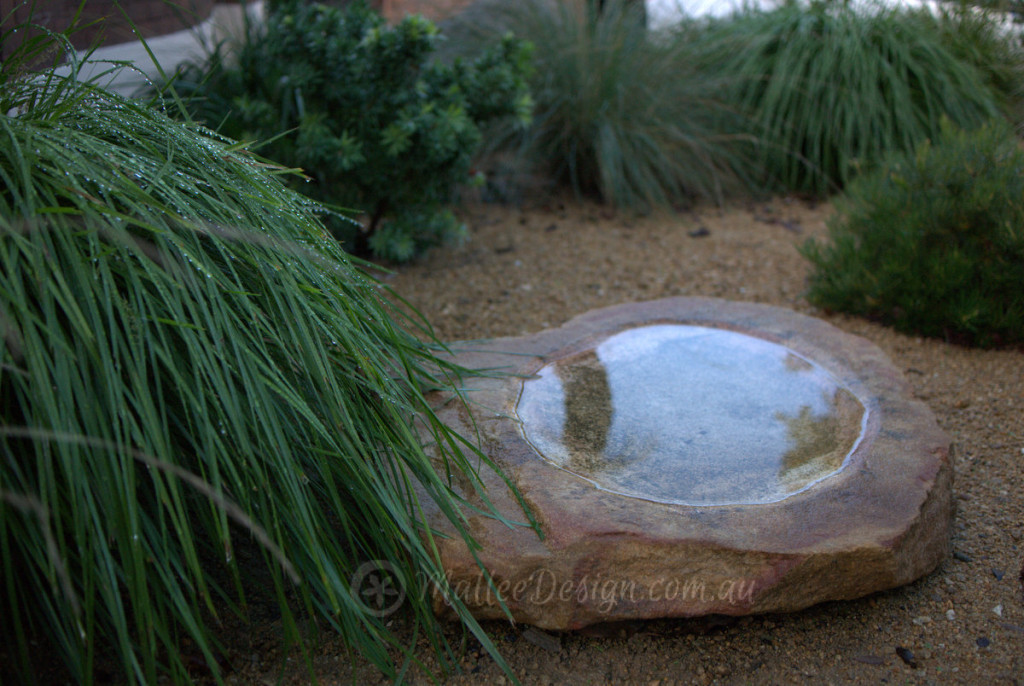 This custom made sandstone Birdbath was a later edition to the garden and has served the birdlife well through the hot dry summer that has just broken.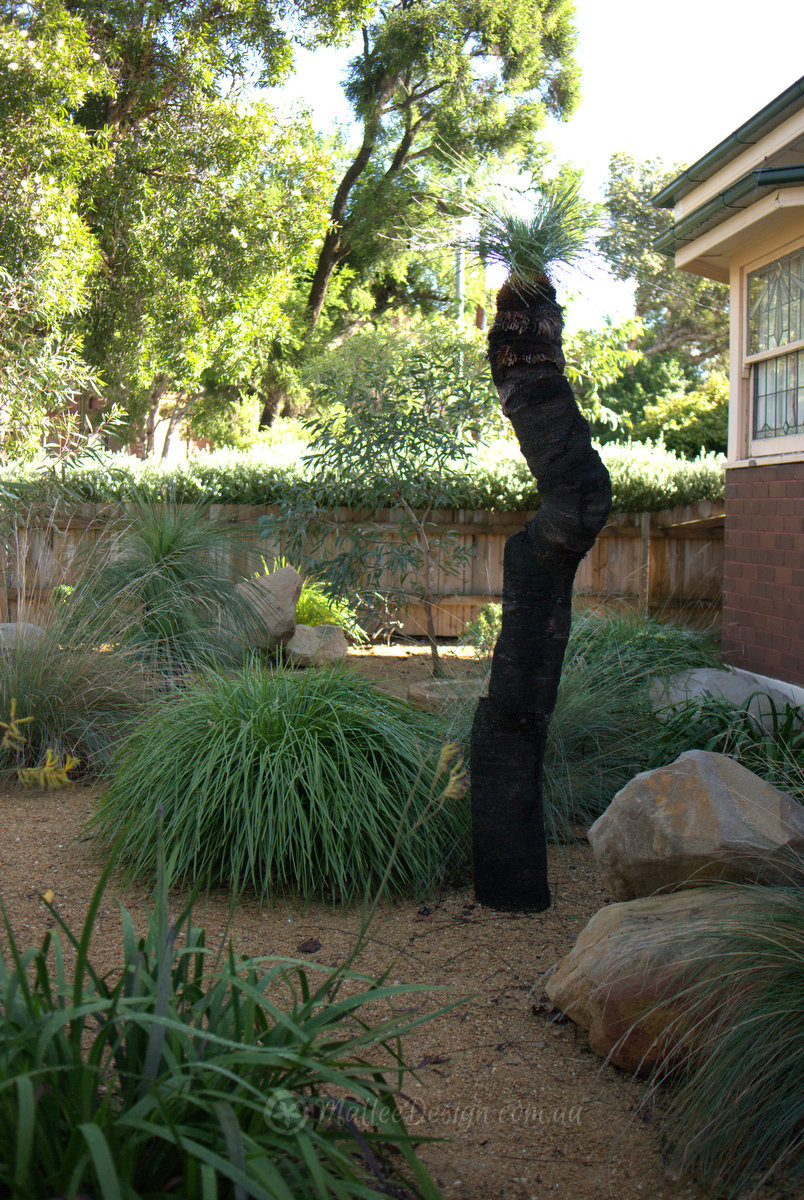 The 1.8 metre tall Xanthorrhoea lovingly named 'Etienne' is still the main feature of the garden although he does not remain the tallest. This grass tree is positioned to be viewed from inside  as you walk down the hall way to the front door, it is also at eye height when you are in the entranceway patio. The grass tree is looking a little small due to being burnt back after flowering last year.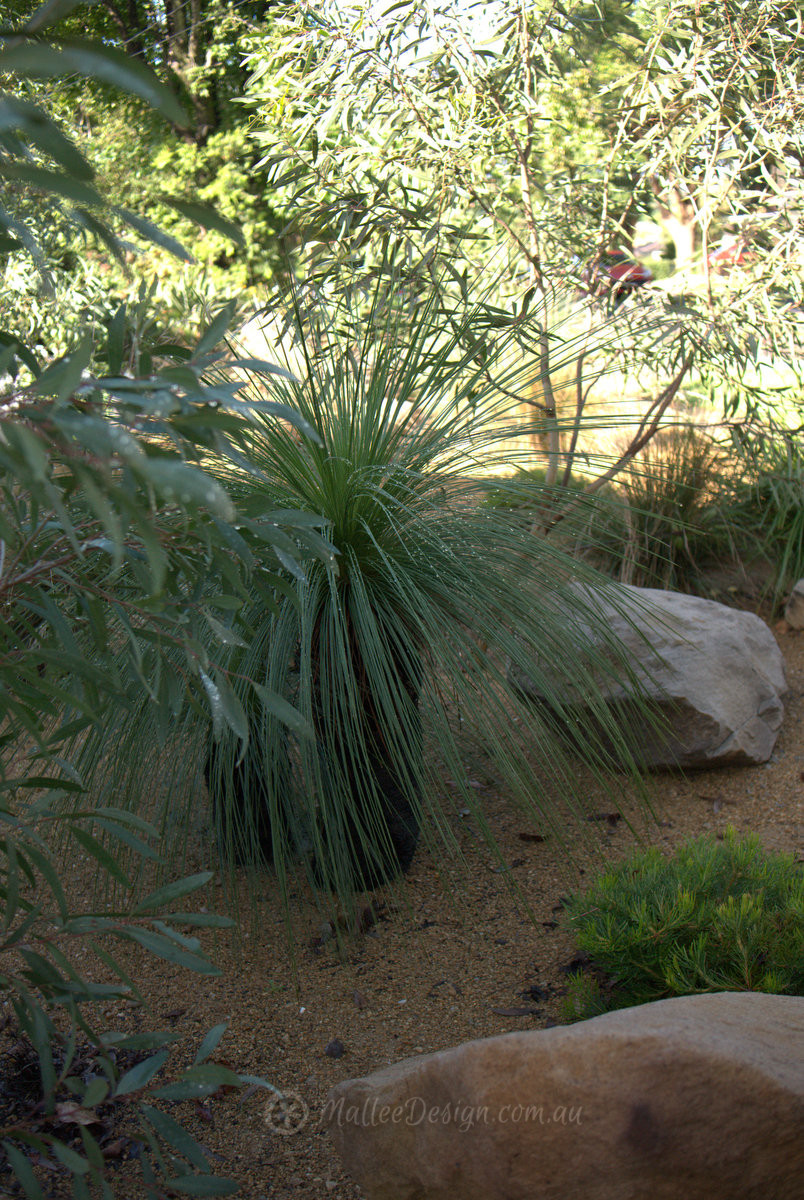 There are three Eucalyptus 'Tuckertime Honey Pots' also positioned to give privacy to the windows, these have filled out nicely and their decorative bark is just beginning to develop.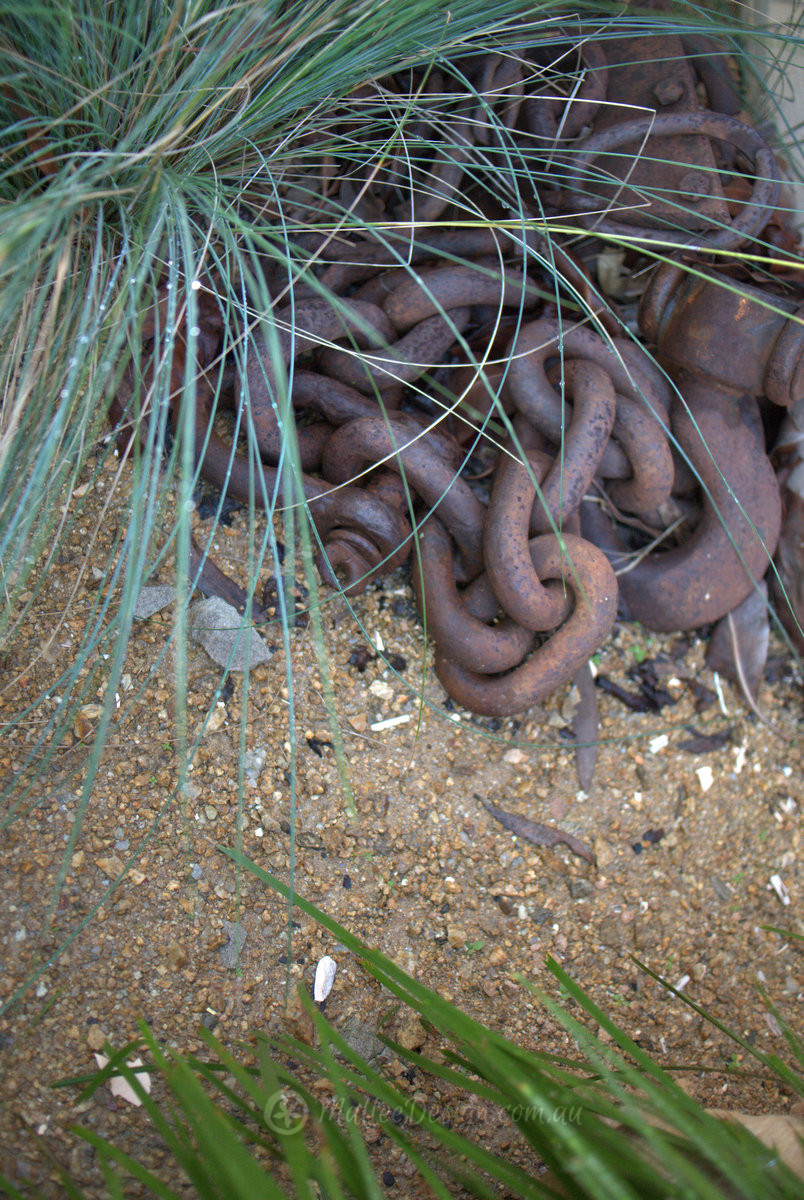 The client is also beginning to "own" the garden by incorporating found objects from a relatives farm and other treasures rescued from recent explorings. I love the colour of the Poa 'Kingsdale' with this rusty tow chain.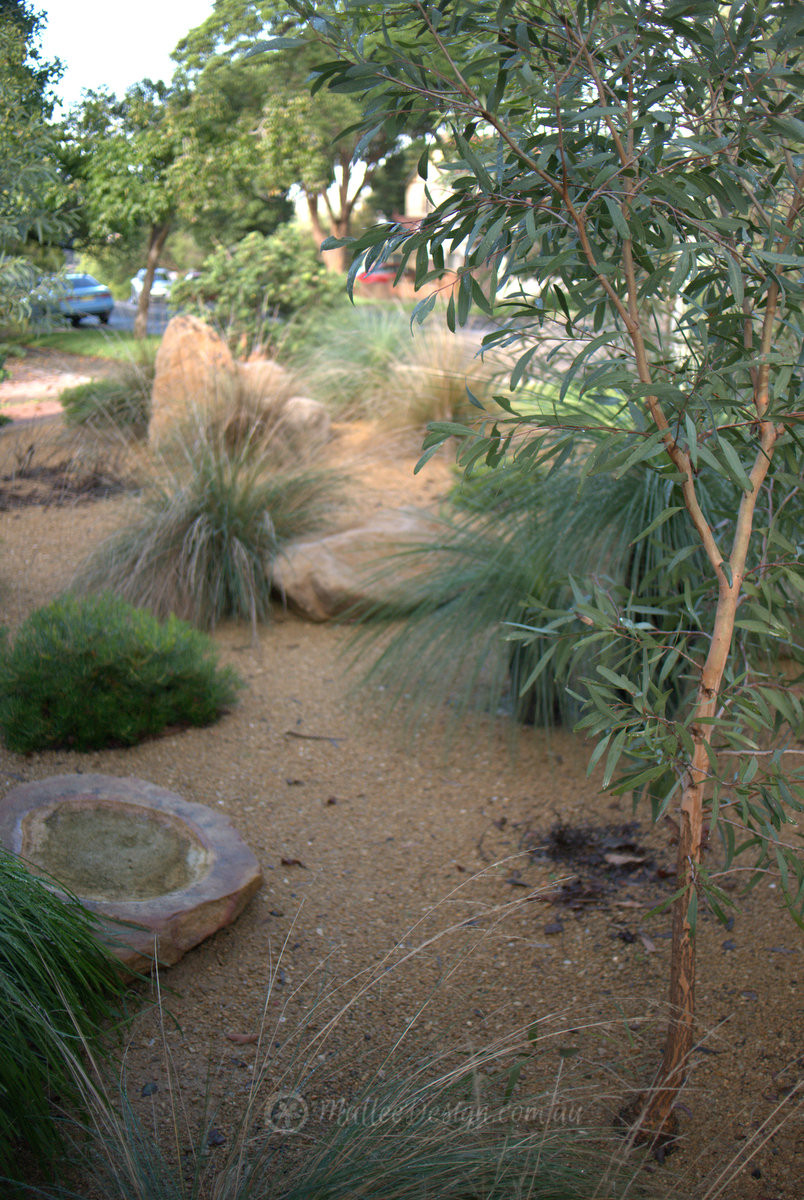 The owner says there is plenty of discussion and comment from passers by and neighbours about her front garden, it is a bit of a talking point. When the grass tree was in flower and also when the 3 x Anigozanthos 'Orange Cross' stole the show everybody noticed. I have been informed that lots of 'blokes' like the garden and it has somewhat of a masculine edge………we decided there is nothing wrong with putting this bold native garden in that particular box even though I don't believe gender really has anything to do with it 😉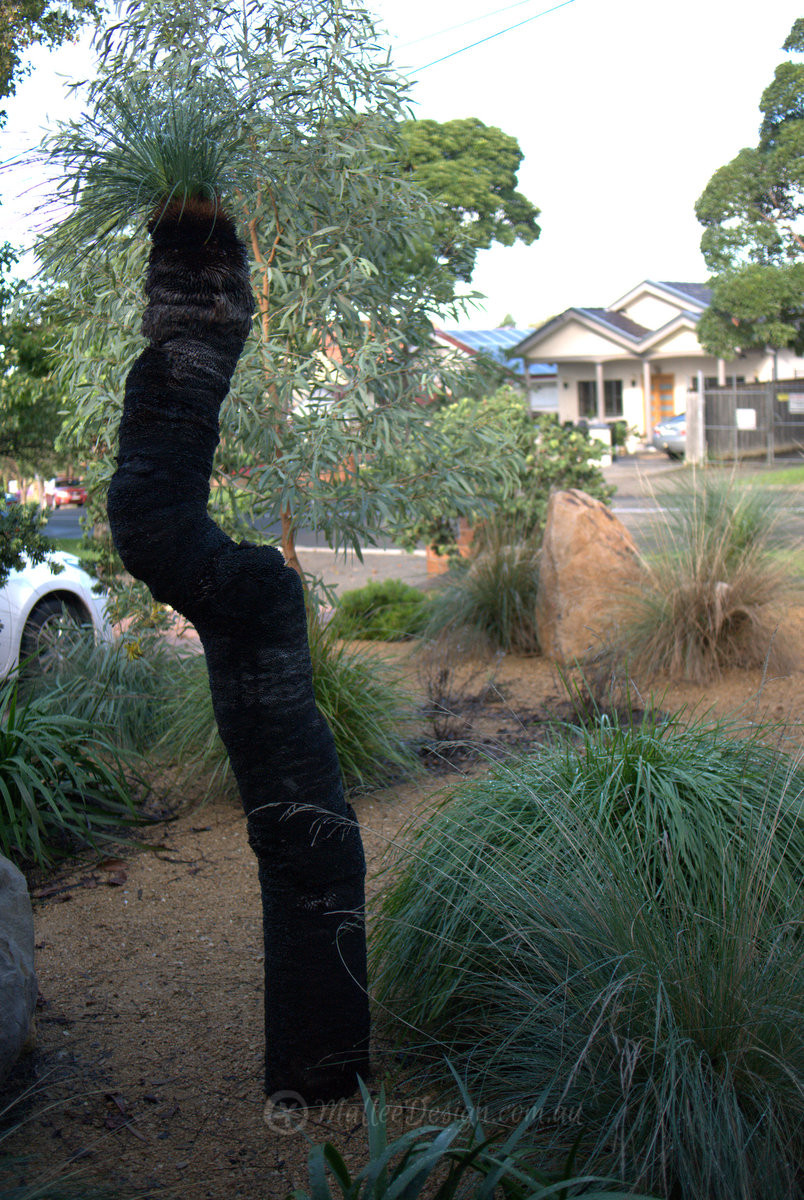 I love this garden for it softness…..the weeping blues and greens of the Lomandra and Poa, the fascinating black shapes of the grass trees and the naturally sculptural forms of the sandstone boulders. The whole garden comes together effortlessly, and for me it is a reflection of the personality of the owner as it was her vision after all…..