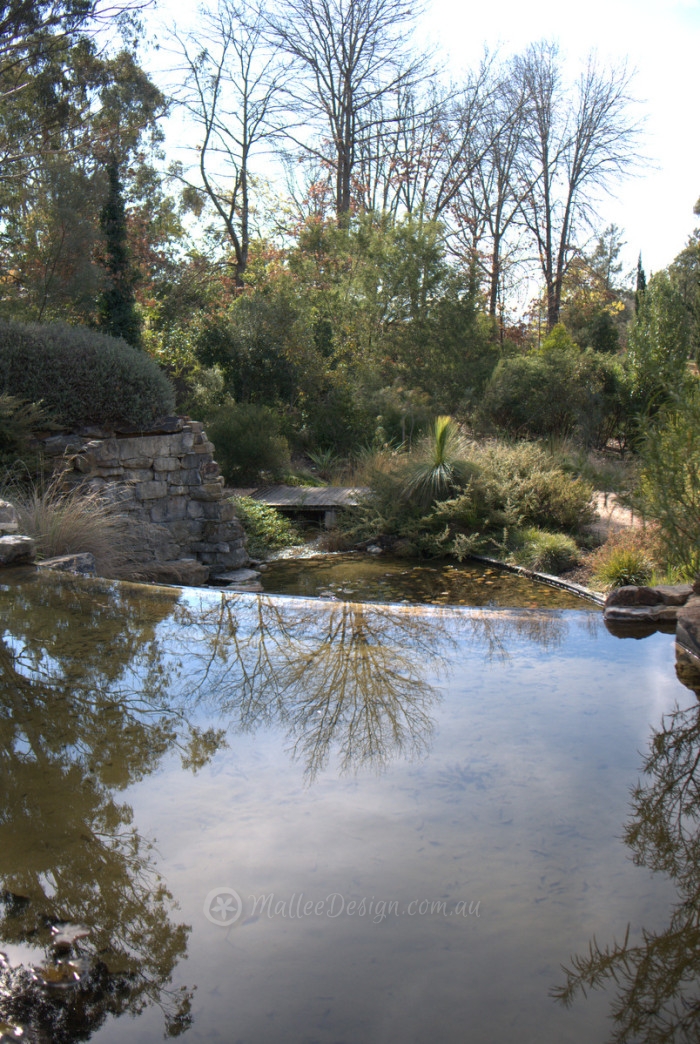 A few weeks back I was lucky enough to appeal to a very generous couple, Ros and Ben Walcott. I contacted them out of the blue and asked if I could visit their garden. We were travelling to Canberra to see an exhibition and I had just read an article about their garden in the Australian Plant Society Newsletter that got me feeling curious. So there I was with my little family lucky enough to be the 'only' visitors to this large, impressive native garden in the heart of Canberra. Wooohoo!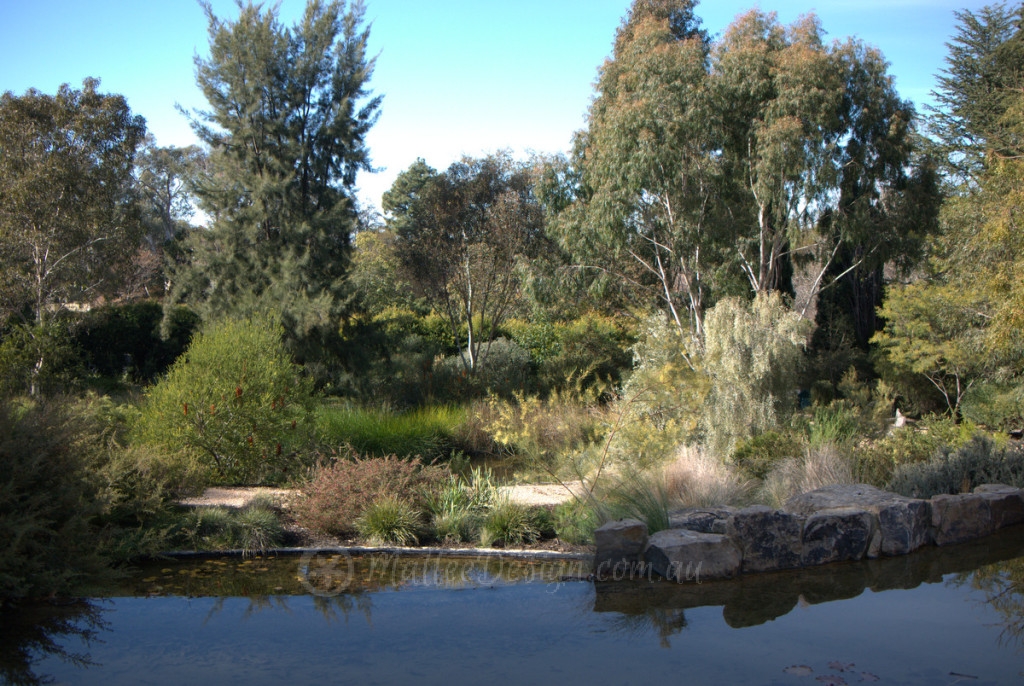 This garden is located in Red Hill on a large block that is itself a small hill. The garden was designed with the new house, which sits atop the hill. The use of water throughout the garden is stunning, there is a large body of water that surrounds the outdoor area to the north of the house, with a platform walkway crossing it.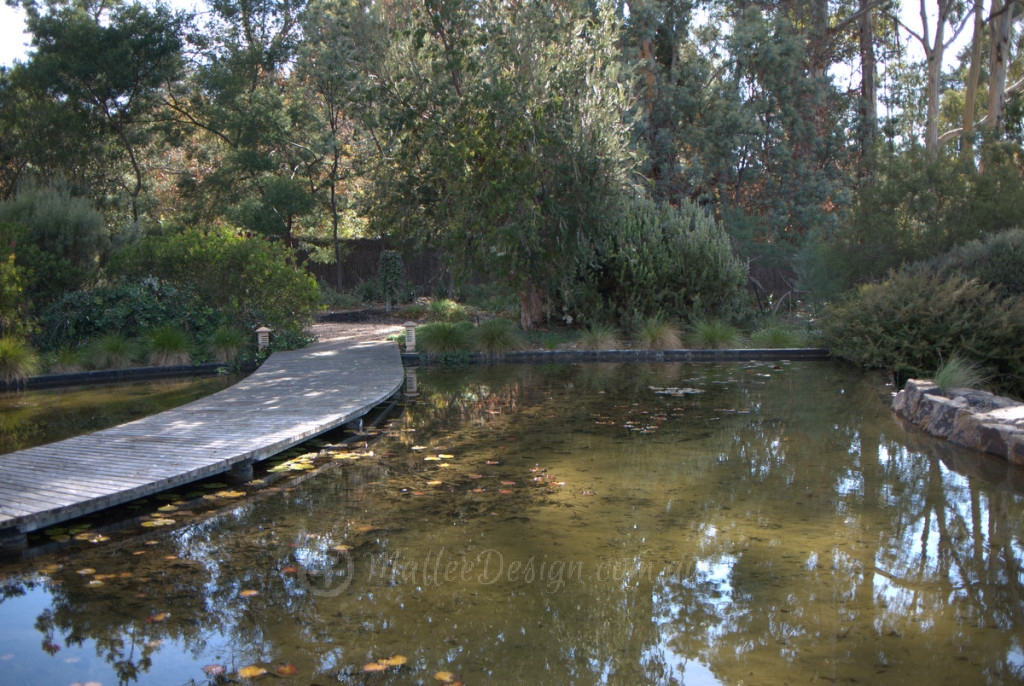 As I was visiting the garden on a winter morning the water lillys did not raise their heads, however the Banksias, Acacias, Eremophilas and some of the Grevilleas were in flower.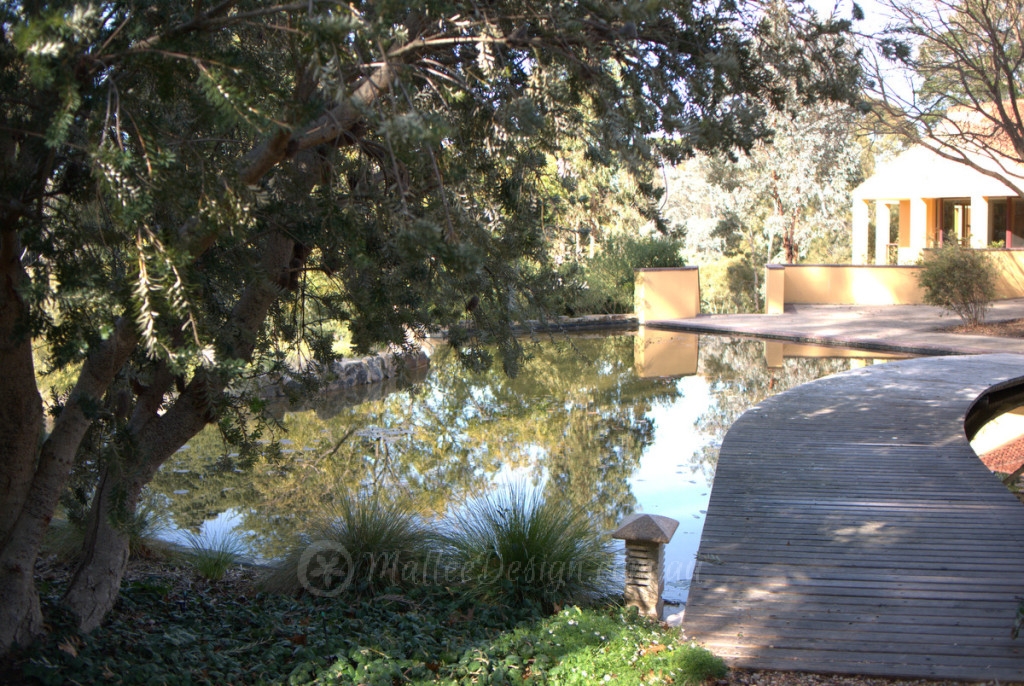 The reflections from this shallow still body of water are striking, mirroring the silhouettes of substantial nearby trees.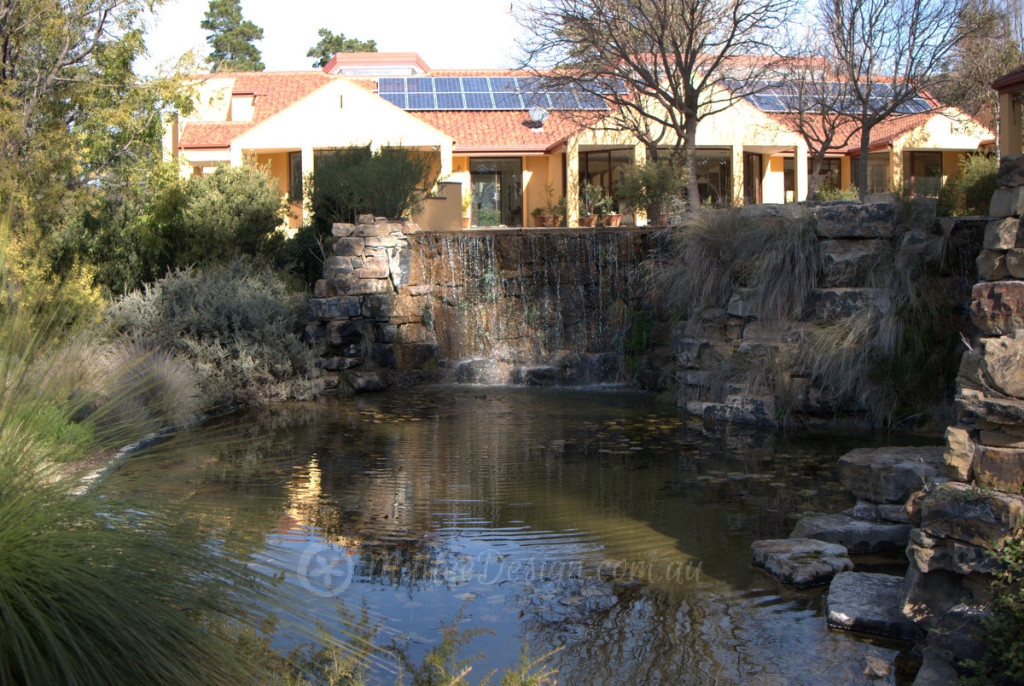 The water spills over a wet edge and into another pool that then turns into a shallow creek bed, this then runs into a small dam.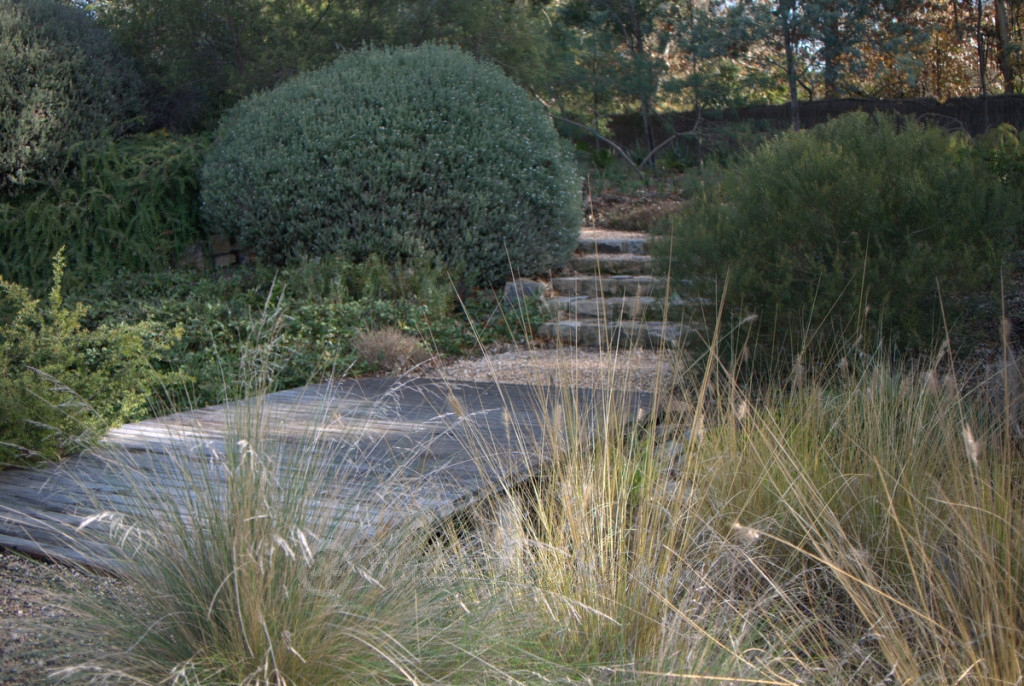 The image above shows a pedestrian bridge crossing the creek, which is planted out with Poa and Pennisetum.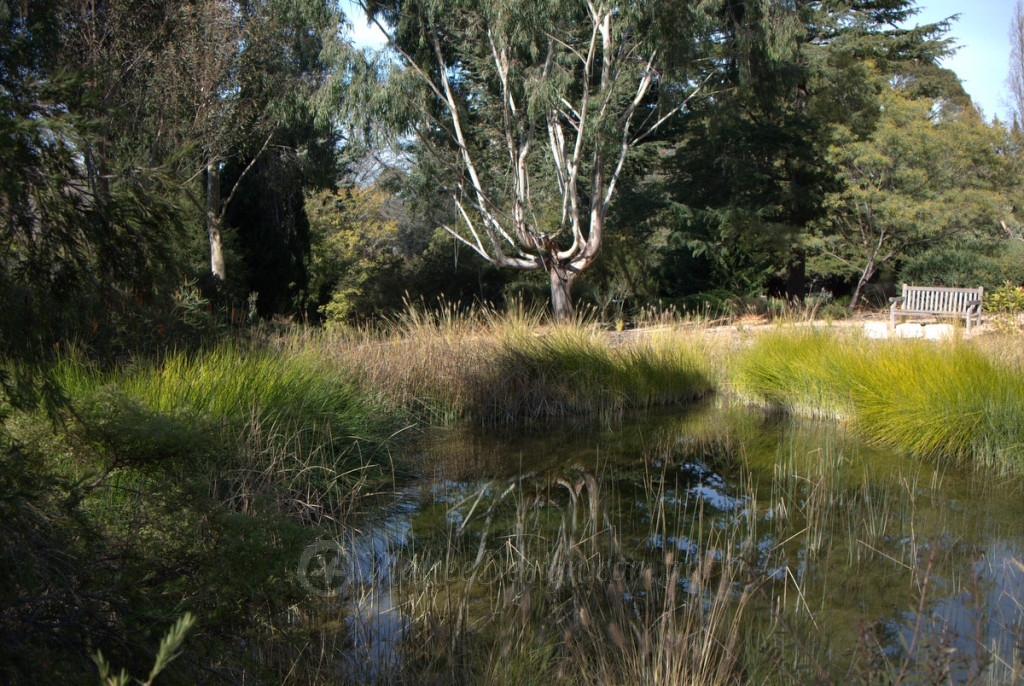 The small dam is incredibly healthy, showcasing many different species of reeds and rushes, the soft textures and contorting colours of this grassy planting were highlighted in the morning sun. I was told the dam also attracts a large array of birdlife and bird count for the whole garden has increased with every year.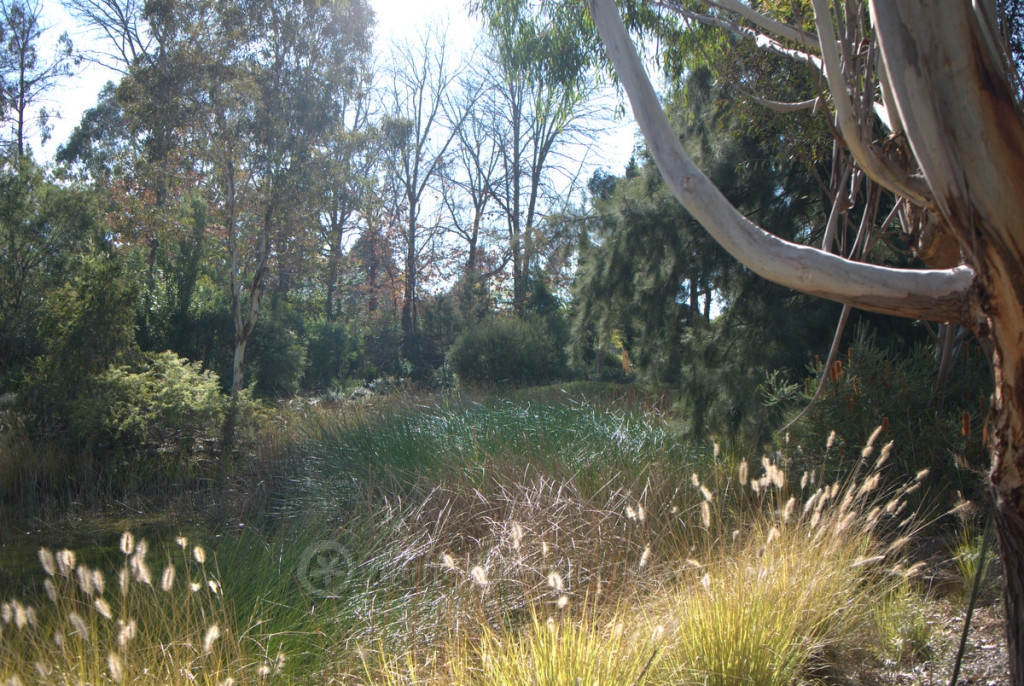 A section of the pathway around the dam is edged with Callistemon 'Brogo Overflow' on the left and Grevillea 'Scarlet Sprite' on the right, both these species grow quite well in part shade and can be clipped if desired.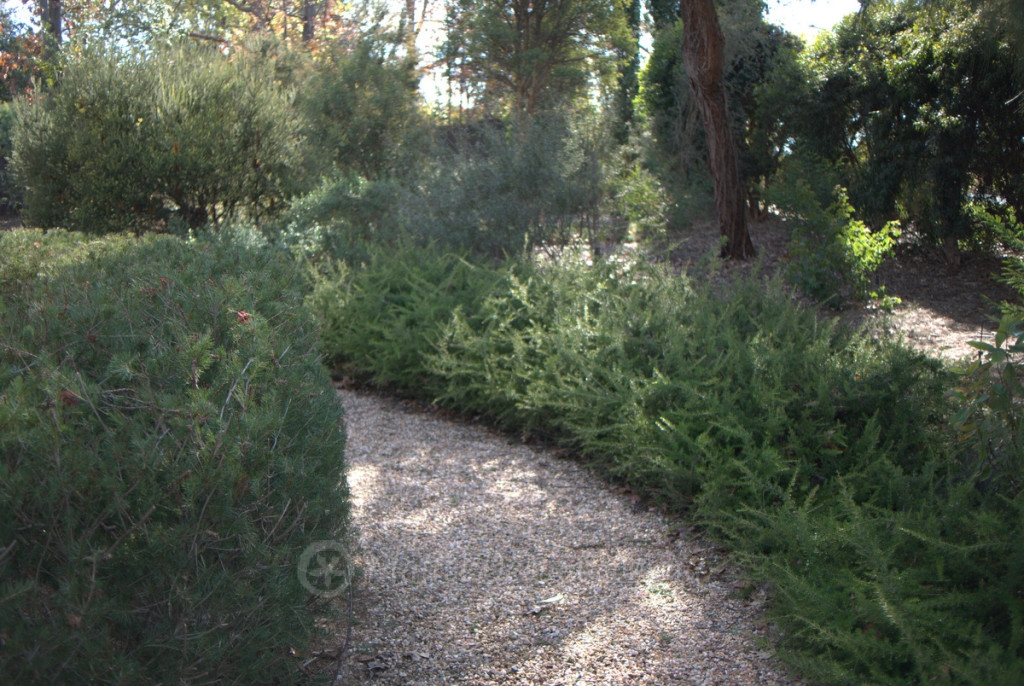 One of my favourite vistas in this garden was on the side of the dam under a Casuarina, Ros had planted a stand of Banksia ericifolia with an underplanting of Eremophila 'Kalbarri Carpet'. I love the way these Banksia flowers seem to glow against the soft weeping backdrop of the Casuarina.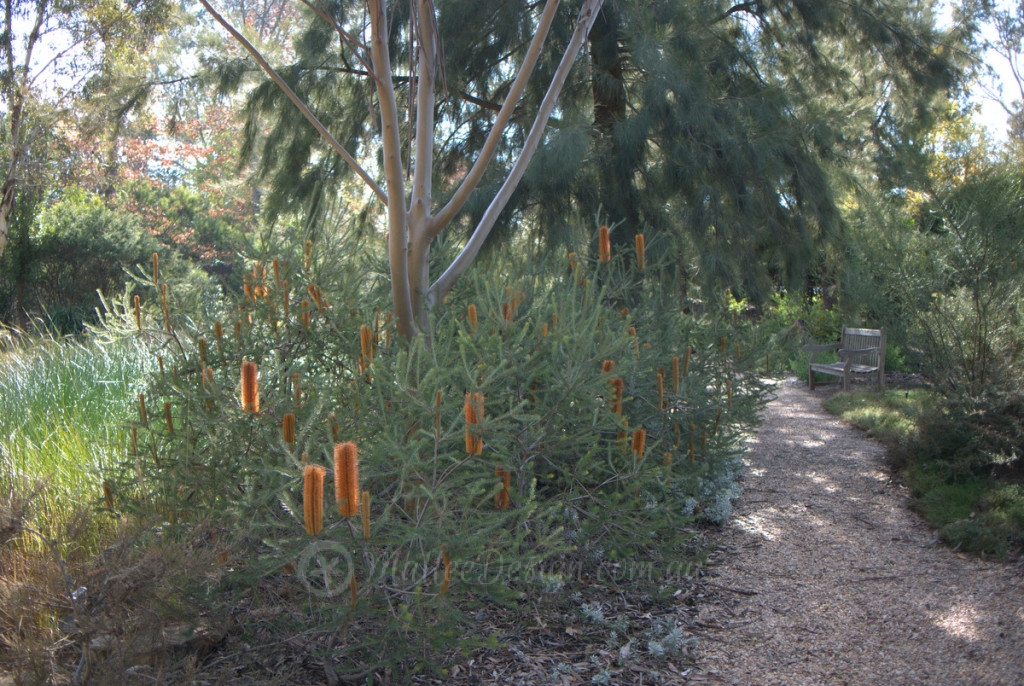 However, there were so many wonderful planting combinations it is only possible to touch on a few, Ros and Ben have created the most brilliant space for showcasing native plants, both individually and on mass.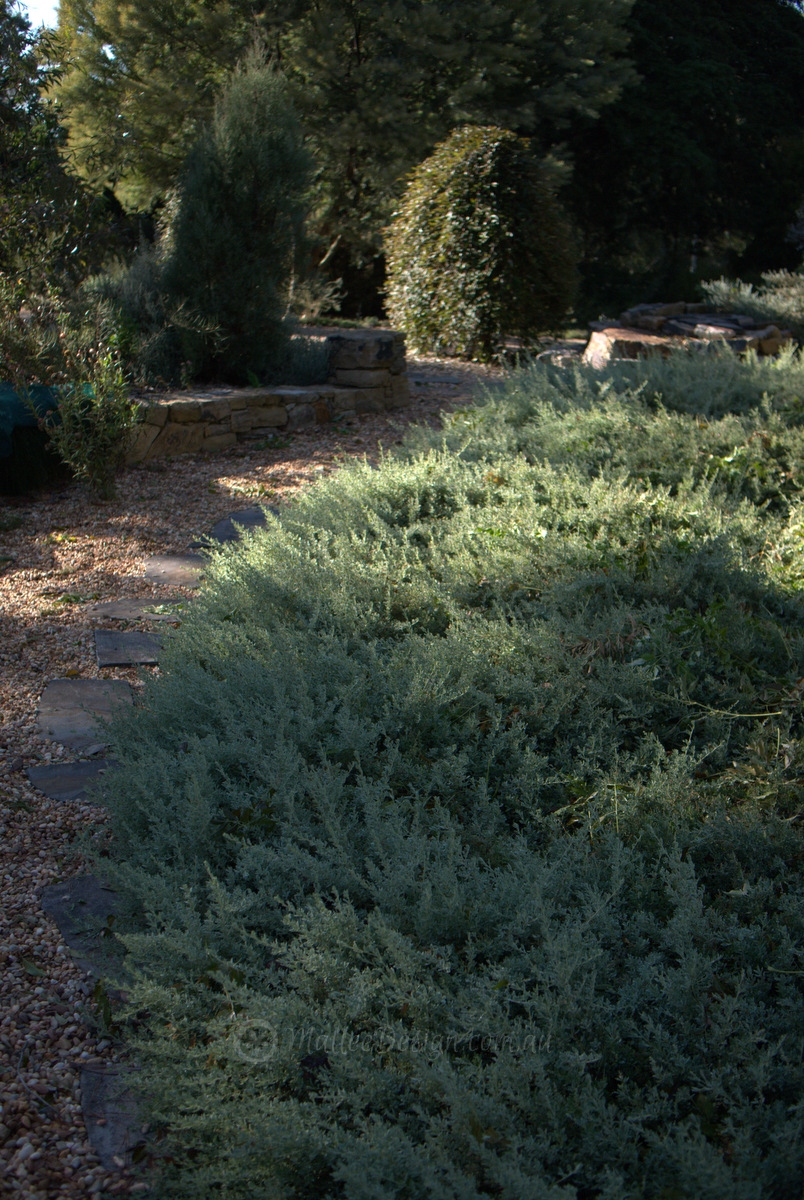 Salt bush was used quite a lot in their garden and to great effect. The image above is taken of an area that used to be a leaky pond, the pond was filled and planted out with Rhagodia spinescens to create a symbolic garden bed that replicates moving water.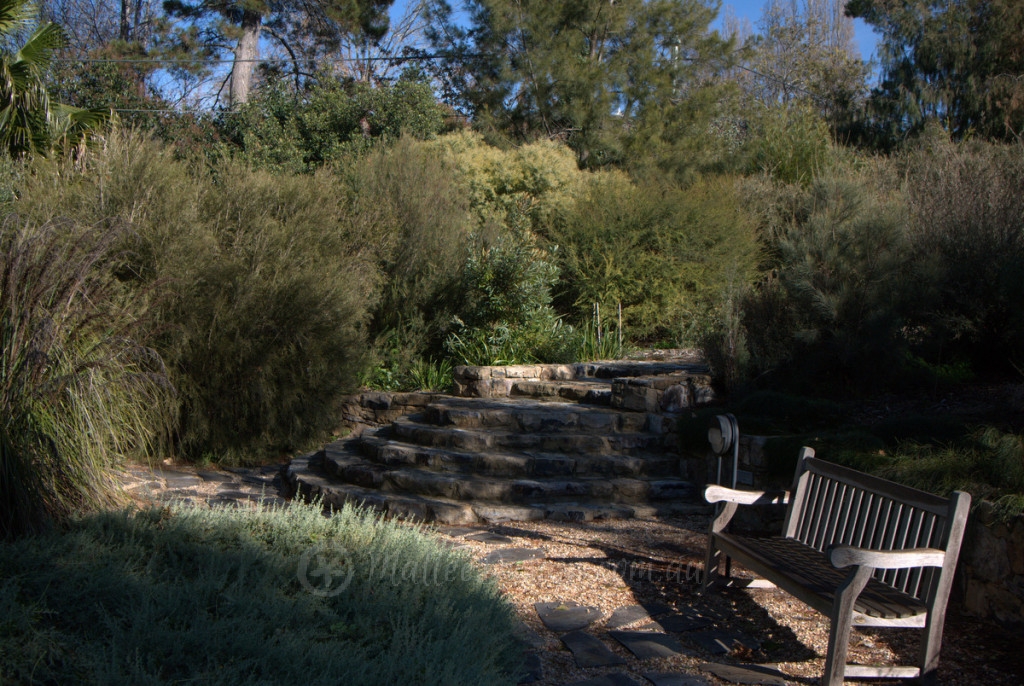 To move through the garden was a great pleasure the paths and walkways were well laid and dimensioned. The steps were solid and built from local stone, most paths were decorative gravel or raised decking. Flagstone was often inset into pathways to give them more structure and interest.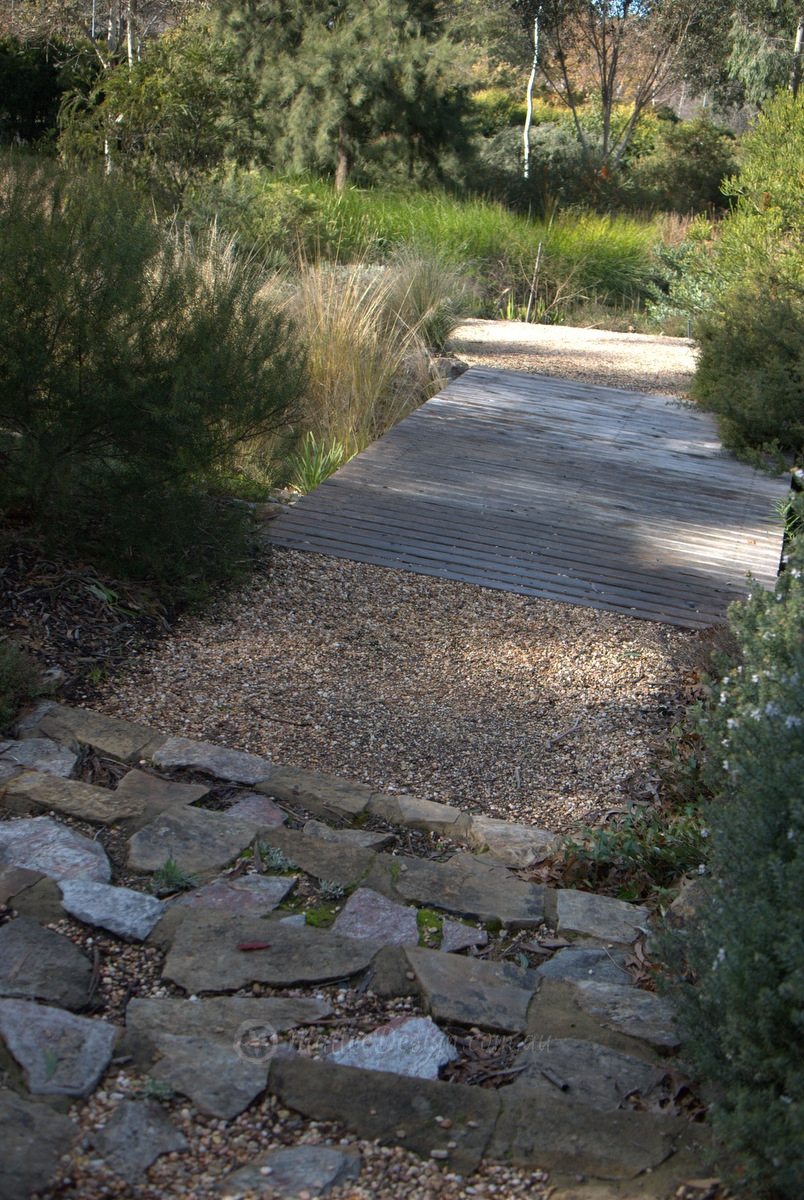 Ros is creating a new garden area near the front driveway that uses strong lines and is created from crushed decomposed granite, edged with gravel and contrasting mulch. Viewed from above the shapes resemble an abstract artwork.
There were many beautiful examples of layering plants in a garden bed and creating interest through foliage contrast, even though flowers were relatively sparse the clever plant selection ensued there was never a dull view.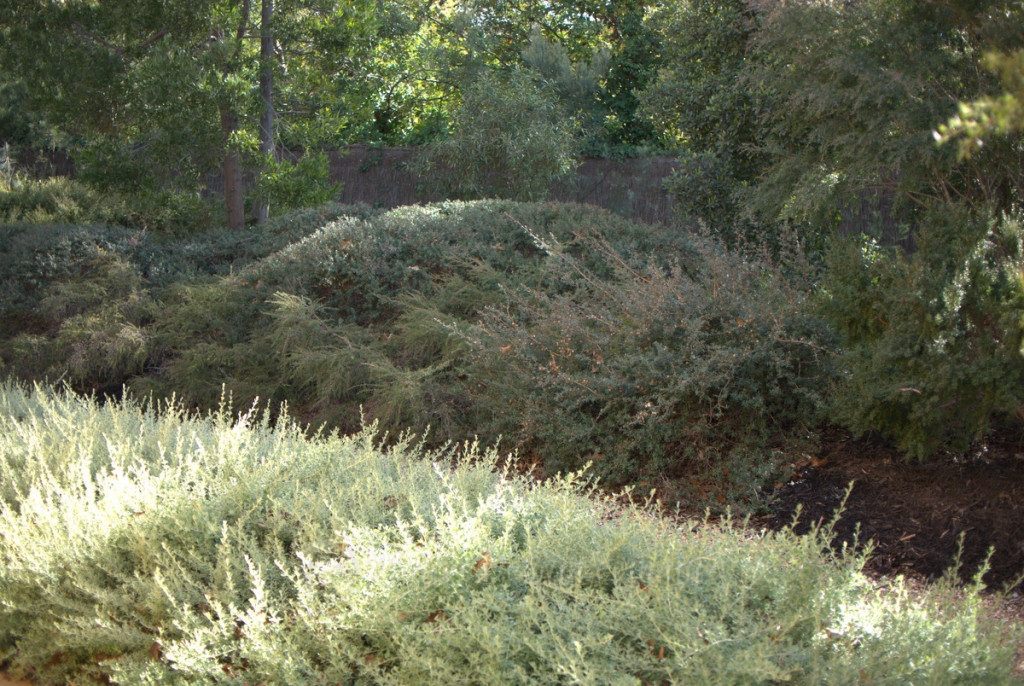 In the image below is a mixed planting with soft grey weeping shape of Melaleuca incana in the centre.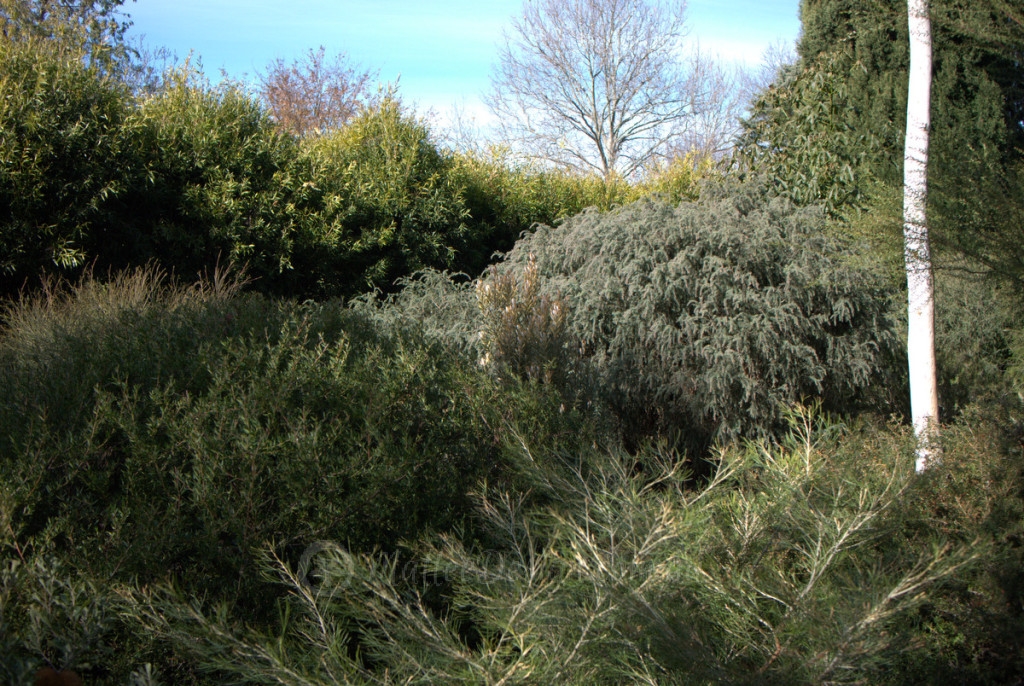 In a very difficult shady spot underneath a grove of large Casuarinas I found these Acacia 'Green Mist' putting on a brave face, definitely one to remember for future designs!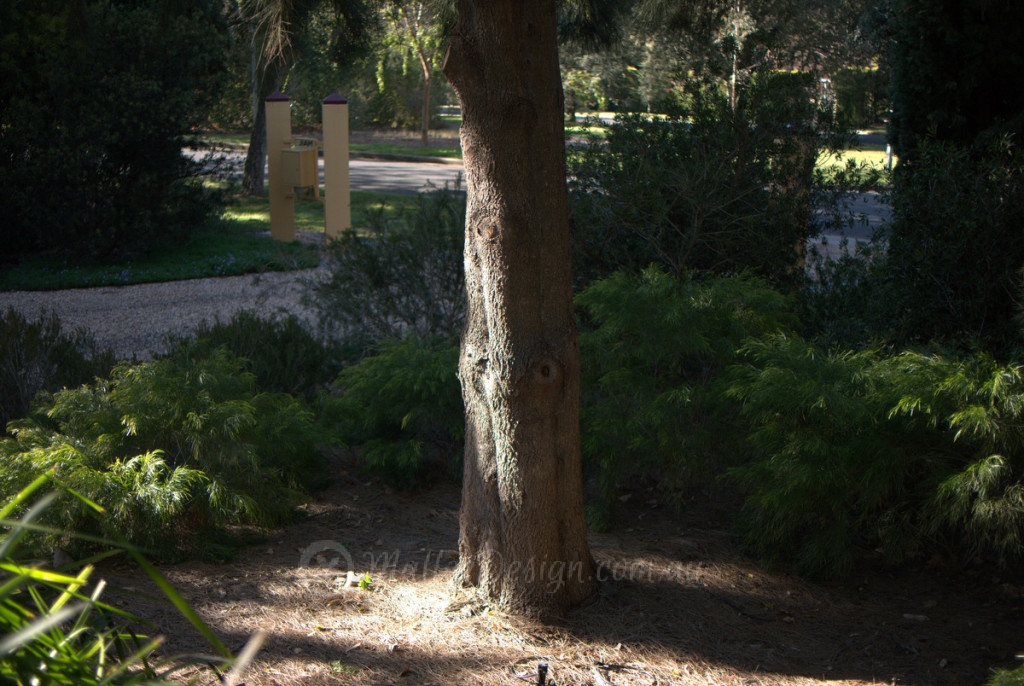 I also found in another fairly shady area of the garden a beautiful combination of one of my favourite wattles ( Acacia cardiophylla) underplanted with a mass of Correa 'Dusky Bells'. What a treat!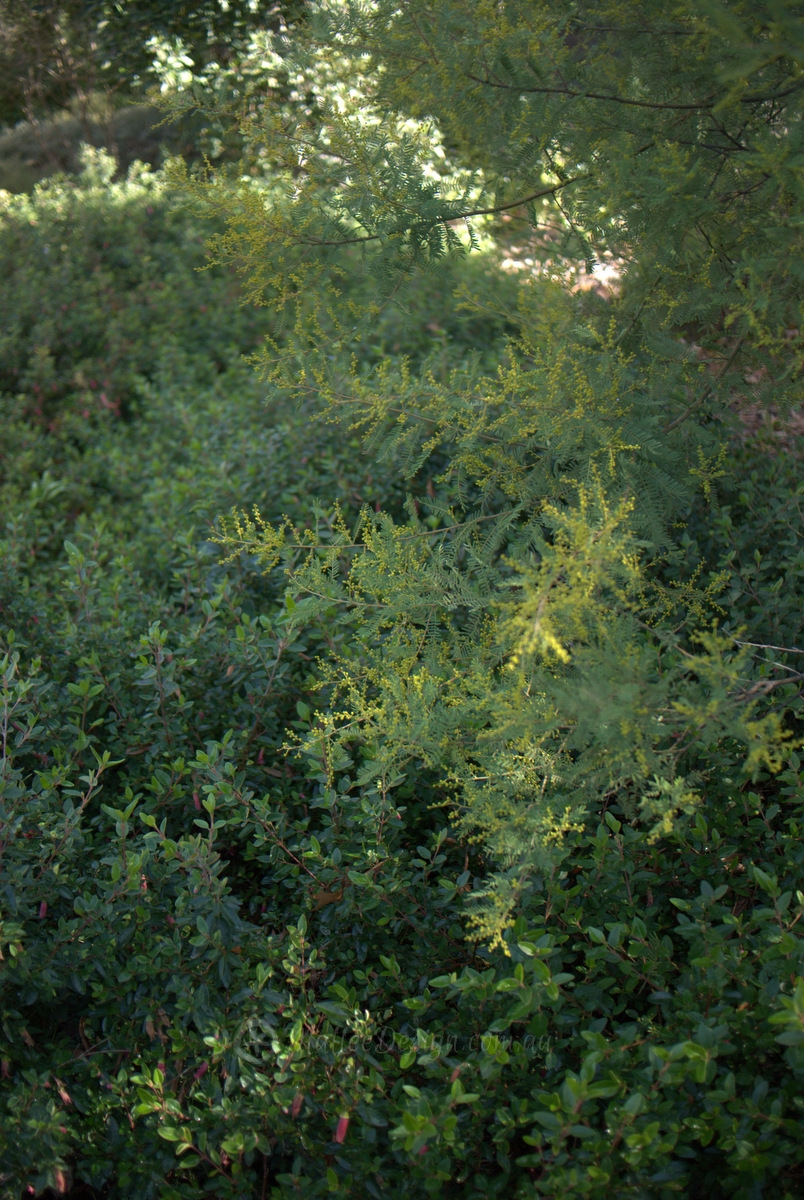 So as you can see I had a pretty amazing time, Ros and Ben are wonderful hosts on very short notice and it was great to meet more people passionate about the importance of native plants in residential gardens. If you ever see this garden advertised as open it is well worth the trip, it is one of the best I've seen.