Please visit our shop to see the full range of birdbaths available for purchase.
How often it is that a garden, beautiful though it will be, will seem sad and dreary and lacking one of its most gracious features, if it has no water.
Pierre Husson, La Theorie et al Pratique Du Jardinage – 1711
I try to incorporate the element of water into all my garden designs, water adds a lovely calming feeling to an outdoor space and doesn't need to be represented in a complicated or show manner. Ensuring there is accessible drinking water in the garden for birds is also very important to me when designing a garden. I have searched high and low for attractive and practical birdbaths for my clients and came to realise that there really wasn't many options. I wanted something simple and sculptural, something that would last forever out in the elements and that was easy to clean and maintain. That is how my Spun Copper Dishes have come about. If you are interested or would like to know more about Mallee Bird Baths and Water Dishes please go to birdbaths.malleedesign.com.au
Copper is a beautiful metal, that strengthens as it ages developing a beautiful bluish patina over time.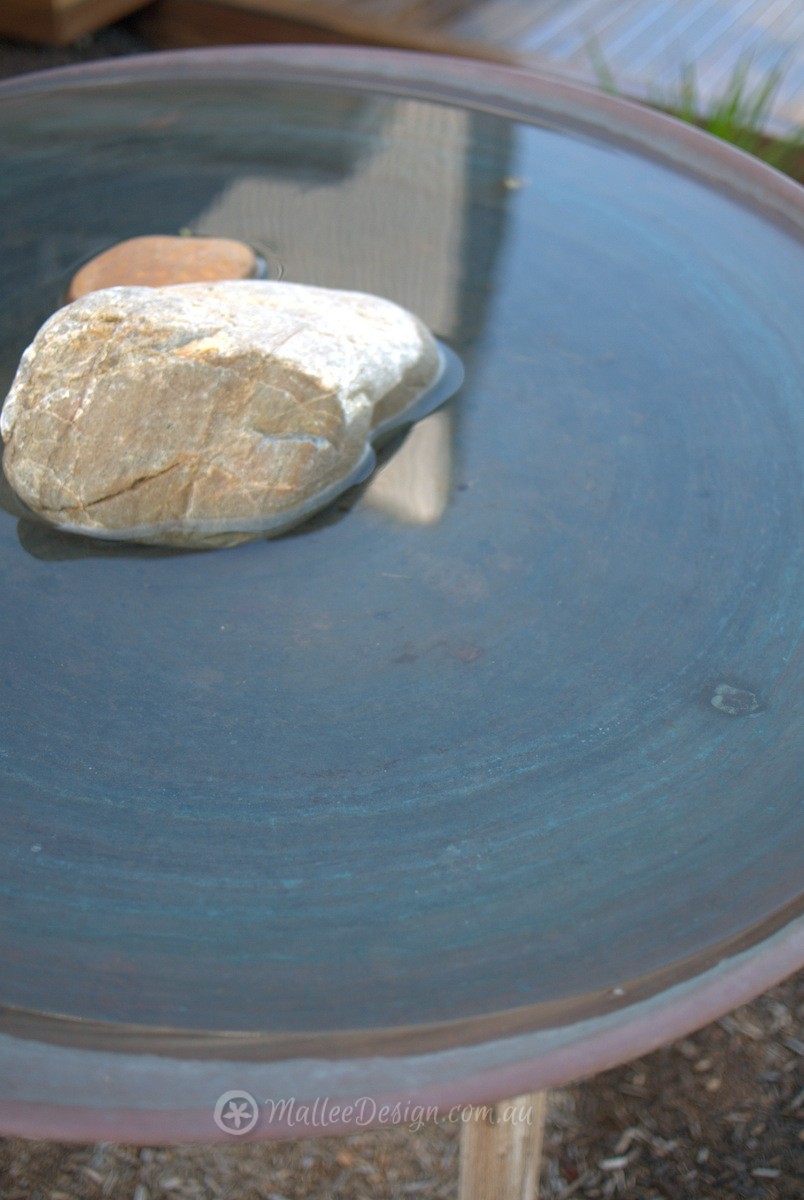 Water that has been held in copper is ionised which means that mosquito larvae are unable to breed in the water, and algae will similarly stay away.
Water in a garden adds to its attraction as somewhere for relaxation and contemplation. It also helps entice a variety of fascinating wildlife including birds, frogs and dragonflies.
Diana Snape, The Australian Garden – 2002
The Large Spun Copper Dish: is wide and shallow: 780mm wide x 50mm deep, it holds 12 litres of water. Most birds like to bathe in shallow water and this dish will serve all bird sizes, short legged, long legged, small and large.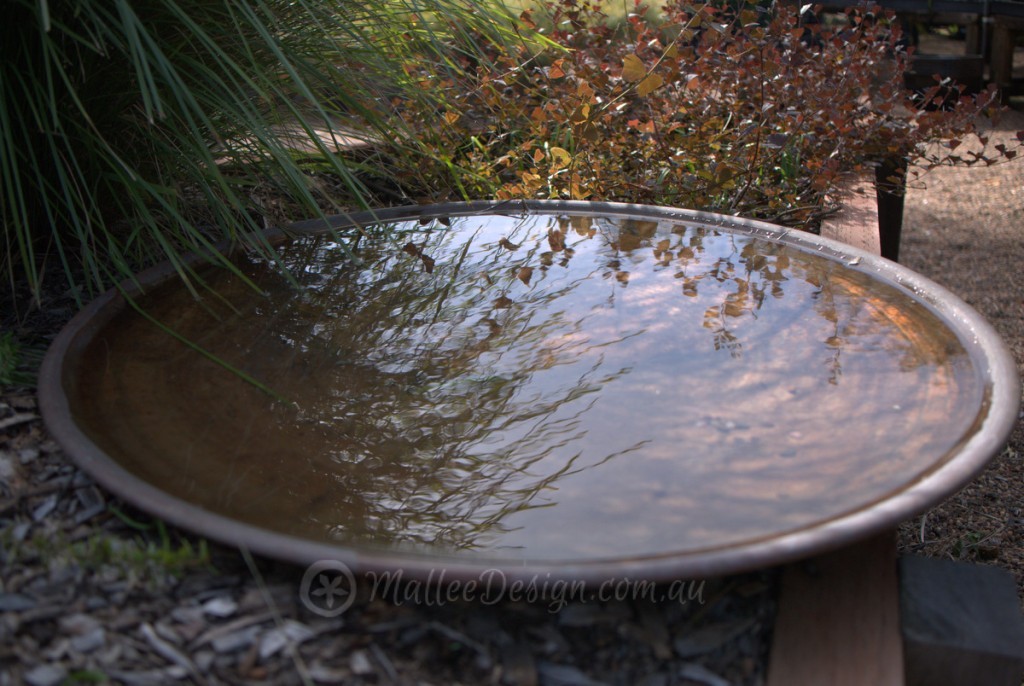 The Mini Spun Copper Dish: a small shallow bird bath that holds 2 litres of water and is 420mm wide x 25mm deep.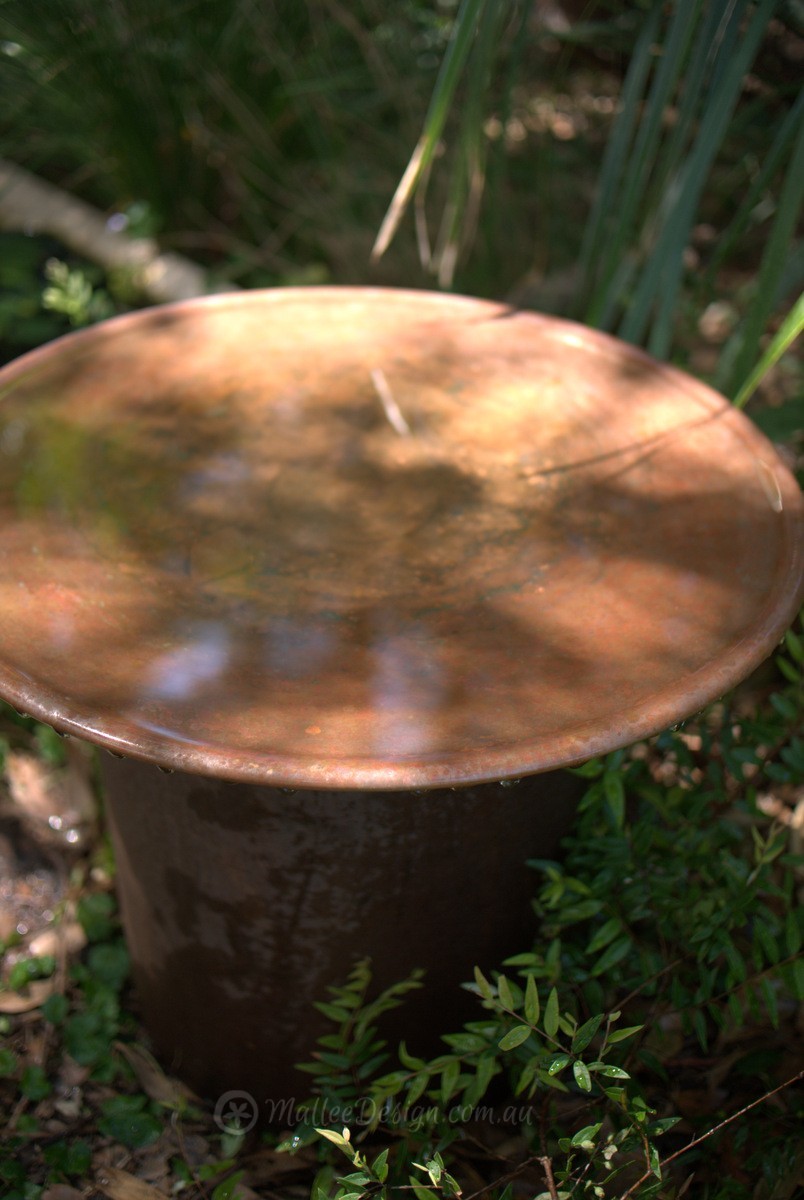 Pedestal and Plinth Bird Baths
The water dishes can be raised on a series of different stands that I have developed over the last 12 months, the stands come in a range of styles and materials and add height so that you can easily see your birds bathing and also so there is no competition from domestic pets, all stands are locally made in the Illawarra.
Mini Sandstone Plinth Bird Bath: is a small column of sandstone approximately 150mm x 150mm x 400mm made to hold the mini spun copper dish, it raises the water just high enough to be visible above clumps of grasses and low spreading shrubs.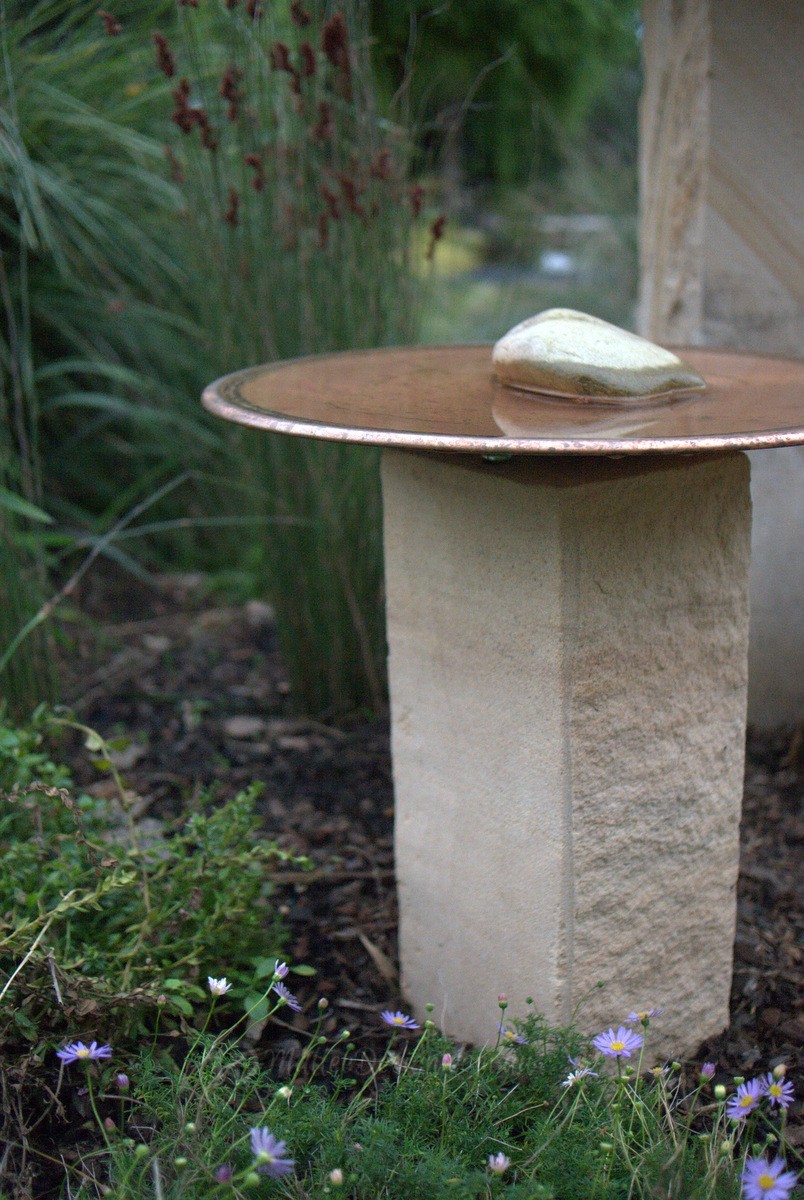 Sandstone Plinth Bird Bath: is solid sandstone  220mm x 250mm x 750mm and in perfect visual balance with the spun copper dish. The sandstone is un-sealed and will weather over time, this will tie is beautifully with the ageing patina of the copper dish.  The dish sits on a steel ring to provide an even base, all parts are un-attached so it is easy to tip and clean or move.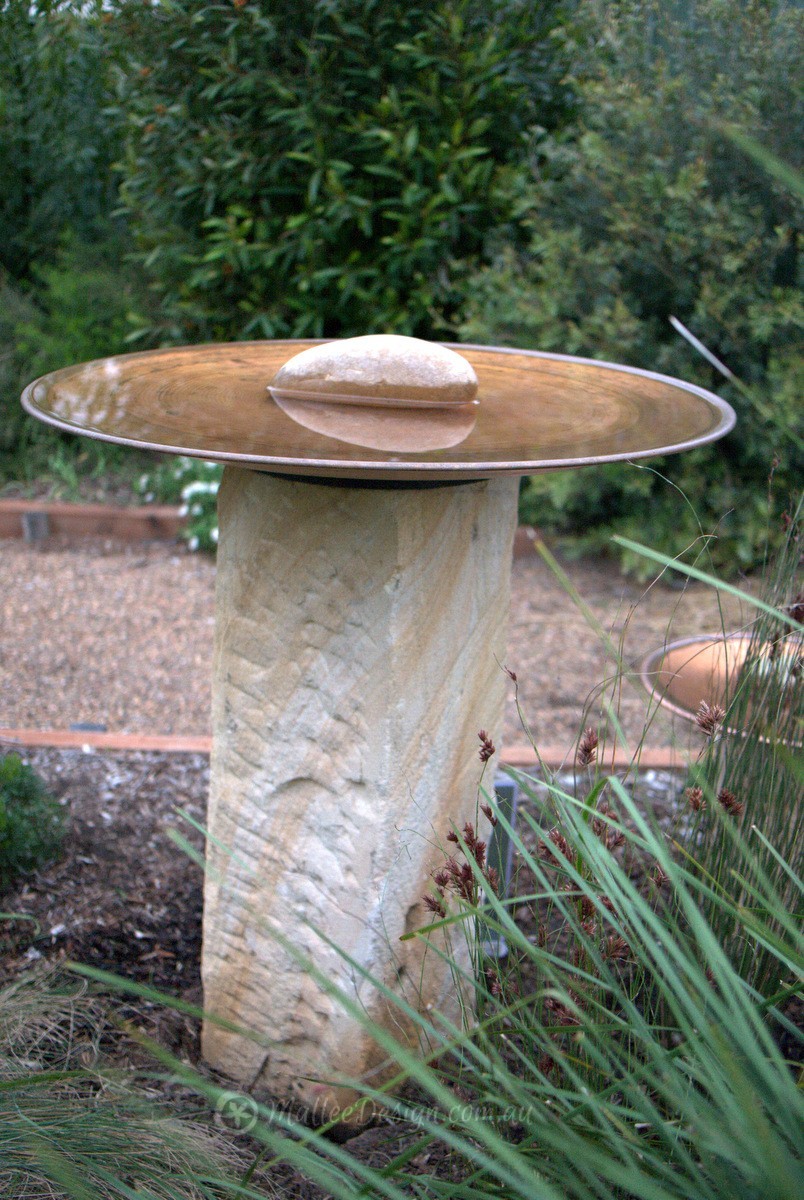 Steel Floating Bird Bath: this stand is designed to disappear into the plants in a garden bed. It is made up of three thin metal rods that taper and attach to a steel ring on which the dish sits upon. The steel has been painted with Micaceous Iron Oxide paint, a really, really good sealant and protectant against rust. The floating steel stands come in 3 heights:
510mm – small
760mm – medium
100mm – tall